Are you an Outlander fan who is also expecting a little one? If so, these Outlander inspired baby names are just what you need.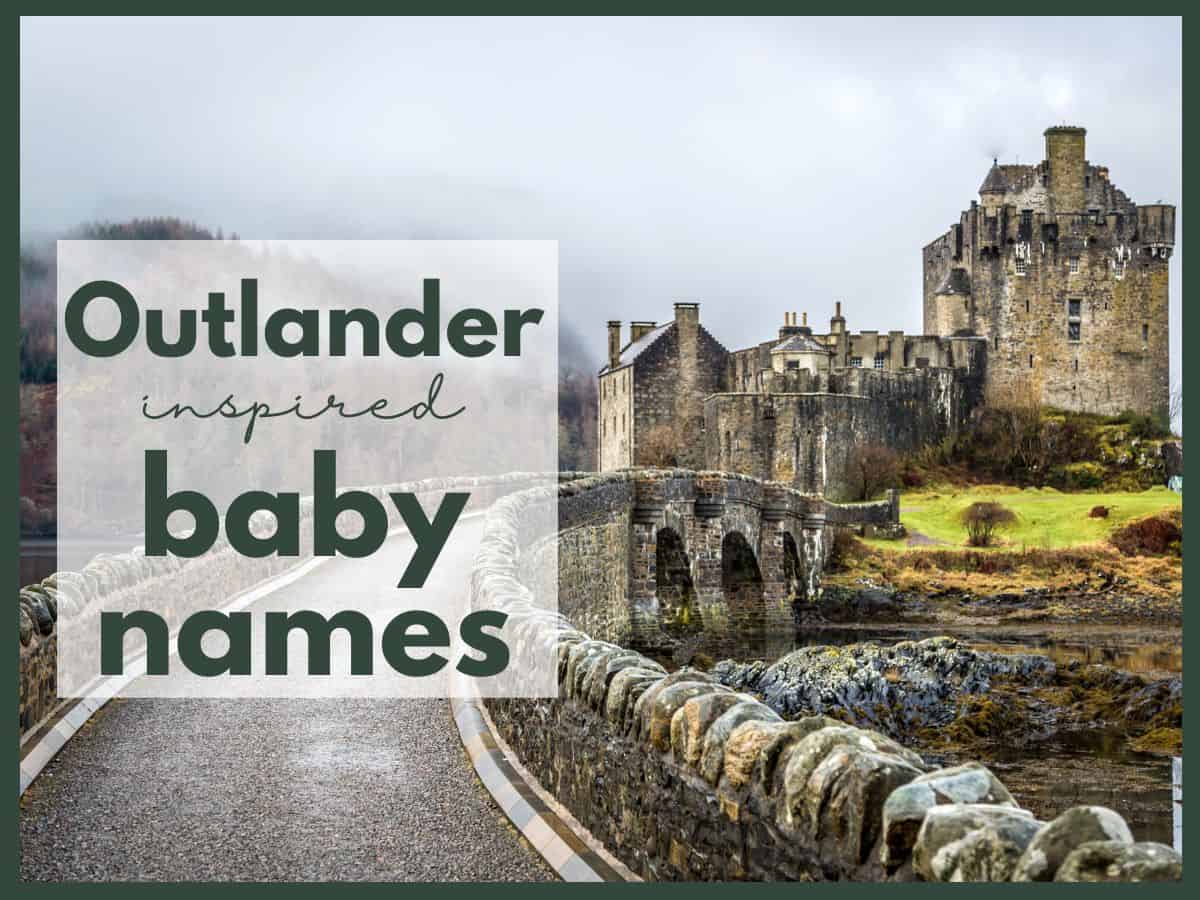 Jump to:
Outlander baby girl names
If you're expecting a baby girl, there are so many charming and beautiful names from Outlander.
1. Claire
Claire is French for bright or clear. Clair is the main character in Outlander who time travels while on a honeymoon in Scotland.
2. Brianna
Brianna is Irish for noble or exalted on. Brianna is the daughter of Claire who follows her mom through time.
3. Marsali
Marsali comes from the Gaelic word for pearl. Marsali is Leoghaire's daughter who becomes like a daughter to Claire.
4. Jenny
Jenny means gracious gift of God. Although in Outlander, Jenny is quite mischievous and is jealous of Claire.
5. Lizzie
Lizzie is Hebrew for God's promise. She traveled to America with Brianna, and becomes a helpful handmaid.
6. Jocasta
Jocasta in Greek means shining moon. Jocasta is Jamie's aunt who lives in North Carolina and helps Claire and Jamie as they carve their new path in America.
7. Geillis
Geillis means shining, bright or swan in Old Irish. Geillis is another time traveler that Claire meets in Scotland.
8. Louise
Louise means renowned warrior. The perfect first or middle name for your daughter!
9. Geneva
Geneva is German for juniper tree. Geneva had an affair with Jamie and died after giving birth to William (Jamie's illegitimate son).
10. Isobel
Isobel means God's promise. Isobel was Geneva's sister who married Lord John Grey.
11. Phaedra (fay-druh)
Phaedra is Greek for bright. A nickname for her could be Phae (pronounced Fay).
12. Emily
Emily is Latin for rival or hardworking. Emily was Ian's Mohawk wife who he nicknamed Emily. Her full name was Wakyo'teyehsnonhsa.
13. Rachel
Rachel is Hebrew for sheep. In Outlander, Rachel is a Quaker who acts as an assistant to her brother who is a doctor.
Outlander inspired boy names
For a baby boy, Outlander has some strong and powerful names to choose from too!
14. James
James means supplanter or replacer. A nickname for him, like in Outlander, is Jamie.
15. Alexander
Alexander means man's defender or warrior. This was one of 2 middle names Jamie had in Outlander!
16. Malcolm
Malcolm means devotee of Saint Columba. This was Jamie's second middle name in Outlander.
17. Roger
Roger means famous spearman. In Outlander, he was married to Brianna and followed her through time and showed his bravery many times.
This strong name could be great as a first or middle name.
18. Ian
Ian is Scottish for God is Great. Ian is Jamie's nephew who came with them to America and he went on to join the Mohawk tribe.
19. Jonathon
Jonathon is Hebrew for Gift of God. A nickname for him could be John!
20. Murtaugh
Murtaugh is another Scottish name that means sea. Murtaugh was a close friend of Jamie's who fought valiantly by his side for many years!
21. Dougal
Dougal is Scottish for dark stranger. This is a mysterious first or middle name for your son, especially if you are looking for a more traditional Scottish name!
22. Fergus
Fergus means man of force or strength. In Outlander, Fergus helped Jamie run the printing press and became his second son.
23. Colum
Colum is Gaelic for dove. This is another true Scottish name from Outlander that you could use for your baby boy!
24. Charles
Charles is German for free man. In Outlander, Charles was the Bonnie Prince who lead the revolution at the Battle of Culloden.
25. Rupert
Rupert means bright fame. A nickname idea for him could be Ru!
26. Tom
Tom is Aramaic for twin. Tom Christie, in Outlander, starts out as an enemy of Jamie. As the story plays on, their paths cross again leading to more trouble.
27. William
William means strong willed warrior. William is Jamie's true son, and step son of Lord Jon Grey.
28. Jeremiah
Jeremiah is Hebrew for the Lord exalts. A nickname idea for him, like in Outlander, is Jemmy.
29. Hugh
Hugh is Irish for mind or intellect. Hugh was another close friend of Jamie in Outlander.
30. Culloden
Culloden is Scottish meaning from the nook of the marsh. This unique boy name is rare!
Gender Neutral names
Here's a couple gender neutral names from Outlander to give you some inspiration for your baby!
31. Mackenzie
Mackenzie is Scottish for fire born. This gender neutral name was the last name of many characters in Outlander.
It would be a cool first or middle name for your baby!
32. Jamie
Jamie means supplanter or replacer. While this was James' nickname in Outlander, Jamie is a great gender-neutral name for a boy or girl!
FAQ
What names are similar to Claire?
Clara, Clary, and Chloe are all similar girl names if you like the name Claire.
What is the Scottish name for pretty?
Bonnie is the term used in Scotland for pretty.
What is a traditional Scottish name?
Some traditional Scottish names are Dougal, Colum, Mackenzie, and Murtaugh.
What is Jamie's daughters name in Outlander?
Brianna is Jamie's living daughter. His first child Faith, was stillborn.
You might also enjoy reading: