Summer is the perfect time to start a capsule wardrobe for your toddler girl. When the items all go together, you can let your independent toddler make some choices for outfits.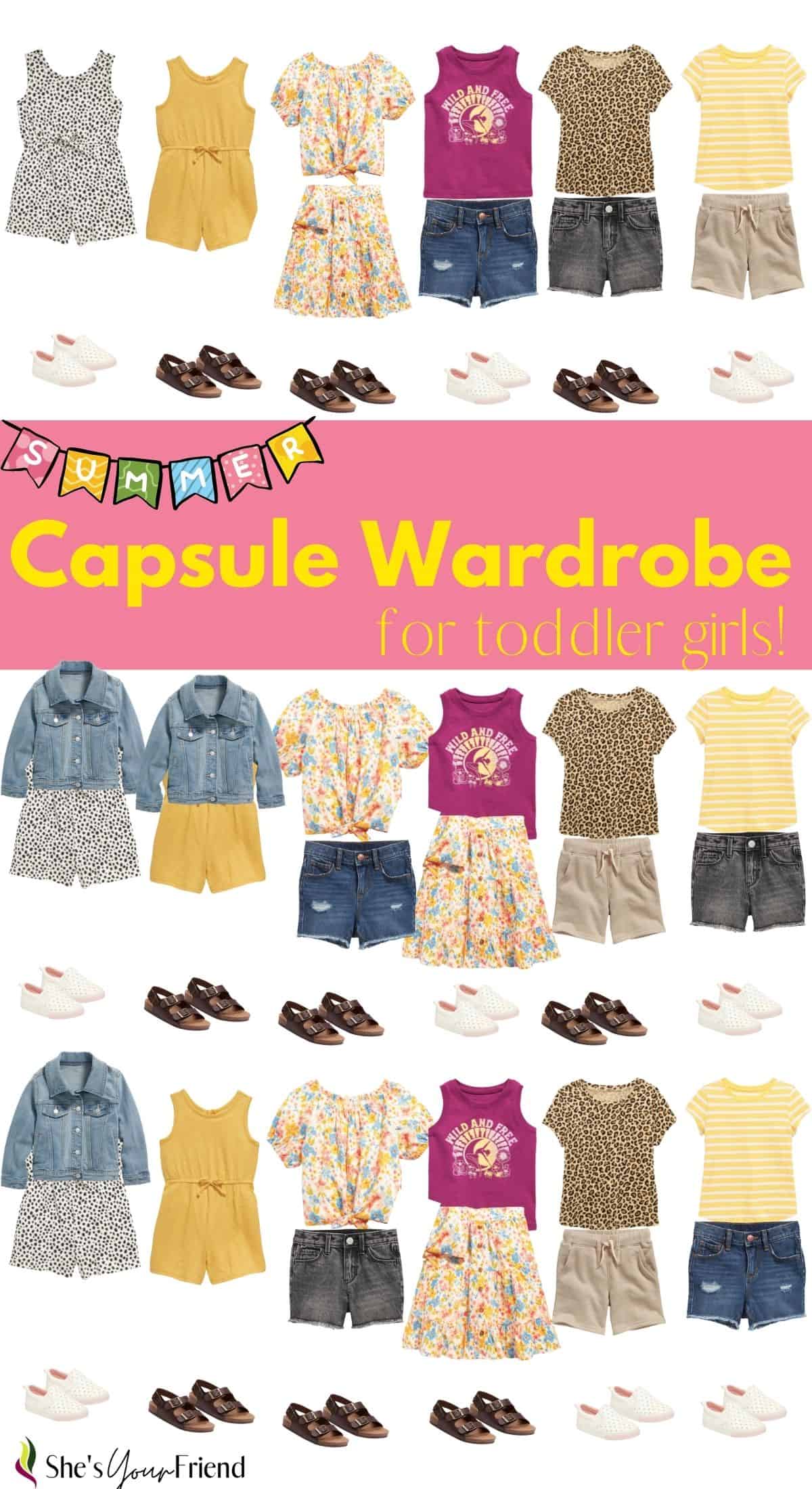 Jump to:
Items pictured
Rompers
Black and white prints are always perfect all year around, and this romper is super cute!
Another romper favorite is this yellow one! Pair it with a jean jacket, or by itself because it's that cute.
Tops & Sets
This 2 piece set is another summer staple for toddlers! They are great together, or mix it up with a different pair or shorts.
The skirt can also be paired with a fun colored tank top.
This tank top is fun, and the color is perfect for summer! It literally goes with just about anything from shorts to a skirt.
Leopard print is another print that stays in style regardless of the season. Pair it with the blue, black, or stone colored shorts for lots of different variety!
Another fun shirt is this striped yellow tee. Again you could pair this with the blue, black, or stone colored shorts!
Shorts
Classic blue denim shorts should always be in your summer wardrobe because they go with everything!
Very similar to the blue denim, these black denim shorts pair well with just about anything!
To mix up your shorts, add a stone colored set. They match lots of outfits, and they are a fun way to add some variation to your style.
Outerwear/jacket
For those cool summer nights, a jean jacket is another must have!
Shoes/sandals
These fun faux leather sandals go well with just about any outfit.
For a more edgy look, these slip on sneakers are another cool option.
Capsule wardrobe tips
Use what you have first and then build off this.
Pick a color scheme that mixes well with other colors so you have more options for outfits.
You don't always have to buy new things, in fact some of our favorite clothing items are able to be worn all year around up until your little girl grows out of it.
Why create a capsule wardrobe for toddlers?
Toddlers are at that age where they want to be independent and giving them the freedom to choose their own outfits is so freeing and time saving for us moms.
When you have a capsule wardrobe, you are setting your toddler up to succeed in picking something that goes well together.
More toddler must haves