Star Wars is filled with lots of unique names and characters, and a great place to get baby name inspiration.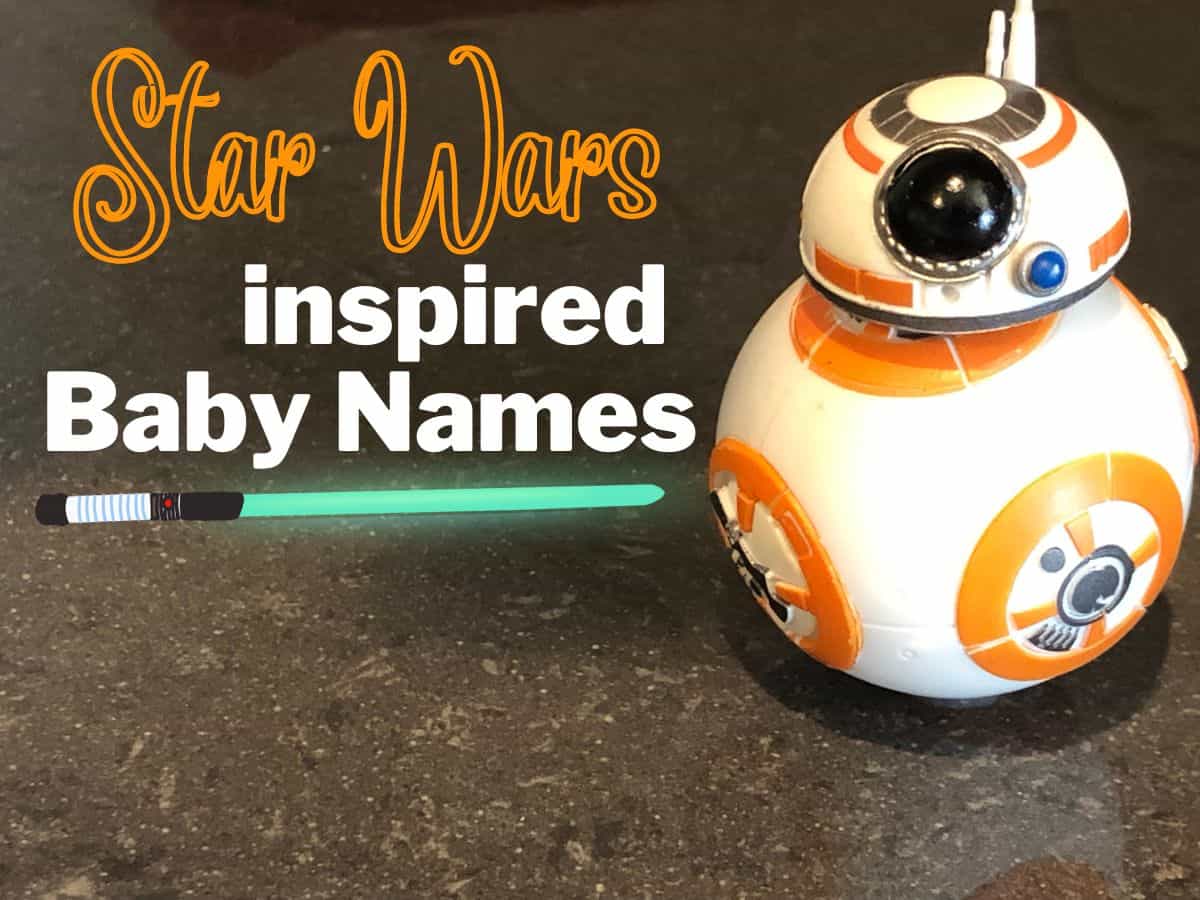 Jump to:
Girl Names inspired by Star Wars
1. Leia
Leia means "lioness" in latin.
Princess Leia is probably one of the most well-known female characters in Star Wars.
2. Padme
Padme is persian for "lotus flower".
Padme Amidala was the Queen of Naboo, and mother to Luke and Leia.
3. Cara
Cara is Latin for "friend".
Cara Dune was a character from the Mandalorian, a star wars spinoff.
4. Omera
Omera means "having a positive attitude".
Omera was a villager woman in the Mandalorian who befriended and offered to take Grogu in.
5. Breha
Breha is a spelling variation of Brea and it means "strong or noble".
Brea Organna was Leia's adopted mom.
6. Beru
Beru is Japanese for "bell".
Beru was Luke's Aunt who helped raise him.
7. Norra
Norra is a spelling variation of Nora which is Irish for "light".
Norra Wesley was a rebel pilot who helped to restore the republic.
8. Amilyn
Amilyn is a combination of two popular girl names (Amy and Lyn). Together, it means beloved lake or waterfall.
Amilyn also known as Vice Admiral Haldo bravely sacrificed herself by ramming a ship at light speed so that everyone else could escape.
9. Jyn
Jyn is a spelling variation of Jen and means "God is gracious" in Scottish.
Jyn Erso is a character in Rogue One and fights with the Rebel alliance.
10. Hera
Hera is Greek for "protectress".
Hera Syndulla is a pilot, leader, and part of the Twi'lek tribe.
11. Rose
Rose is Latin for "rose or flower".
Rose Tico is part of the support crew for the resistance and befriends Finn (a storm trooper turned good guy).
12. Q'ira
Q'ira is a spelling variation of Kira which means "dark-haired".
Q'ira is from the Solo spinoff, and she was a childhood friend of Han Solo.
13. Ahsoka
Ahsoka means "pure or hopeful".
Ahsoka was a female Jedi who met with baby yoda and learned the child's name was Grogu. She is also apart of the Twi'lek tribe.
14. Koska
Koska is polish for "scythe or sickle".
Koska Reeves was a female Mandalorian from a less strict group who are allowed to remove their helmets.
15. Xi'an
Xi'an is chinese for "noble or peace".
Xi'an was a Twi'lek female mercenary from the Mandalorian series.
16. Peli
Peli is Latin for "happy".
Peli Motto was a mechanic on the Mandalorian who helped watch Baby Grogu while the mandalorian went on missions. She was witty and kind.
Boy names from Star Wars
17. Luke
Luke means "light giving" in Latin.
Luke Skywalker is a Jedi, son of Annakin and Padme, and one of the most well known characters from Star Wars.
18. Anakin
Anakin means "son of the eagle" in old Germanic language.
Anakin Skywalker is a Jedi who turned to the dark side and became Darth Vader.
19. Ben
Ben means "son" in Hebrew.
Ben is Obi-wan Kenobi's nickname. He is a Jedi who trained Annakin and Luke Skywalker.
Leia and Han Solo's son is also named Ben.
20. Lando
Lando means "long hill".
Lando Calrissian started as a smuggler and friend to Han Solo who then joined the resistance to fight against the empire.
21. Kylo
Kylo means "sky" in Latin.
Kylo Ren is Ben and Leia's son, who changed his name to Kylo after turning to the dark side.
22. Finn
Finn means "fair" in Irish.
Finn was a storm trooper with the code FN-2187 who abandoned his position to join the resistance.
23. Owen
Owen means "noble" in Welsh.
Owen Skywalker was Luke's uncle who raised him as a baby.
24. Han
Han means "God is gracious" in Scandinavian.
Han Solo was a smuggler who was famous for making the Kessel Run under 12 parsecs. He then joined the resistance while helping Luke and Ben escape Tatooine.
25. Gideon
Gideon means "great warrior" in Hebrew.
Moff Gideon is a character from the Mandalorian who is a leader in the empire.
26. Bo
Bo means "to live" in Scandinavian.
Bo-Katan is another mandalorian who wants the dark saber.
27. Cobb
Cobb means large man.
Cobb Vanth is the sheriff of Free Town who makes an appearance in the Mandalorian and Boba Fett.
28. Poe
Poe means "peacock" in old Norse.
Poe Dameron is a commander of the star fighters for the resistance.
Gender neutral names
29. Rey
Rey means "king" in Spanish.
Rey is an orphan who's parents left her on Jakku, and is trained by Luke Skywalker in the ways of the Jedi. She is also somehow tied to Ben (Kylo Ren) Solo.
30. Zorii
Zorii means "golden dawn" in Arabic.
Zorii Bliss is the leader of the spice runners during the war between the first order and the resistance.
31. Maz
Max means "gift of God" in Scandinavian.
Maz Kanata is a pirate underground queen who gives Rey a lightsaber and is considered a neutral character until war breaks out in her land.
32. Fennec
Fennec means "fox" in Arabic.
Fennec Shand is a bounty hunter in the spinoff series Boba Fett. She helps him take over Jabba the Hut's old stomping grounds.
33. Kuiil
Kuiil is a spelling variation of Quill which means "feather" in English.
Kuiil helped the mandalorian find the child in the beginning of the Mandalorian series.
Baby Names FAQ
What's a good Star Wars name?
There's lots of names to choose from but some of the most commonly used are Luke, Ben, Owen, Gideon, Cara, Rose, Leia, Norra, and Rey.
Can I name my kid Ahsoka?
Absolutely, the name means pure or light. This could work for a first or middle name!
What is a good genderless name?
Here's some popular choices from Star Wars including: Rey, Zorri, Fennec, Kuiil, and Maz.
More baby names