Here's some popular, modern, and old-fashion middle names for Evelyn along with their meanings so you can finally choose the perfect name!
Jump to:
Once you have chosen the name Evelyn for your little girl, the next step is a middle name that flows together.
Popular middle Names
1. Evelyn May
In Hebrew, May means wished-for child as does Evelyn. Also the month of may was named after the Roman earth Goddess Maia.
2. Evelyn Marie
Marie is Latin for star of the sea. These two names just pair together beautifully!
3. Evelyn Claire
Claire is French for bright or clear. A sweet middle name for your little Evelyn.
4. Evelyn Nicole
Nicole is Greek for people of victory. This is a strong middle name for your daughter!
5. Evelyn Samantha
Samantha is Hebrew for God has heard.
6. Evelyn Lee
Lee is English for clearing or meadow.
7. Evelyn Anne
French for grace, Anne is another pretty middle name idea.
8. Evelyn Rachel
Hebrew for one with purity. Rachel or a slight variation Rachelle make great middle names for Evelyn.
9. Evelyn Renee
French for born again, Renee is another name to consider.
10. Evelyn Rylee
Irish for courageous and valiant, Rylee has a couple of different spellings to chose from including (Rylie, Riley, and Rylee).
11. Evelyn Joy
Joy is Latin for happiness. This short middle name is beautiful and sweet.
12. Evelyn Dee
Dee is Welsh for dark. This middle name can definitely add a little mystery to your daughter.
13. Evelyn Breanna
Irish for noble, Breanna is another beautiful middle name. You could also spell it like Brianna.
14. Evelyn Jade
British for precious stone, Jade is known for symbolizing gentleness, balance, and harmony.
15. Evelyn Grace
Grace is Latin for favor. This beautiful middle name pairs together smoothly with Evelyn.
16. Evelyn Rose
Latin for flower, a rose symbolizes love. A perfect middle name for your very-loved little one.
17. Evelyn Amelia
Amelia is Latin for hard-working.
18. Evelyn Brooke
Brooke is German for water or stream.
19. Evelyn Maria
Maria is a Latin form of Mary which means star of the sea.
20. Evelyn Nadine
Nadine is French for hope. Another beautiful middle name idea for your sweet daughter.
21. Evelyn Kay
Greek for pure, Kay is another pretty middle name that is easy to spell.
22. Evelyn Monroe
Scottish for mouth of the river Roe, this unique gender-neutral middle name also plays homage to Marilyn Monroe.
23. Evelyn Dakota
Dakota has a Sioux origin meaning friend. This could make another great choice for middle names.
24. Evelyn Madison
Madison is known for strength and pairs well with Evelyn.
25. Evelyn Jean
Jean is French for God is gracious. This short middle name is powerful for your little one.
26. Evelyn Kate
Greek for pure. This is another middle name that is very popular!
Modern middle names
27. Evelyn Harlow
Harlow means army hill and is a strong middle name for your little Evelyn. A modern way to pick middle names is to use gender-neutral names, and Harlow is definitely that.
28. Evelyn Wilhelmina
Wilhelmina means protection. It's also the name of a world-class modeling agency making it a more modern choice for your daughter.
29. Evelyn Brielle
Brielle is French for God is my strength. This is another modern middle name that your daughter could have.
30. Evelyn Blake
Blake is British for bright or shining. This gender-neutral middle name is another beautiful choice for Evelyn.
31. Evelyn Malea
Malea means calm or gentle, and get's it's orgins from Hawaii. You could spell it Malia, Malea, or Maleah.
32. Evelyn Parker
Parker is British for park keeper. This is another gender-neutral middle name idea.
33. Evelyn Harper
Harper is British for harpist. This is a beautiful middle name that has been used more now than ever before.
34. Evelyn Kennedy
Kennedy is Irish for helmeted chief. This strong middle name is great for your Evelyn!
Vintage and Old-fashioned middle names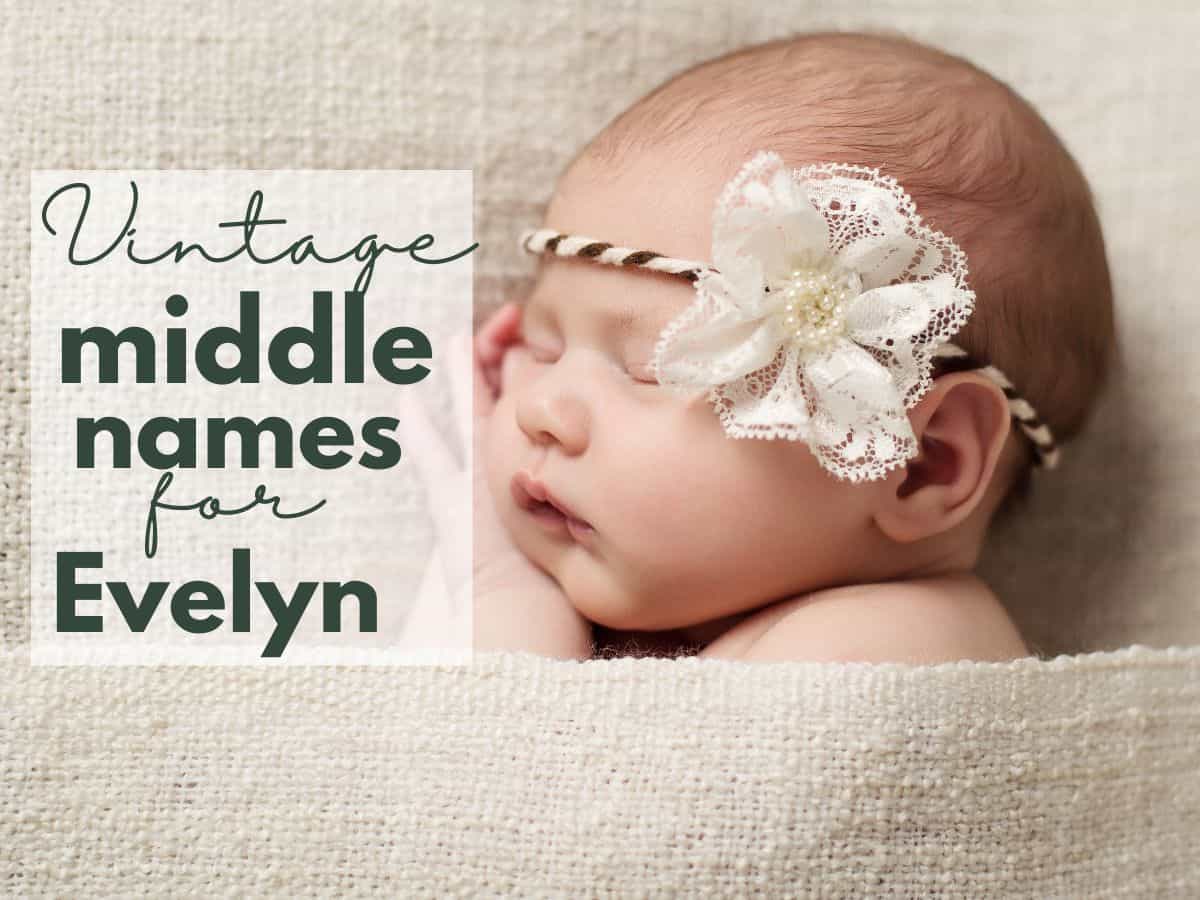 35. Evelyn Lottie
Lottie is English for free. This old-fashioned name sounds beautiful next to Evelyn.
36. Evelyn Lucille
Lucille is French for of the light. This is truly a vintage name, and one that your little one might bring back into style.
37. Evelyn Hazel
Hazel means the Hazel tree which according to Irish folklore held all the knowledge of the universe.
38. Evelyn Joyce
English for cheerful or merry, Joyce is another old-fashioned middle name idea.
39. Evelyn Rhea (pronounced Ray)
Rhea is Greek for flowing stream. This unique middle name is another beautiful choice!
40. Evelyn Josephine
Hebrew for God with increase, Josephine pairs together with Evelyn smoothly!
41. Evelyn Ree
Ree is Hebrew meaning to bind. This short middle name is another uncommon name idea.
42. Evelyn Marguerite
Marguerite is French for pearl. This vintage middle name is so gorgeous and traditional.
43. Evelyn Louise
Louise means warrior. A strong and old-fashioned middle name idea for Evelyn.
44. Evelyn Priscilla
Priscilla is Latin for ancient. This is a great old-fashioned middle name for your daughter.
FAQ
What is a good nickname for Evelyn?
Evie, E, Eve, and Ev all all great nicknames for your daughter.
How to choose a middle name?
Use a family tradition like a middle name passed on from generation to generation, use a loved one as inspiration, or someone who meant a lot to you as a middle name idea for your daughter.
What does Evelyn mean?
Evelyn means a wished for child, a beautiful name for a well-loved baby!
You might also enjoy reading: