These baby names for girls are inspired by flowers. With so many flowers in the world, there's lots to choose from.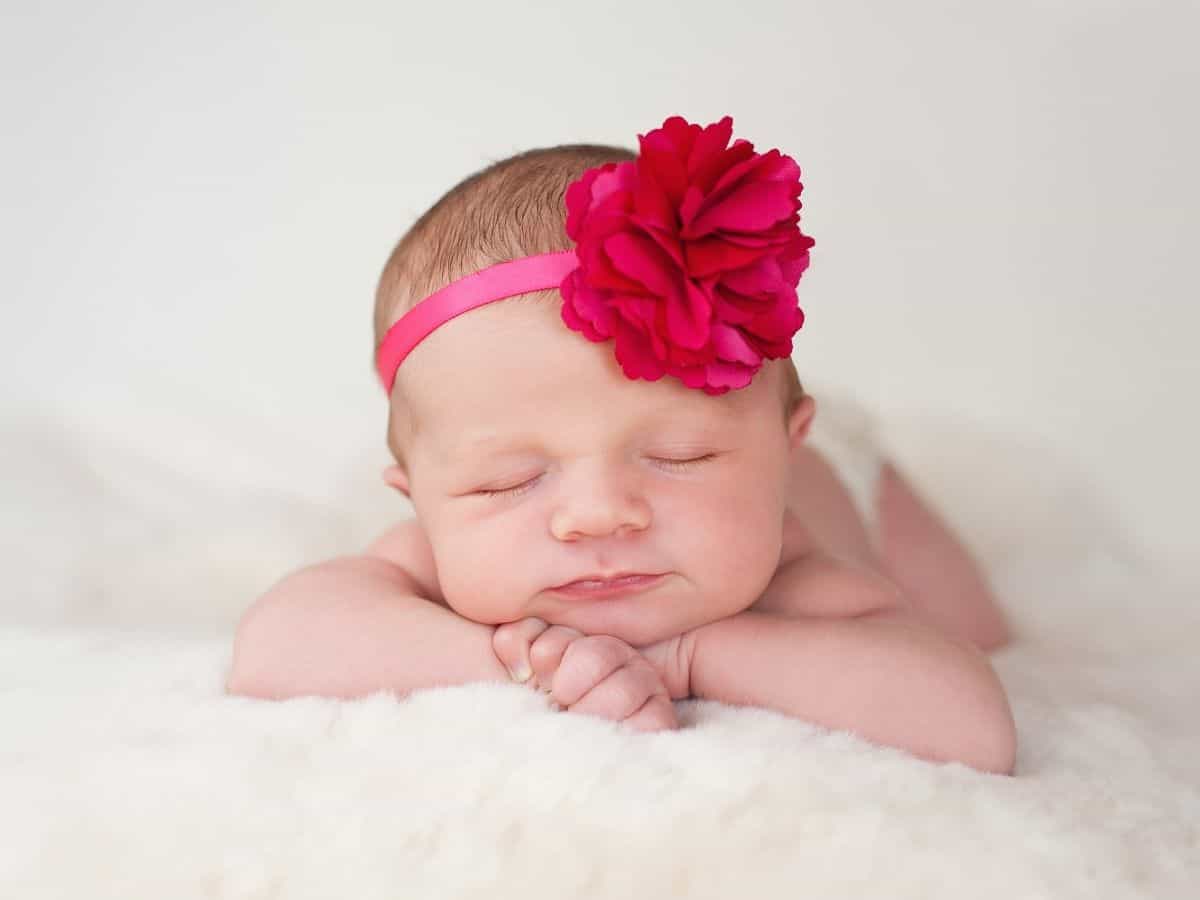 Jump to:
Popular flower names
1.Rose
The most well-known flowers is the rose. Known for it's beauty, it's hard to find a flower that can ever compare.
In old English, it means famous type.
2. Lily
Lily flowers are known for purity and innocence and are popular around Easter.
3. Iris
Iris is Greek for colorful or rainbow. No surprise either because many iris flowers have lots of different colors!
4. Holly
Holly which many of us know is popular around Christmas, means plant with red berries. It's also known as the flower of December.
Beautiful Flower Names & Meanings for Baby Girl
5.Daisy
Daisy means day's eye. It's a fun and playful name that is vintage.
6. Poppy
Poppy means red flower or from the flower. The animated movie Trolls has made this name very popular!
7. Lila (inspired by lilac)
Lila has a couple of meanings: fire, strength, beauty, and night. It is definitely a great choice for your baby girl.
8. Violet
Violet means purple which is a color most know for royalty and power. Characters with this name are: Violet Baudelaire (Series of unfortunate events) and Violet Beauregard (Charlie & the Chocolate Factory).
9. Heather
Heather is a flowering evergreen that grows in harsh conditions in Scotland. It's a versatile and beautiful flower and makes for a great baby girl name!
10. Marigold
Marigold means golden flower which is exactly what marigolds look like. You can find Marigold as a fictional character in Downton Abbey, or in the book Once upon a Marigold.
11. Jasmine
Jasmine symbolized love, beauty and sensuality. There's a princess Jasmine in the fictional movie Aladdin.
12. Primrose
Primrose symbolized young love. A fun nickname for Primrose would be Prim or rose. In the fictional movie the Hunger Games, Catniss Everdeen has a little sister named Prim.
13. Susan (inspired by black-eyed susan flowers)
Black eyed Susan flowers symbolize encouragement and motivation. Possible nicknames could be Susie or Sue.
14. Viola
Viola is Latin for violet flower. A fun nickname could be Vi.
15. Fleur
Fleur is the French word for flower. There was a Fleur Delacour in the fictional Harry Potter books and movies.
16. Magnolia
The magnolia flower symbolized purity, nobility, and perseverance. A nickname could be Maggie or Leah.
17. Ginger
Ginger flowers symbolize fiery passion. It's a vintage name, and was popular in the 1950s and 1960s.
18. Sharon (inspired by rose of Sharon)
The rose of Sharon symbolizes love, beauty and healing. Sharon is another vintage name. The most notable people with the name Sharon are Sharon Osborne and Sharon Stone.
19. Flora
Flora is Latin for flower. Flora was a roman Goddess of flowers and spring time. It's also a baby name that isn't overly used!
20. Rosa
Rosa is Latin for rose. A nickname for her could be Ro.
21. Myrtle
The myrtle flower has a few meanings: innocence, immortality, and love.
22. Ivy
The Ivy flower symbolized fidelity and eternal life. It's a popular baby name for baby girls and very easy to spell and remember.
23. Camellia
The camellia flower symbolized love, affection, and admiration. She could have a nickname of Cam or Lia.
24. Hazel
Hazel is a flowering tree associated with wisdom and inspiration. A nickname for her could be Zel.
Unique Flower Names for girl
25. Calla (inspired by calla lily)
Calla means beautiful in Greek. It's inspired by the Calla Lily and would be another good choice for a baby girl.
26.Delilah
Delilah is a type of dahlia flower. In Hebrew and Arabic, it means delicate. It's gained popularity after the song Hey there Delilah by Plain White T's.
27. Jade (inspired by the Jade Vine)
There is a flowering vine called the Jade vine that has beautiful turquoise color. They are also very rare, which a cool thing to be named after.
28. Leilani
Leilani means royal child of heaven. Leilani flowers are very popular in Hawaii, and the name is too!
29.Lule
Lule is Albanian for flower. A nickname for her could be Lu.
30. Dahlia
Dahlia means strength and elegance which is something I think we can all wish for our daughters!
31. Margeurite
Marguerite is french for Daisy. Nicknames could be Marge, Margie, or Rita.
32. Wisteria
Wisteria is a symbol of devotion. This is another baby girl name that is unique and not something on the top list of baby names.
33. Rowan
Rowan is another flowering tree. In Celtic mythology it's known as the tree of life. A nickname for Rowan could be Ro or Ro-ro.
34. Lotus
Lotus means the flower. If you are looking for a unique baby girl name that isn't overused, this would be perfect!
35. Zara
In Arabic, Zara means blooming flower. This is such a fun name, and my personal favorite!
36. Orchid
Orchids represent love, beauty, and strength. It's still a rarely used baby name too if you are in search of unique and little-known names.
Baby name FAQ
What is the prettiest flower name?
Rose, Calla, Iris, and Lily are all great choices for your baby girl's first or middle name.
What is a good flower name for a girl?
There are lots of great choices including Daisy, Rose, Iris, Ivy, or Rowan.
What is a unique flower name?
Some unique name ideas are Rowan, Wisteria, Margeurite, and Jade.
More baby name ideas