One of the biggest decisions you will ever make for your baby can also be one of the hardest! What will you name him/her?
Some people immediately have a name, but most of us will find choosing a baby name to be challenging.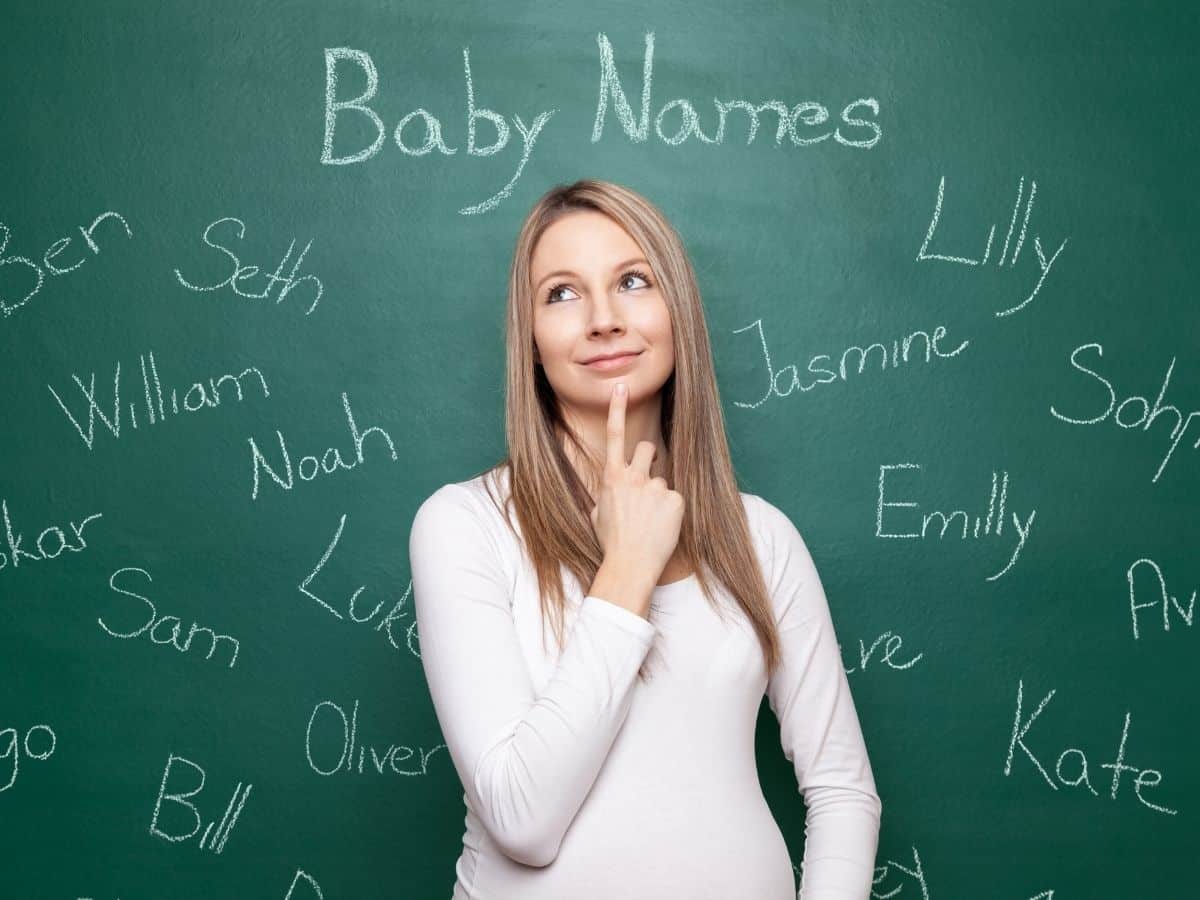 Jump to:
Why? Well, the common problem is that you can't agree on a name. My husband and I went through long lists of names before agreeing.
Helpful tips for choosing a name
Pick a name that is easy to spell.
Research the name meaning.
Practice saying the first middle and last name altogether.
Consider any possible nicknames.
Find out how popular the name is.
1.Pick a name that is easy to spell
How easy is it to spell? Spelling is another way many parents like to be unique and mix things up, but if possible choose a name that is easy to spell.
The last thing you want is your child having to correct someone on how to spell their name all their life or how to pronounce it.
2.Research the name meaning
With millions of different name ideas out there, it's important you have an idea of what your baby's name means.
3. Practice saying the first middle and last name altogether
How easy does their name flow? You want a name that flows off the tongue and not something that sounds choppy or off.
4. Consider any possible nicknames
Depending on what you choose to name your child, what are possible nicknames that could be associate with them?
5. Find out how popular the name is
While trendy names can be fun, you might not want to name your baby the same as a million others.
Related: gender neutral baby names
Where to find baby names?
Before you can actually decide on a name, you might need some help with suggestions. Here's a list of possible places to use for inspiration when you are searching for the perfect name!
Family name- one of the best ways to find some inspiration is by looking for a family name you have always liked. Additionally, some families have traditions where they pass their first name on to their child, or have their child's middle name be their own name.
Favorite Novel-another great way to find name ideas is to use one of your favorite books like these harry potter baby names. Typically we have a favorite character, and this could serve for inspiration to naming your child. If you are looking for an old-fashioned name that isn't common, try looking in some old classics.
Favorite TV show or movie- movies and television shows are also filled with a multitude of names to choose from, like these names from The Witcher.
Baby Name book- one of the last places to find a name would be with a baby name book. What's great about these are that they will tell you a little bit about the name's meaning. For instance, my name is Joanna. It's origin is from Hebrew and it means God is Gracious.
Favorite flower-another idea is to pick one of these flower baby names like Rose or Lily.
Related: Irish Baby Boy Names (and their meanings)
What happens when my husband and I disagree on a baby name?
In a perfect world, you and your husband would agree on a name. In reality, you won't.
Find out why he is against the name. My husband didn't like a lot of names because of name association with others he knew. It was HARD finding a name we could agree on.
Have him make his own list, and see if you have any common names. One of the easiest ways to find a name you both can agree on is by seeing if there is any overlap in names.
You may also be interested in: