Do you have a sweet little baby boy and are looking for the perfect stocking stuffers for him? If so, look no further, because these are the complete list of baby boy ideas.
Jump to:
Stocking stuffers for Baby 0-3 months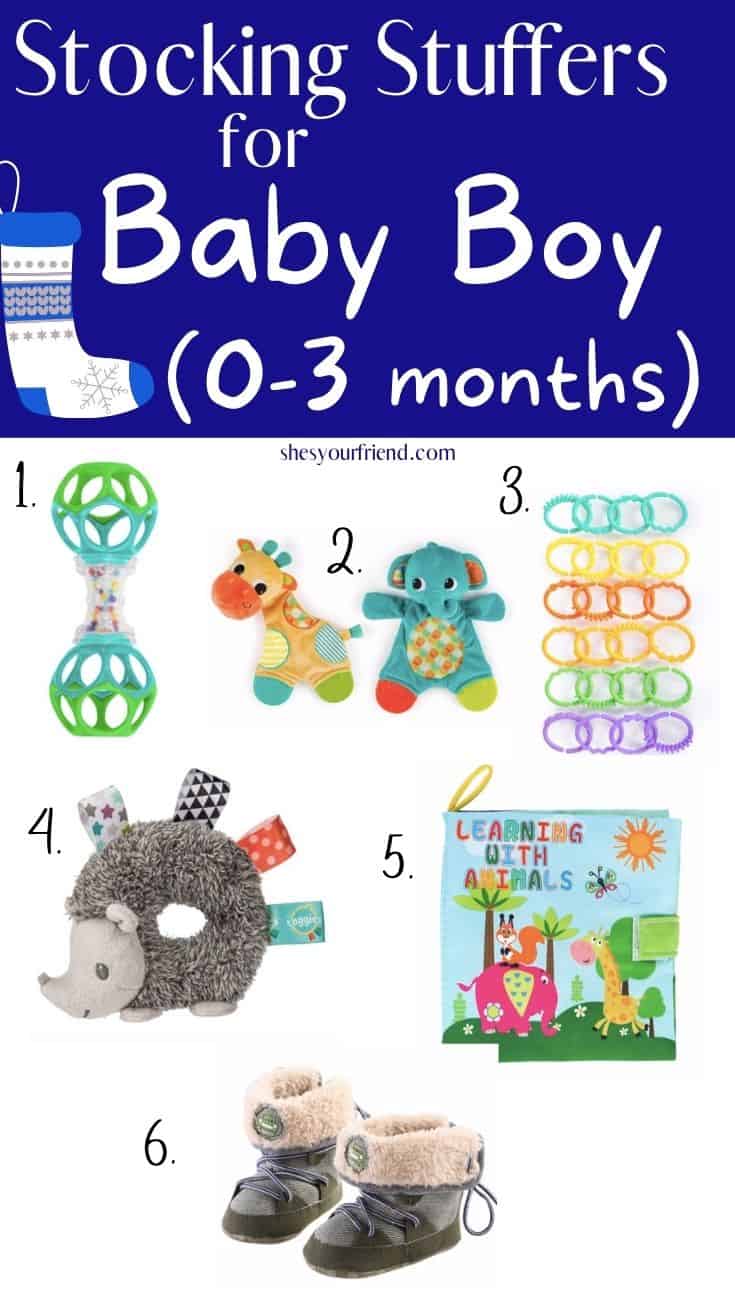 This little rattle is designed for little hands to grip and hold onto. As baby shakes, it makes a fun little rattle sound.
2. Bright Starts Snuggle & Teether
Another great stocking stuffer are these teething toys. They make a fun crinkle sound and they have different textures and patterns to catch your baby's eye!
3. Bright Starts Lots of Links
These little links and chains are another fun toy to play with when baby starts tummy time. The colors and textures will have your baby wanting to play with them all the time.
This soft little hedgehog toy has fun patterned tags sewn into it. Baby will love looking at the contrasting patterns and textures.
Crinkle books are fun because they make a cool sound if baby grabs it. They also have fun images and colors.
These fun boots would be perfect for your little one during the colder months.
Stocking stuffer ideas for baby 3-6 months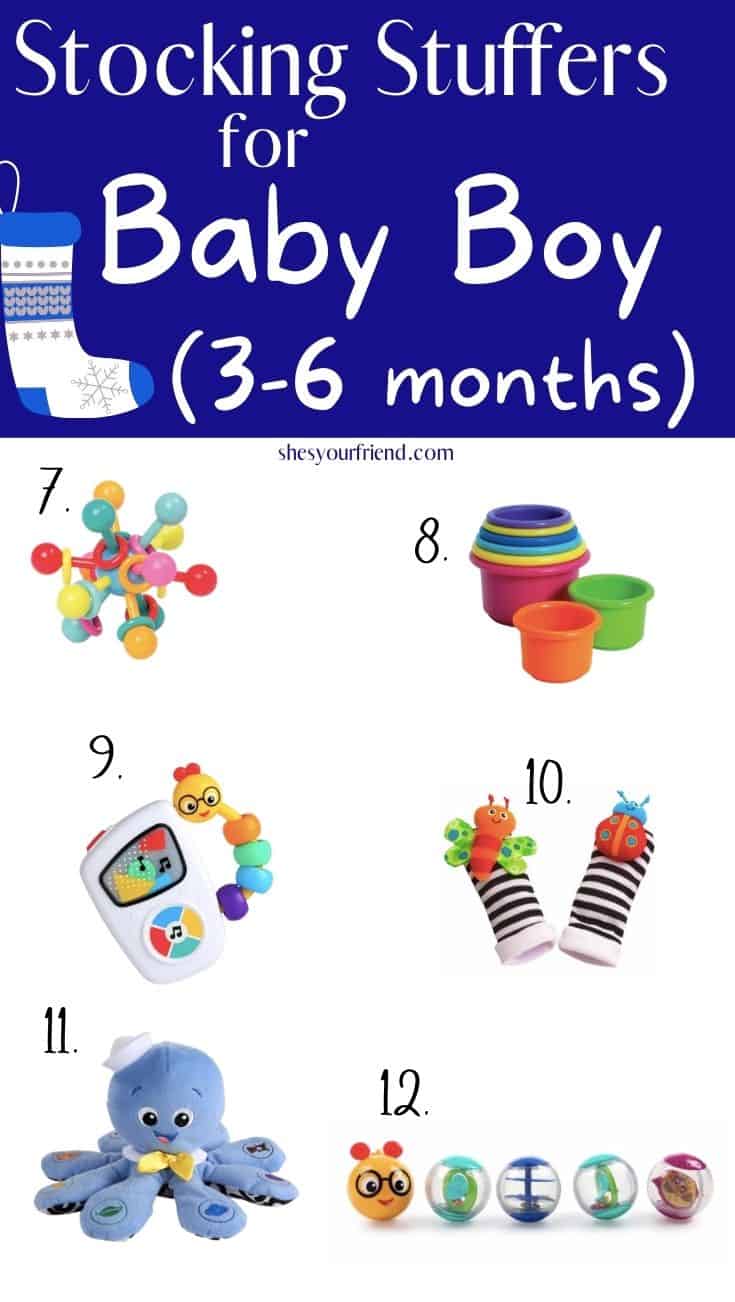 7. / 8. / 9. / 10. / 11. / 12.
7. Manhattan Toy Atom Rattle & Teether
This teether is perfect for the future scientist! Shaped like an atom it has bright colors, and is easy to hold.
Your baby can practice stacking and knocking over the cups. They are also easy for little one's to grip and hold onto.
A classical radio for your little one to listen to while also playing with the bright colored caterpillar on the handle.
If your baby loves playing with his feet, these will really add to the fun! They are socks that rattle and have adorable little animals on them.
This musical octopus is full of excitement as they squeeze each tentacle to discover something new!
12. Baby Einstein Roller-pillar
These little balls are great for tummy time with your baby boy. Let them shake, rattle and roll!
Stocking Stuffers for baby 6-9 months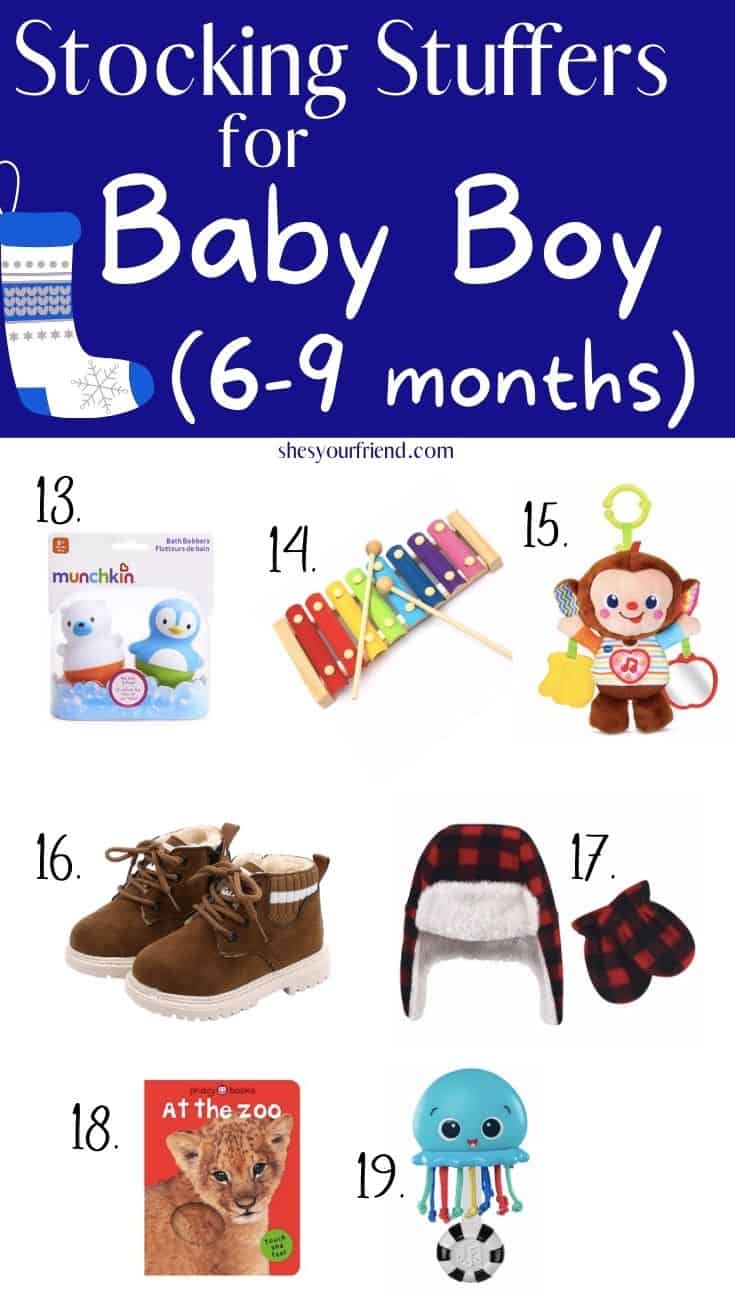 13. / 14. / 15. / 16. / 17. / 18. / 19.
A fun bath toy is another great idea for filling your baby boy's stocking this Christmas. These fun animals float on the surface of the water for baby to play and hold.
Little ones love playing music and this brightly colored xylophone is perfect for just that!
15. VTech Cuddle and Swing Monkey
This fun little monkey has silly sounds, music, a teether, and a baby mirror. It's a great little toy for a stocking stuffer.
These are some cool boots for your baby boy! They are lined for extra warmth and they have rubber soles for better grip.
17. Hudson Baby Trapper Hat and Mittens
These buffalo plaid hat and mittens set would be another great idea for the winter months to keep your baby boy warm.
Touch and feel board books are fun because of the vivid pictures and the different textures that baby can touch and feel.
19. Baby Einstein Ocean Glow Musical Toy
This little jelly fish toy lights up and plays some fun classical music. My son loved this little toy when he was a baby. (Pro tip: as a mom who has to listen to the musical toys all the time, find toys that have soothing music like classical tones. That's why I always liked Baby Einstein.)
Gift ideas FAQ
What can I put in my 6 month olds stocking?
Find some fun teething toys, bath toys, or musical toys like this one from Baby Einstein. Other ideas are clothes, crib shoes, and board books.
What toys do babies like the most?
Babies like bright and colorful toys or toys that have fun textures and patterns. They don't always have to be musical, even a crinkle toy baby will get lots of enjoyment out of.
More Christmas articles: