Learn everything there is to know about baby registries, when to create them, what to register for, and more.
Jump to: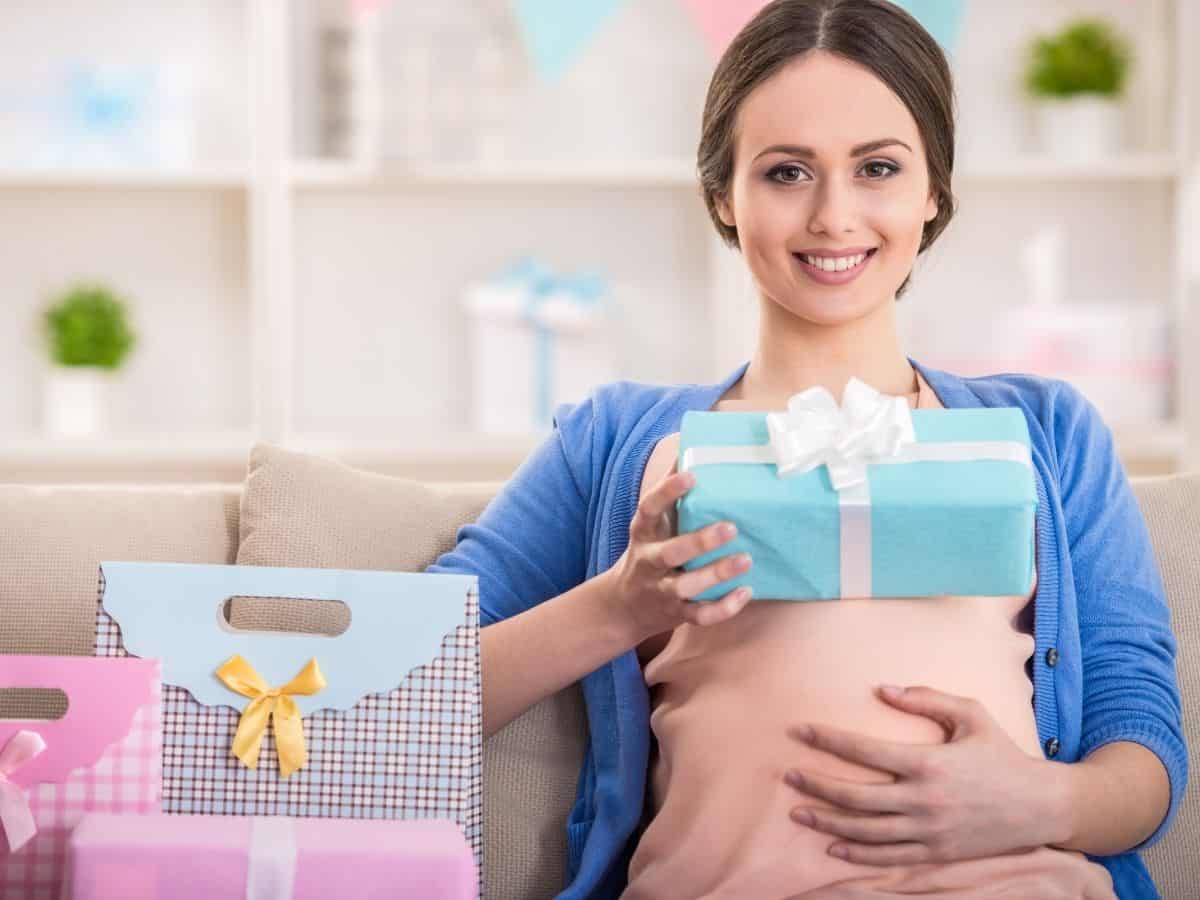 Baby registry tips
Here are a few more helpful tips for creating your baby registry:
Choose items varying in prices- everyone has different budgets.
Register in a couple different stores- this makes it easy for anyone to shop for you.
Remember most stores offer a coupon for the remainder of your items on your registry, so if you receive gift cards take advantage of this!
Create your online baby registry today
If you are ready to create your online baby registry, just click the link below and it will automatically send you to where you need to be to start a registry.
Printable Baby Registry Template Checklist
There's a lot of things to register for when you first create a baby registry, so we created this printable checklist just for you!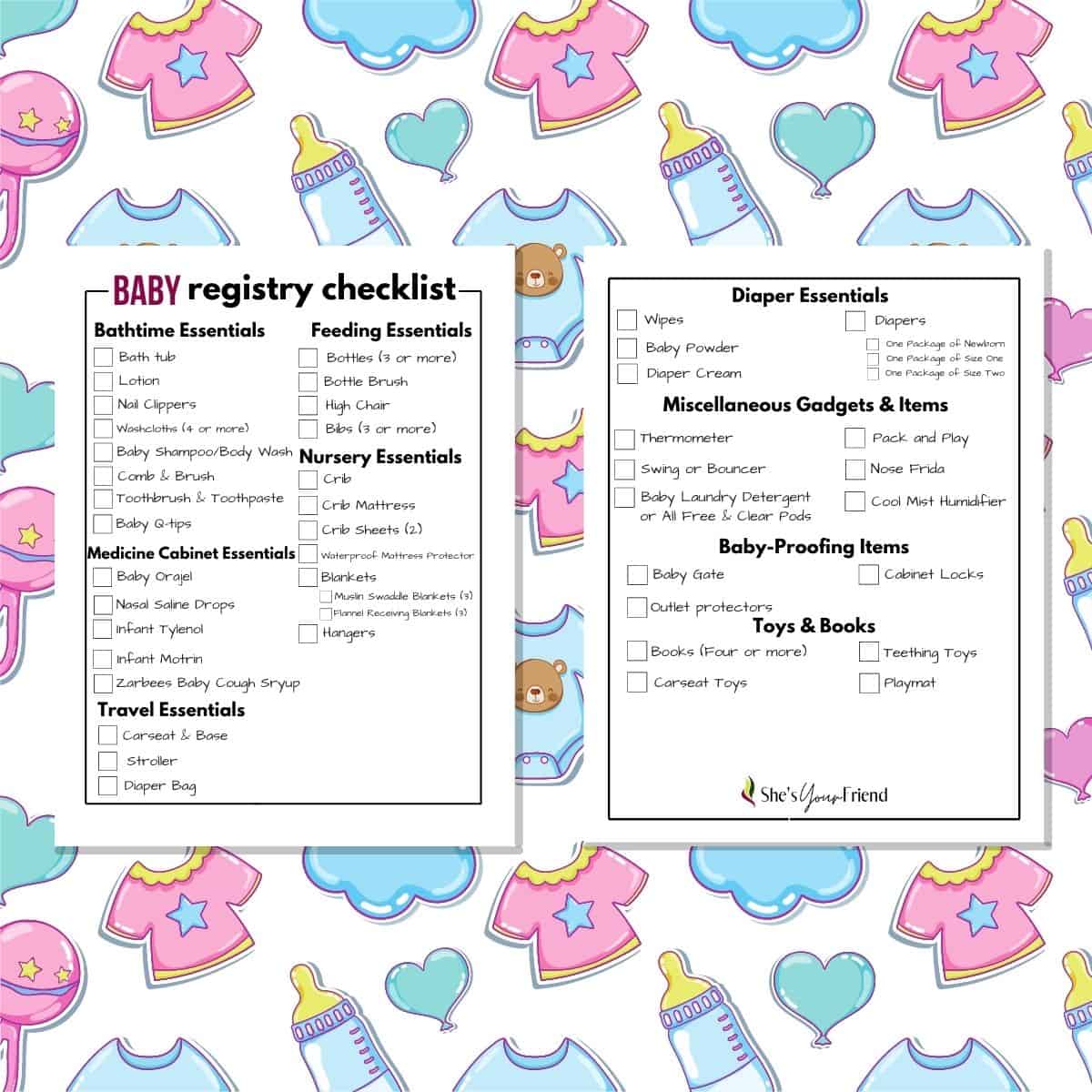 Download your free copy of this baby registry checklist
What to register for baby
Here's a brief summary of the baby registry items you should include:
Bath time essentials
feeding items
baby bedding
diapering must haves
medical essentials
nursery furniture & gear
travel essentials
play time items
baby proofing gear
Bathing
baby bath tub
baby lotion
baby nail clippers
washcloths
baby shampoo/body wash
baby comb & brush
baby toothbrush & baby-safe toothpaste
baby Q-tips (specially designed to not go in the ear very far for safety).
Feeding
bottles
bottle brush
high chair
bibs
burp cloth
Bedding
waterproof mattress protector (x2)
crib sheets (x2)
muslin swaddle blankets
flannel receiving blankets
Diapering
baby wipes (at least 4 boxes, you can never have too many baby wipes)
baby powder
diaper cream
Diapers (because you don't know how big your baby will be until you give birth, don't buy or register for too many newborn diapers)

One package of Newborn diapers
One package of Size 1 Diapers
At least one package of size 2 Diapers
Medical Essentials
baby orajel
nasal saline drops
infant tylenol & motrin
Zarbee's baby cough syrup
thermometer
nose frida
Nursery Furniture & Gear
crib
baby swing
cool mist humidifier
glider or rocker (optional)
baby clothes hangers
baby laundry detergent
Travel Essentials
Carseat & base (if you have more than one car, you may want a second base)
stroller
diaper bag
pack and play (it's a portable travel crib)
Playtime Items
Books (four or more)
Carseat toys
teething toys
activity play mat
Baby Proofing gear
Baby Gate
Outlet protectors
cabinet locks
Baby Registry FAQ
How does a baby registry work?
For first time parents, this is a common question. You pick a few stores and go through and create a registry which is a list items that new parents want.

When you have a baby shower, or someone wants to gift you something, knowing where you are registered can help them buy with ease.

Also, a lot of stores give new parents freebies for creating baby registries with them.
Where to register for baby?
Try to create a registry is at least 2 places so that your friends and family have lots of options for buying you a gift. The most popular places are Amazon, Wal-mart, and Target.
When should you make a baby registry?
You can create a baby registry whenever you want to. If you haven't announced your pregnancy to your family, you might want to make your registry private.
Should I register for baby clothes?
The only thing that you don't necessarily need to put on your registry is baby clothes.

You can register for clothes, but chances are people are going to buy what they think is cute for you, and in all honesty all baby clothes are cute!
How do I find someone's baby registry?
To find a baby registry, go to the site they are registered for and click registry. Then there will be a button that says search. Type in their name and it should populate with a long list of registries with that name.
Are baby registry free?
Yes, it's 100% free to create a baby registry. You add a bunch of items you would like to have and then send your registry to your family and friends. Then they have a customized list of things they know you will want.
How many baby registries can you have?
As many as you want to create! There are perks for registering in lots of different stores and it lets your family have options of where to buy for you.
More articles you might enjoy reading: