Find out everything you need to know on how to create a Target baby registry, what to register for, and so much more with this helpful checklist guide.
Jump to:
Target Baby Registry Must Haves
Here's the items we recommend you should add to your baby registry:
Bath items
baby bath tub- you won't need to bathe baby until their umbilical cord falls off, but this is still an essential item to help you during bath time. Alternatively, they also make a bath lotus that fits in your sink to hold baby, which can be a great option too.
baby lotion- babies have very sensitive skin, so we like gentle lotions from CeraVe, Cetaphil, or Aveeno. Just don't buy a lot of one brand because you won't know if baby's skin will react until you use it.
baby nail clippers-having a good set of nail clippers is another must have because they can scratch their skin easily.
wash cloths- the fluffier, the better when it comes to baby wash cloths.
baby shampoo-just like with baby lotion, only register for 1 or 2 different brands of shampoo. You won't know how baby's skin will react with it until you use it.
baby comb/brush- probably most often overlooked by new parents, but a comb and brush are great for helping comb out dandruff and cradle cape on your baby's head.
Feeding Items
Bottles-Register for at least 2 small bottles and 2 large bottles, more if you are planning to formula feed or exclusively bottle feed baby.
Bottle Brush- a bottle brush is another must have because it makes cleaning bottles so much easier.
high chair- this is a big ticket item that you won't need right away, but because of the completion discount, you should still register for it.
bibs- baby clothes are the cutest, but when you start baby food, it gets messy! Register for 8-10 bibs total.
burp cloth-burp cloths are great because they are super absorbent, and can be used for cleaning up all kinds of messes. The intended use is to throw the cloth over your shoulder to help catch any spit up when you are burping baby.
Nursery Furniture & Gear
Crib- Baby will need a place to sleep, so a crib is another must. A lot of new parents just opt to buy it right out, but register for it first. Then, you can use that completion discount to save money on it. A mistake I wish I would have known about.
Crib mattress- just about all crib mattresses are alike, but you will need one.
Baby swing- another must have because there will be times you need to set baby down, and a swing is a fun and safe place for this.
Cool Mist Humidifier- these are great if baby gets a cold or stuffy nose, but the sound it makes also acts as a great white noise machine.
Baby Clothes hangers- grab some plastic baby clothes hangers, preferably with the hooks so items don't slip off. Avoid the velvet hangers, although cute, they can be a real pain when you need to get an outfit off asap.
Glider or rocker (optional)- having a rocking chair or glider in baby's nursery can be a great thing to rock baby to sleep or for feeding or just holding baby. While not a necessity, these really are great to have!
waterproof mattress protector- safe your crib mattress from blow outs or pee soaking with a waterproof mattress protector. Register for 2 so you always have a spare!
Crib Sheets-find a lightweight fabric like jersey or cotton and again register for at least 2 so you have a spare for late night crib bedding changes.
Muslin Swaddle blankets- swaddles blankets are a must because they are lightweight, great for all seasons, and come in lots of different designs. Our favorites being from Aden and Anais.
Flannel Receiving blankets- you only need one package of these, but they are great for makeshift burp cloths and changing blanket for when you are out and about.
Diapering
Baby Wipes- you can literally never have too many baby wipes. They will become your go-to for cleaning up little messes on-the-go, diaper changes, and so much more. We recommend registering for at least 4 boxes of wipes.
Diaper cream- diaper cream goes a long way, so you can register for maybe 1 or 2 tubes at the most. It helps prevent and treat diaper rash in babies.
Diapers- ultrasound weight estimates are usually off, so register for a couple of different sized diapers. Not too many newborn sizes though because some babies skip newborn size and need a size 1 right away.

1 package of newborn diapers
1 package of size 1 diapers
at least 1 package of size 2 diapers
Medical/Health Items
baby thermometer-find a good rectal thermometer because it's the most accurate way to take baby's temperature.
Nose frida- this helps suck the snot out of your baby's nose and is a must for any new parent!
Saline Drops- add a few drops into baby's nose before using the nose frida to help loosen baby's snot.
Infant Tylenol & Infant Motrin- these are great for reducing fevers, and helping with pain after baby gets their vaccines. Follow the guidelines your pediatrician gives you on dosing, and get that form laminated and put on the refrigerator.
Zarbee's Baby Cough syrup- this is another amazing medicine that helps babies who have a cough. Just make sure to get the okay from your pediatrician before starting any new medicine.
Baby Orajel- this is a must for when baby starts teething! It helps add a cooling sensation to baby's gums and make it a little less painful.
Gripe water-baby's can get gas, and it hurts. Gripe water is made with peppermint oil to help naturally relieve baby's gas. If you formula-feed, this is a game changer!
Travel Essentials
Carseat and Base- a carseat and a base is a must. Additionally, having a second base can come in handy so you don't have to take the base out of your car anytime you switch cars or ride with someone else.
Stroller- a stroller is great for going out and about with baby, from trips to the park, shopping, or anytime you are going to be doing a lot of walking.
Diaper bag or backpack- a diaper bag is a new parent's lifeline when you are leaving the house. You need to bring a lot of things with you and a diaper bag or backpack holds all this.
Pack and play (optional)- these are really nice, especially if you travel a lot because it acts as a portable crib.
Playtime Items
Books-pick at least 4 different board books for baby to add to your registry. Also, you could ask your family instead of a card, to bring a baby book to your shower.
Car seat toys/ clip-on accessories-these are great for entertaining baby during long car rides.
Teething toys-these toys help baby break in those new teeth and soothe their sore gums. Register for at least 3.
Activity play mat/ tummy time mat-a tummy time mat helps baby enjoy tummy time while exploring different sensory toys.
Baby proofing gear
Baby gate-baby gates are used for blocking off stairs or doorways you don't want baby going into.
Outlet protectors-these keep baby from messing with outlets and are an easy way to baby proof.
Cabinet locks-these are great for keeping cabinets from being opened by little kids.
How to create a Baby Registry at Target
Head over to Target's baby registry, click create a registry.
Sign in, then fill out the information.
Start adding products to your registry.
Share your baby registry with family and friends.
Benefits of a Target Baby Shower Registry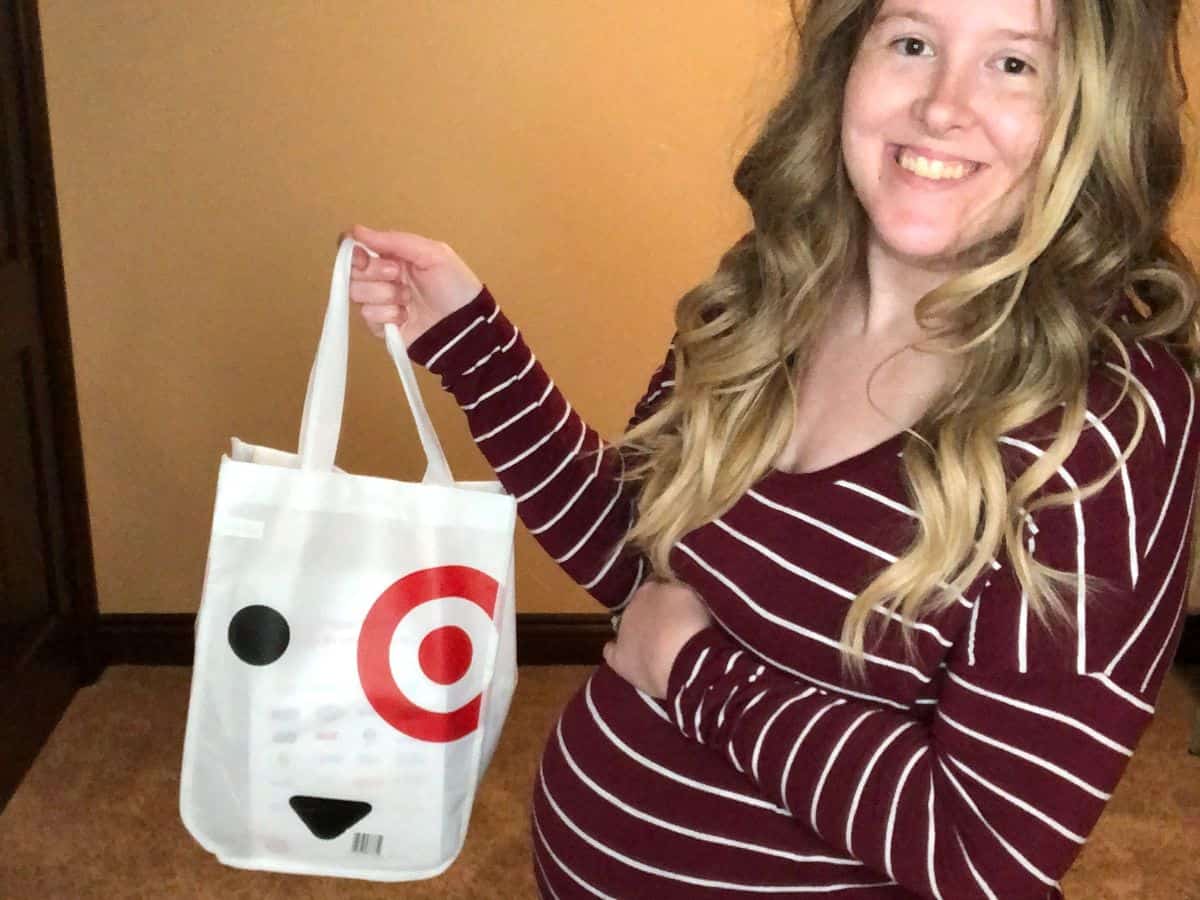 15% Completion discount- after your due date has passed (what you added in the beginning of creating) you are eligible for a discount on purchasing items that were not purchased.
Welcome kit- high value freebies, samples, and baby items.

pick it up in store
have it shipped to you with orders over $35
available for US residents
Can I make a private Target baby registry online?
Yes, under the settings make sure to leave the boxes unchecked under privacy settings. This way it's completely private and no one will know you have a baby registry until you are ready to announce it.
Should I register in other stores?
Absolutely! Your friends and family all shop in different stores so make it easy for them by registering in multiples places.
More articles you might enjoy: