Amazon has some great benefits and perks for new moms when you create a baby registry. Here's a complete guide on what to register for and why.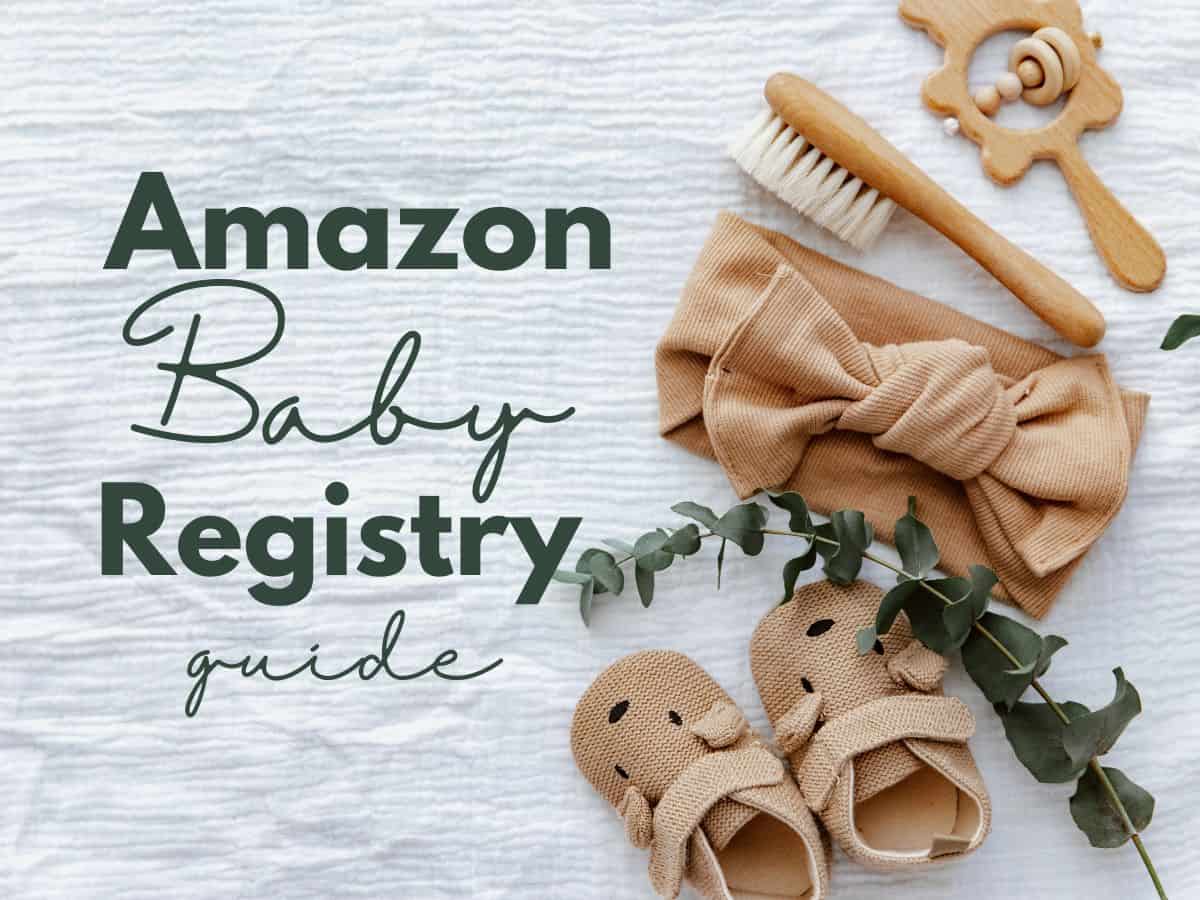 Jump to:
How to create a Baby Registry at Amazon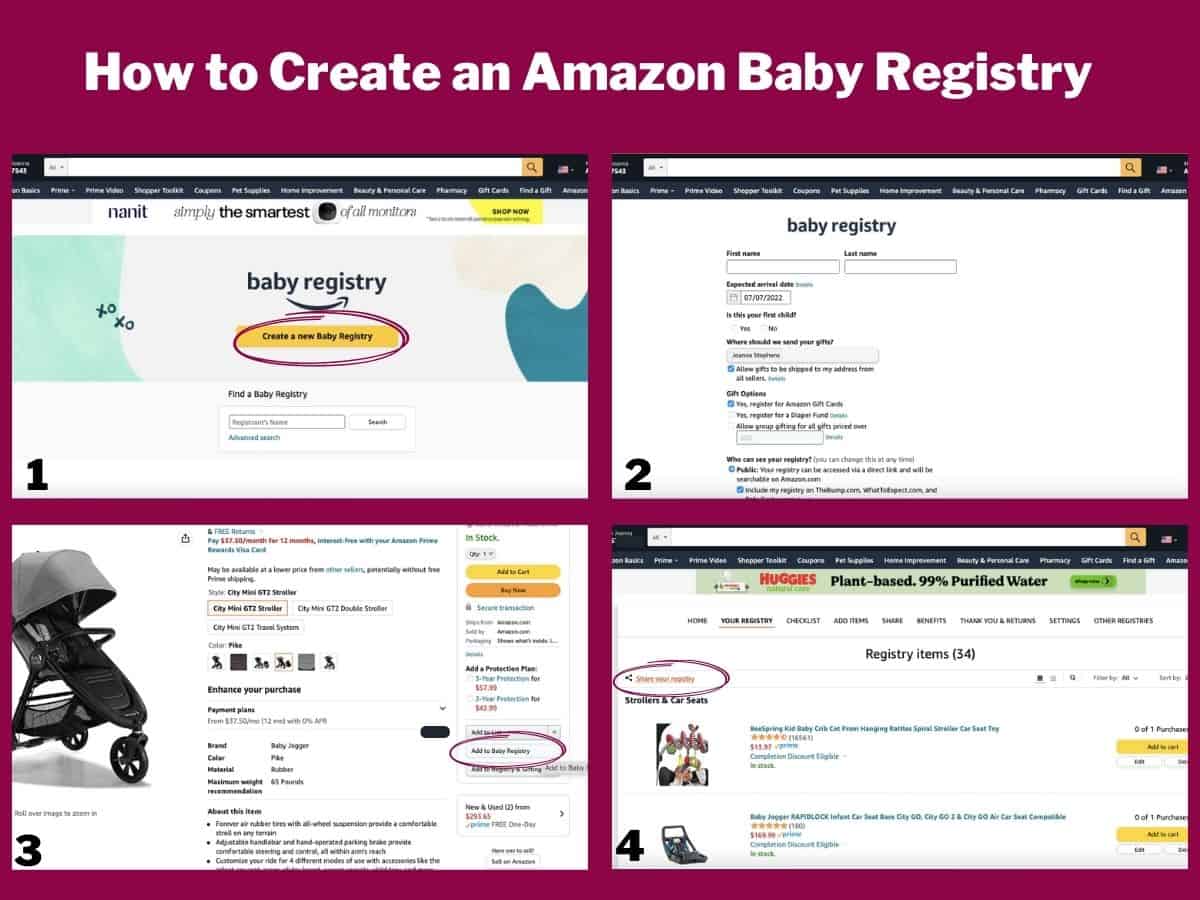 Head over to Amazon baby registry. Click create a new baby registry button.
Fill out your name, expected due date, and other information.
Then, start adding items to your registry.
Lastly, share your registry with your friends and family or let them know you are registered on Amazon in your baby shower invitation.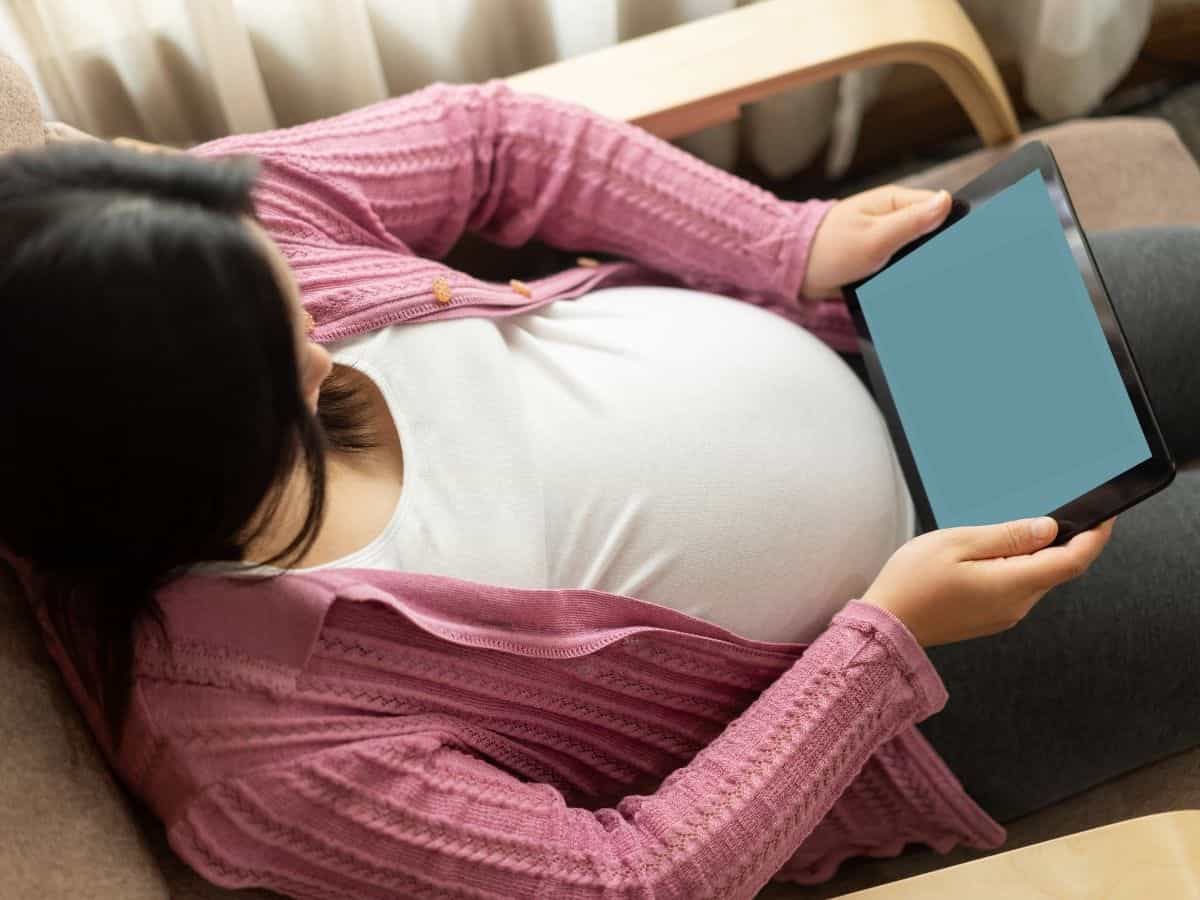 Benefits of Creating a Registry
Completion discount- after your due date has passed (what you added in the beginning of creating) you are eligible for a discount on purchasing items that were not purchased.

10% for non-prime members
15% for prime members

Diaper Discount-after your due date has passed you are eligible for 20% off diaper purchases up to a year after the date you picked for your due date.

eligible after purchases from your baby registry have totaled $500.

Welcome box-a box with high value freebies and baby samples.

eligible after you have registered for 60% of items in Amazon's checklist
have made $10 purchase (or others have) from your baby registry
available for US residents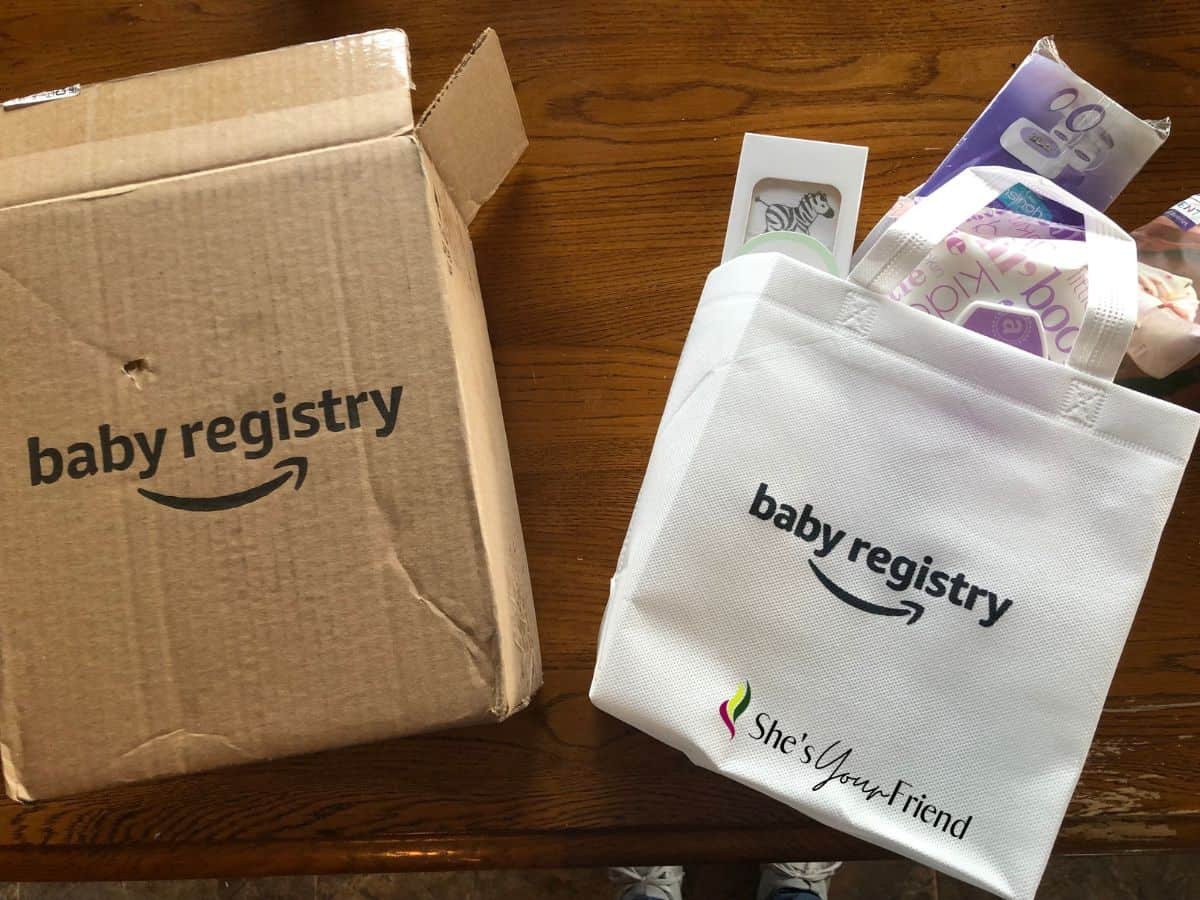 Baby Registry FAQ
How do you find someone's baby registry?
First you click on registry and then you search by name and type of registry.

When you create your own registry, you will also be given a share link that you can send to your family.
How do you complete the Amazon baby registry checklist?
Amazon has a checklist of different categories of items to register for. If you are wanting the welcome box, you only need to register for about 60% of Amazon's checklist.
Can you see who views your Amazon baby registry?
No, but you can see when an item is purchased from your registry. If they ship it directly to you, they can include a gift message so you know who it's from.
Printable Baby Registry Checklist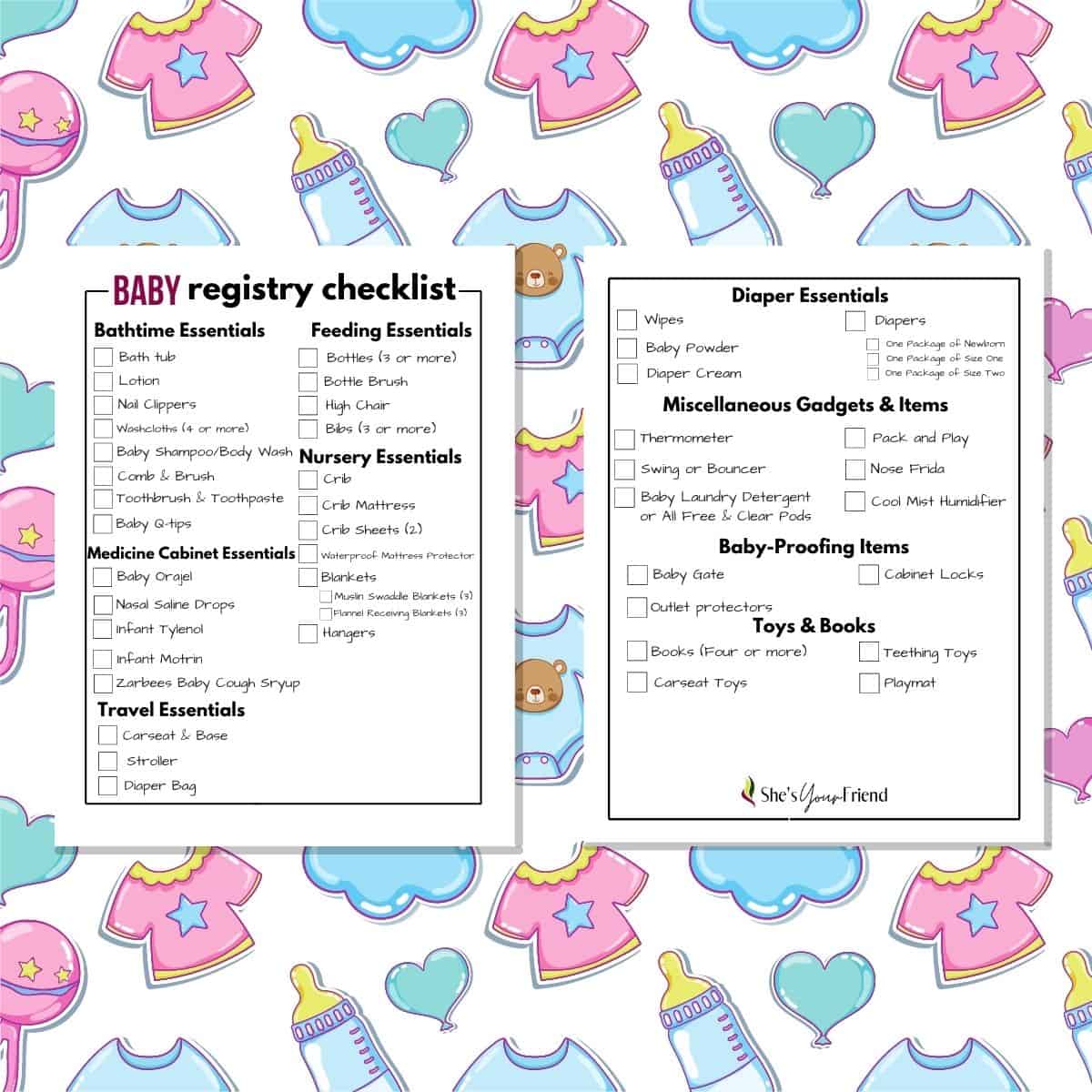 Get your free copy of this baby registry printable.
Baby Registry Must Haves
Here's the items we recommend adding to your baby registry:
Bath items
baby bath tub- these are great because they help support baby while you give them a bath. There's also a newer item called a bath lotus that fits into your sink and helps hold baby while you give them a bath.
baby lotion- babies have very sensitive skin, so we like gentle lotions from CeraVe.
baby nail clippers-since baby's skin is so delicate, keeping their nails trimmed is a must.
wash cloths- another bath item you will want are wash cloths, preferably something nice and soft.
baby shampoo-only register for 1 or 2 different brands of shampoo. You won't know how baby's skin will tolerate it until you use it.
baby comb/brush- use this to help style baby's hair, but it's also good for helping remove cradle cap flakes.
Feeding Items
Bottles- these are a must even if you are breastfeeding, because there will be times others will feed baby (ex. grandma watching baby so you can get a night out). Register for at least 2-4 small size bottles and 2-4 large size bottles.
Bottle Brush- bottles require cleaning, and it's a lot easier with a bottle brush, but you don't have to get fancy. Any bottle brush will usually work in any bottle regardless of brand.
high chair- you probably won't need a high chair right away, but you can definitely still register for it.
bibs- again you won't need these until baby is about 6 months old, but it's a great thing to add to your registry. My suggestion is no more than 10 bibs.
burp cloth- one of the best ways to help baby avoid getting a lot of gas is to burp them after drinking a bottle. This can get messy if baby spits up some, so burp cloths are another great item to have.
Nursery Furniture & Gear
Crib- even if you are planning on buying the crib yourself, register for it first. Creating a registry will give you coupons, and a lot of baby registries will give you a high-priced completion discount to finish purchasing what's left on your registry.
Crib mattress- a crib mattress is another must, we like this one because it has a removable machine washable cover.
Baby swing- baby swings are awesome because they hold baby so you can get that much needed shower. Bring the baby swing into the bathroom, so you can keep an eye on baby while you get done what you need to.
Cool Mist Humidifier- these act as a white noise machine, and are also great for helping little one's breathe when they have stuffy noses.
Baby Clothes hangers- help store baby's clothes on hangers, and these ones are great for saving space. One thing I regret was buying velvet hangers, they are adorable, but when you are needing a new outfit asap, those velvet hangers hold onto that onesie more than they should.
Glider or rocker (optional)- depending on your budget and room in your house, a glider or rocking chair can be a great addition. They provide mom a comfy place to hold baby and rock them to sleep or feed them.
waterproof mattress protector- you will want 2 that way if baby has a blow out or pees through their diaper you have a spare set to change and still keep the mattress protected.
Crib Sheets- again you will want at least 2 so in the event you need to change baby's bedding, you have a spare set of sheets to use.
Muslin Swaddle blankets- swaddling is a great way to help keep baby from startling awake or scratching their face in their sleep. We love Aden and Anais blankets, but specifically just make sure it's muslin because they are lightweight.
Flannel Receiving blankets- these make great burp cloths, or tummy time blankets. They are also good for rolling up and placing on the sides of the carseat if your baby is a little small.
Diapering
Baby Wipes- wipes are a must for changing baby's diaper and you can honestly never have too many especially in the first year. Register for at least 4 boxes of wipes.
Diaper cream- this helps prevent diaper rash, and it can also help soothe a diaper rash. In the NICU, the nurses would always apply Desitin as a precaution so babies wouldn't get rashes.
Diapers- when it comes to diapers, register for a couple of different sizes.

1 package of newborn diapers
1 package of size 1 diapers
at least 1 package of size 2 diapers
Medical/Health Items
baby thermometer-probably the most accurate way to take a baby's temperature is rectally. That being said, it would be good to have a designated baby thermometer just for that.
Nose frida- this helps suck snot out of baby's nose and is a must for any new parent!
Saline Drops- add a drop or two into baby's nose before using the nose frida to help loosen baby's snot.
Infant Tylenol & Infant Motrin- these are great for reducing fevers, and helping with pain after baby gets their vaccines. Follow the guidelines your pediatrician gives you on dosing, and get that form laminated and put on the refrigerator.
Zarbee's Baby Cough syrup- this is another amazing medicine that helps babies who have a cough. Just make sure to get the okay from your pediatrician before starting any new medicine.
Baby Orajel- this is a must for when baby starts teething! It helps add a cooling sensation to baby's gums and make it a little less painful.
Travel Essentials
Carseat and Base- if you have more than one car, you may want a second base so you can quickly put baby in the car without removing the base.
Stroller- we like this one because it easily folds, and it adjusts so you can use it from newborn through the toddler years.
Diaper bag or backpack- when you leave the house with baby, you still need to be prepared and have all the baby essentials packed in a diaper bag.
Pack and play- this is like a portable travel crib. If you do a lot of traveling or plan to have grandma watch baby overnight, this is another great item to have.
Playtime Items
Books- register for 4 or more. A popular idea is to ask your friends and family to get you a baby book instead of a card for your baby shower.
Car seat toys/ clip-on accessories- this is another fun thing to have as baby gets older. Having fun toys that are attached to the car seat can make a much more enjoyable car ride with little ones.
Teething toys- as baby begins to break in teeth, these teethers can help soothe baby's gums.
Activity play mat/ tummy time mat- this fun and colorful mat is perfect for tummy time. It has lots of fun toys, a piano for baby to kick, and lots of other sensory play items built in.
Baby proofing gear
Baby gate- if you have stairs, you need to have one at the top of your stairs to prevent baby falling down when they get to crawling. If baby will spend any time downstairs, it's also good to have one at the bottom of the stairs too.
Outlet protectors- these are placed in outlets to prevent little fingers or little ones putting things into outlets.
Cabinet locks- there are lots of different kinds of cabinet locks, but they are also important for keeping baby and young kids out of cabinets that store chemicals and other things you don't want baby getting into.
More articles you might enjoy: