Here's your complete guide to creating a baby registry at Buy Buy Baby, what to register for, the benefits, and so much more!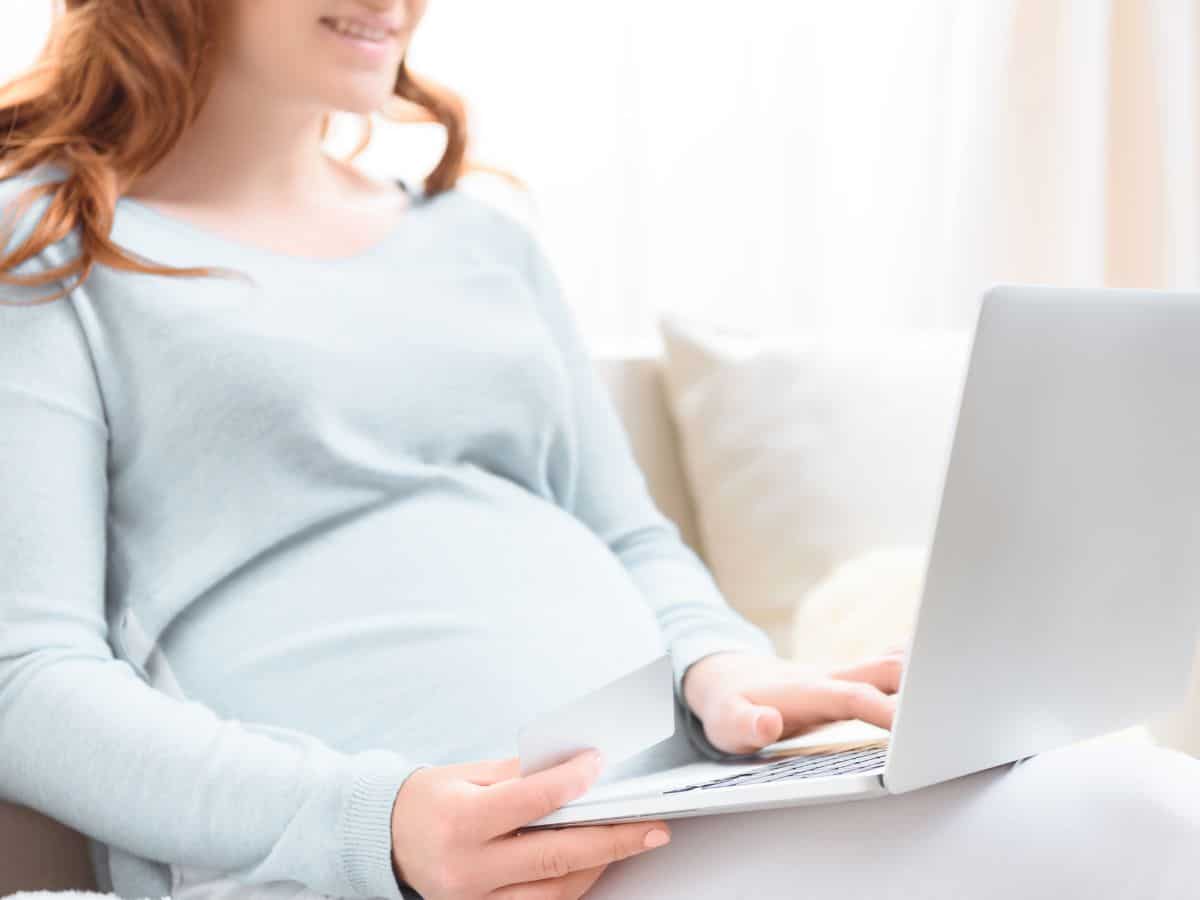 Jump to:
Buy Buy Baby Registry Must Haves
Here's the items we recommend you add to your baby registry, but feel free to add more if you think of something else you really want:
Bath items
baby bath tub- these are great because they help support baby while you give them a bath and can be used with baby all the way up until they are 24 months old.
baby lotion- babies have sensitive skin, so we like gentle lotions from CeraVe.
baby nail clippers-keeping baby's nails trimmed is another important thing new parents need to remember because you don't want them scratching their face.
wash cloths- find a set of soft wash cloths. We always used them to keep baby warm while we washed their hair.
baby shampoo-register for 1 or 2 different brands of shampoo, but make sure it's gentle.
baby comb/brush- these little brush/comb sets are great for styling baby's hair but also for removing cradle cap flakes.
Feeding Items
Bottles- Register for at least 2-4 small size bottles and 2-4 large size bottles.
Bottle Brush- Any bottle brush will usually work in any bottle regardless of brand, but make sure you get one.
high chair- you won't need a high chair right away, but register for it anyway so you can take advantage of the completion discount!
bibs-you won't need these right away either until baby is about 6 months old, but it's a great thing to add to your registry.
burp cloth- these are absorbent cloth that you drape over your shoulder when you are burping baby. They have fun designs, but even the plain ones will work!
Nursery Furniture & Gear
Crib- even if you are planning on buying the crib yourself, register for it first. This like the high chair is something you can use your completion discount on!
Crib mattress- a crib mattress is another must. Don't be swayed by the waterproof ones, you should still get a waterproof mattress protector.
Baby swing- baby swings are an awesome baby gear item! Bring the baby swing into the bathroom, so you can keep an eye on baby while you get a shower.
Cool Mist Humidifier-these are great for when baby has a cold, and they also make a great white noise machine.
Baby Clothes hangers- these are great for storing baby's clothes in the closet.
Glider or rocker (optional)- depending on your budget and room in your house, a glider or rocking chair is another great thing to have!
waterproof mattress protector- you will want 2 of these that way if baby has a blow out or pees through their diaper you have a spare set to change and still keep the mattress protected.
Crib Sheets- you will again want at least 2 so in the event you need to change baby's bedding, you have a spare set of sheets to use.
Muslin Swaddle blankets- get at least one package of muslin swaddle blankets, we loved Aden & Anais because they have the coolest prints and last a long time!
Flannel Receiving blankets- these are great blankets for having in your diaper bag for when you need to change baby on the go. They also make great burp cloths, or tummy time blankets.
Diapering
Baby Wipes- wipes are a must for changing baby's diaper and you can honestly never have too many especially in the first year. Register for at least 6 packages of wipes. The pop top wipes were our favorite but any will work.
Diaper cream- this helps prevent baby from getting diaper rash, and it can also help soothe a diaper rash. In the NICU, the nurses would always apply Desitin after every diaper change as a precaution so babies wouldn't get rashes.
Diapers- when it comes to diapers, register for a couple of different sizes.

1 package of newborn diapers
1 package of size 1 diapers
at least 1 package of size 2 diapers
Medical/Health Items
baby thermometer-we like this quick-read rectal thermometer especially for the first year with baby.
Nose frida- this device helps suck snot out of your baby's nose and is a must for any new parent!
Saline Drops- add a few drops into baby's nose before using the nose frida to help loosen baby's snot.
Infant Tylenol & Infant Motrin- Both of these help reduce fevers, and help with pain after baby gets their vaccines. Follow the guidelines your pediatrician gives you on dosing, and get that form laminated and put on the refrigerator.
Zarbee's Baby Cough syrup- this is another amazing medicine for baby when they get a nasty cough or even RSV. Just make sure to get the okay from your pediatrician before starting any new medicine.
Baby Orajel- this teething gel is a must for when baby starts teething! It helps add a cooling sensation to baby's gums and make it a little less painful for them.
Travel Essentials
Carseat and Base- if you have more than one car, you may want a second base so you can quickly put baby in the car without removing the base.
Stroller- we like the Baby Jogger City Mini because it easily folds, and it adjusts so you can use it from newborn through the toddler years.
Diaper bag or backpack- pick a diaper bag with a lot of storage and big enough to carry all the essentials when you are out and about.
Pack and play- this is a portable travel crib, and another must is you travel a lot or plan to have grandma watch baby overnight.
Playtime Items
Books- register for at least 4. A fun idea is to ask your friends and family to get you a baby book instead of a card for your baby shower.
Car seat toys/ clip-on accessories- these are great to have as baby gets older. Having fun toys that are attached to the car seat can make car rides much better!
Teething toys- as baby begins to break in teeth, teething toys can help massage baby's gums and even help those teeth come in quicker.
Activity play mat/ tummy time mat- this colorful mat is perfect for tummy time. It has lots of fun toys, a piano baby can kick, and lots of other sensory play items built in.
Baby proofing gear
Baby gate- if you have stairs, you need to have one at the top of your stairs and one at the bottom of the stairs.
Outlet protectors- these are placed in outlets to prevent little fingers or little ones putting things into outlets.
Cabinet locks- there are lots of different kinds of cabinet locks, but they are also important for keeping baby and young kids out of cabinets that store chemicals and other harmful things you don't want baby getting into.
Other miscellaneous items
Baby laundry detergent-you will want a baby detergent that is safe and gentle while still able to get clothes clean.
Baby clothes-register for a variety of styles and sizes, but be prepared for friends and family to pick their own things too!
Mittens-these are a must for newborns because their fingernails can scratch their face easily.
How to create a Baby Registry at Buy Buy Baby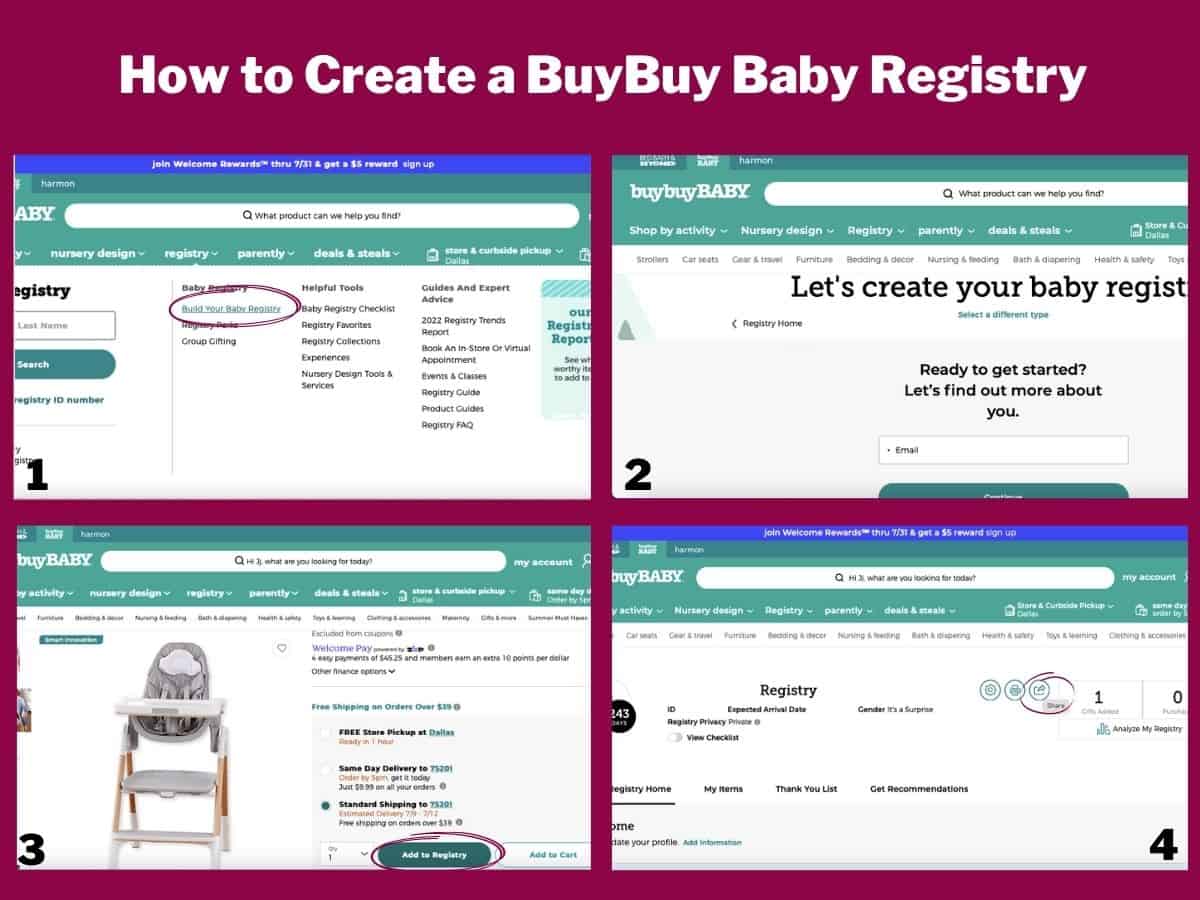 Head over to Buy Buy Baby and click registry then build your baby registry.
Fill out your information to create a new registry.
Pick items to add to your registry, there is a button beside the item where you can add it to your registry.
Once you've added everything you can think of to your registry, share it with your friends and family by emailing or adding it to social media.
Benefits of a Registry at BuyBuy Baby
15% Completion discount- after your due date has passed (what you added in the beginning of creating) you are eligible for a discount on purchasing items that were not purchased. .
Free Good bag-filled with high value freebies and baby samples.
Buy Buy Baby Registry FAQ
Can you make your baby registry private?
Yes, go to your baby registry home page on Buy Buy Baby and toggle the hide checklist button. Then, only you know about it until you are ready to share the news!
Does Buy Buy BABY offer registry discount?
Yes, they have a 15% completion discount on anything that wasn't purchased and takes affect after your due date has passed.
More articles you might enjoy: