Bottles are one of the most essential item for your baby!
It's how you feed your baby either breastmilk or formula, so how do you know which is the best baby bottle?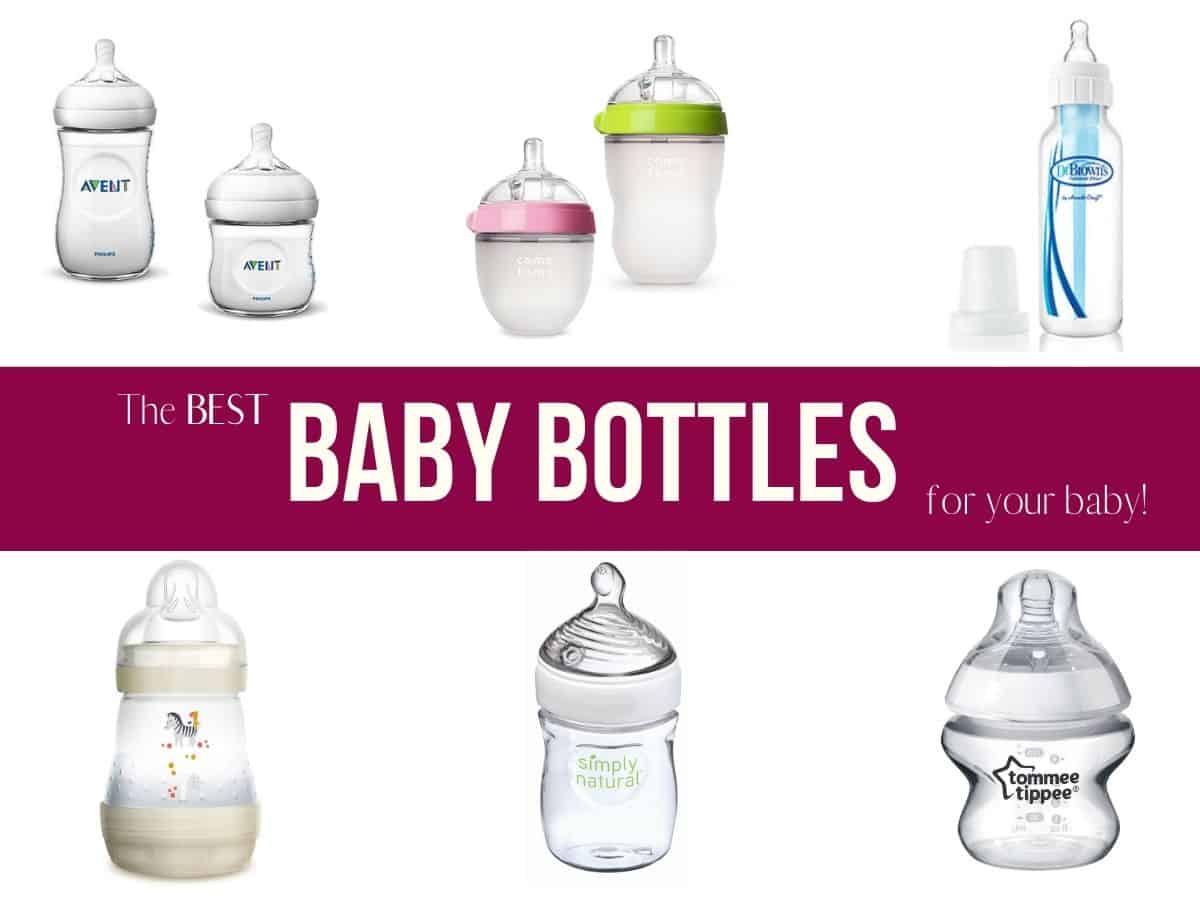 Jump to:
You need them because there will be times you can't or won't breastfeed, and that's where bottles come into play.
Best Baby Bottles
1. Philips Avent Natural Bottles (Our top choice!)
These bottles are great becuase there shape makes it easier for little hands to hold. They are also the ones I used for both of my kids!
We liked them because they were easy to clean, and came in a variety of sizes. The 4-ounce bottles is perfect for the first few months, and the 9-ounce bottle is great for when your baby is drinking a lot more in one setting.
They also have a vent that helps reduce the amount of air that your baby might swallow, which can lead to a baby with gas pains.
You can find these in either plastic or glass, which ever you prefer.
2. Como Tomo Baby Bottles
These are a newer brand of bottles, but are quickly growing in popularity. The design of these bottles is supposed to mimic breastfeeding.
What's so unique about the Como Tomo bottles is that the body of these bottles is squeezable. They also have two sizes, a 5 oz bottle and a 9 oz bottle.
3. Dr. Brown's Baby Bottles
Dr. Brown's baby bottles are a great option for babies who suffer from colic and gas. They have a different type of vent system that prevents the most air from getting to baby's tummy.
You can find these in 4oz bottles, 5 oz bottles, and 8 oz bottles.
They also have a glass option, if that is what you are looking for!
4. MAM Anti-colic baby bottles
Another great option for baby bottles is this one by MAM. They are specially designed to help prevent colic by reducing the amount of air your baby swallows while drinking.
The only drawback is that they have a few more pieces to assemble because of the vented base at the bottom of the bottle. All in all though, definitely worth it if your little one has trouble with gas!
MAM does offer a glass bottle, but with a slightly different design and shape.
5. NUK Simply Natural Baby Bottles
The nipple on these NUK bottles are a little different than other bottles in that they have a bit of a flat spot. This is to help lay in baby's mouth naturally.
They also have a built-in venting system in the nipple which helps regulate flow and keep baby from swallowing too much air.
You can find these in plastic and also in glass, although the glass option is a little bit more expensive.
6. Tommee Tippee Closer to Nature Baby Bottles
Tommee Tippee has a bottle that is also great for breastfed babies. The nipple on this bottle is one of the closest to the "real deal" ;). Hence the name "closer to nature".
This bottle is also easy to hold, both for baby and mom or dad!
7. Playtex Baby Nurser with Drop-in liners
The last on our list is the Playtex Baby Nurser. What's unique about these bottles, is that they have drop-in liners that make clean up a breeze!
They are great for breast milk and also formula, although you will want to shake it really well if using baby formula.
Glass baby bottles vs plastic baby bottles
One of the first things you should think about when it comes to choosing the best baby bottle for your little one is plastic or glass.
There are benefits and drawbacks to each, but the decision will solely rest with you. (Don't worry, mama! Whatever you decide, your baby is in good hands.)
Glass bottles
Glass bottles can be washed in the dishwasher.
They won't degrade overtime, which means they last longer than plastic bottles.
They are more expensive.
They are heavier, which means harder for little ones to hold.
They can break.
Plastic Bottles
Most plastic bottles are BPA free.
The bottles are a lot lighter.
They are also cheaper than glass bottles.
They can't break, but overtime the outside measurements and labeling can wear off.
Other Things to Consider When Picking the Best Baby Bottle
You can use any kind of bottle, regardless of breastpump. All you would do is pour the breastmilk into the bottle.
Babies will grow accustomed to one brand of bottle. To avoid nipple confusion, it's best you find a bottle your baby loves, and then stick with them!
The best way to warm of a bottle of milk is to place the bottle in a bowl of hot water. Microwaving a bottle can cause the milk to heat up disproportionately resulting in cold milk and hot milk in different spots.
Baby Bottle FAQ
How many baby bottles should I have for a newborn?
If you are formula feeding, you will want at least 4 4oz bottles. If you are breastfeeding you will only need 1 or 2 bottles for the times when you aren't able to feed baby or you want your partner to help.
How often should baby bottles be replaced?
You can use baby bottles for a long time just make sure to wash them and sterilize them. You should only need to replace them if they show signs that the bottle is deteriorating.
Which baby bottles are the best?
We loved the Phillips Avent bottles and our second favorite are the flexible bottles from Como Tomo.
While these are the top 7 for 2022, they are always coming out with new and improved designs. Also, there are lots of other great options! Just find what works for you and baby.
Thanks for stopping by, if you enjoyed reading please remember to pin this to your favorite board on Pinterest!
More baby gear