Diaper backpacks are quickly outnumbering diaper bags and with good reason! They make things a lot easier because one shoulder isn't carrying all the weight anymore.
Jump to: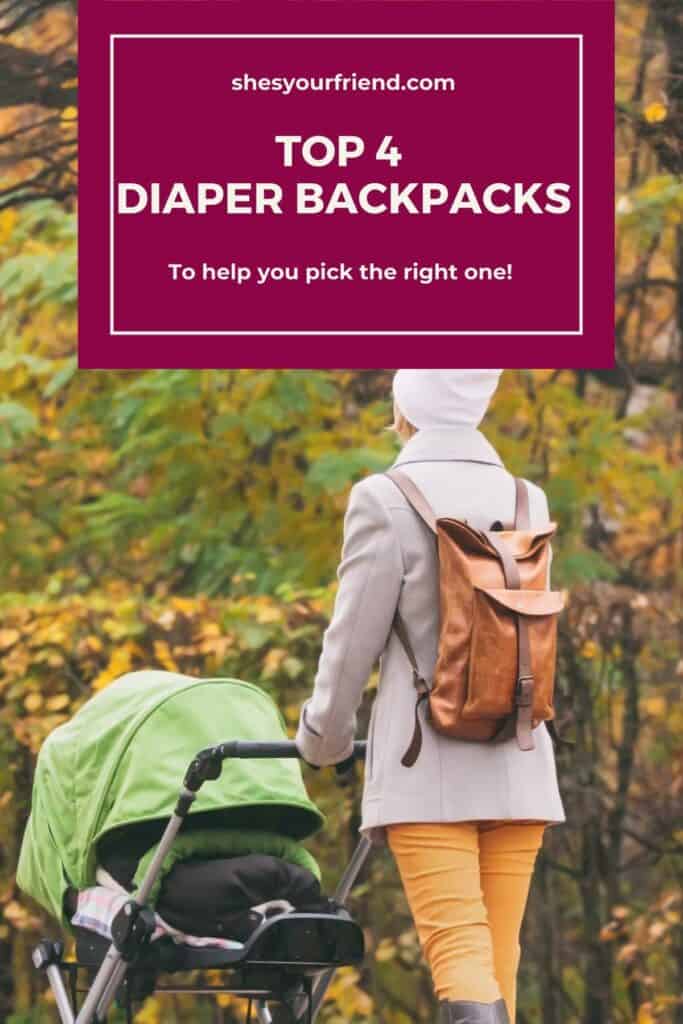 Top 4 Diaper Backpacks
Here's a look at our favorite diaper backpacks and why:
1. Derjunstart Diaper backpack with changing station
How cool is this diaper backpack that has a builtin in changing station? This backpack is perfect for the on-the-go mom.
It has two insulated bottle pockets, lots of inside storage pockets, a usb charging port, and a stroller strap if you don't want to carry it.
It even has a pocket that lets you easily grab a baby wipe, which is an amazing thing that every diaper bag should have!
2.BabbleRoo Diaper Backpack
The BabbleRoo diaper backpack has so many layers, pockets, and yes it also has that cool wipe pocket where you can easily grab one when you need it.
With over 11,000 five star reviews on Amazon, you can quickly see why so many moms love this bag, and why you will too!
With 3 insulated bottle pockets, diaper organizer, and stroller straps the only thing this one doesn't have is the changing station built in, but it does come with a changing pad.
3. Mominside Diaper Backpack
This diaper backpack is very trendy, and it has some great storage! They also designed the straps to be wider for a more comfortable carrying.
It also has 4 insulated bottle pockets, a back zipper so you can quickly remove items on the bottom of your bag without having to dig around.
Like the other two, this also comes with stroller straps, and lots of pockets to keep everything organized.
4.Mommore Diaper backpack
This Mommore diaper backpack is another stylish option that looks like a high end bag.
It's a lightweight bag with lots of inside pockets, the only draw back being that it doesn't have any insulated bottle pockets.
It would be a great toddler mom backpack for this reason because then you wouldn't be using bottles anymore.
What to look for in a diaper backpack
Here are a few things you will want to keep in mind when purchasing a diaper backpack.
Easy to clean. Things get messy, so look for a backpack that can be easily wiped out or washed in a washer.
Lots of pockets. When it comes to a diaper bag or backpack, pockets are your friends. Bonus if they have insulated pockets to keep bottles cool for awhile. Otherwise you may need your own bottle cooler.
Stroller straps. This is a must especially for trips to the zoo our long outings when you are using your stroller. Your back will love you for this in the long run.