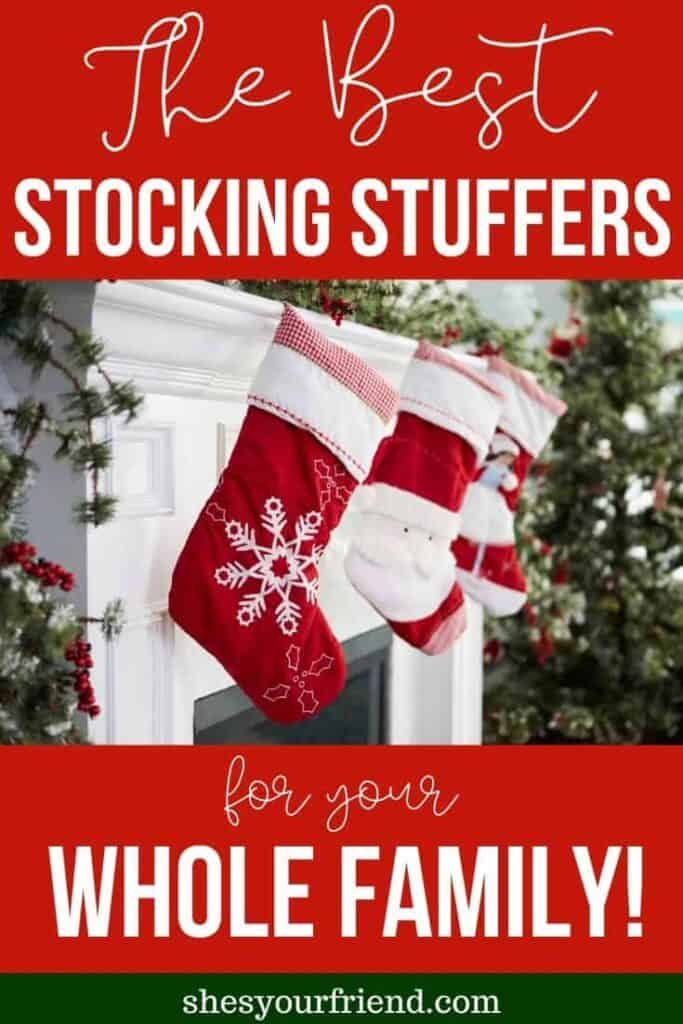 The stockings were hung by the chimney with care, and this year your stocking stuffers be picked out with care! Here is a list for everyone in your family, from babies to toddlers, teens, pets, and even your husband or wife. This is one article you are going to want to look at again and again, so don't forget to pin it to view later!
In an effort to fully disclose, this article may contain affiliate links which means if you purchase anything, I would receive a commission. For more information see my Disclosure page.
Stocking stuffers for babies
Babies aren't picky! They are going to like just about anything, but if you are stumped on stocking stuffers for them, here are a few ideas: teething toys, rattles, board books, noise makers, teddy bears, and also play mats.You can think practical too, because again babies aren't picky: socks, hair bows, hats, or even some super adorable clothes! If you are still unsure what should be in their stocking, put some gerber puffs or one of their favorite snacks.
Stocking stuffers for toddlers
Toddlerhood. Nuff' said, am I right? Toddlers start becoming more picky but there are still some surefire stocking stuffers to please even the pickiest toddler! Some of the ideas include: books, balls, teddy bears, dolls, cars, puzzles, bubbles, bath toys, shoes, hats, mittens, and jewelry. Clothes are also a great option, but don't be too hurt if their reaction isn't as excited as that of a toy.
Stocking stuffers for girls
Now then, when your toddler girl starts growing up what do you put in her stocking? Well, some stocking stuffers could be jewelry, makeup, clothes, purses (if they fit in a stocking), hair accessories, building blocks, legos, barbies, and other STEM (science, technology, engineering and math) toys. Afterall, why not encourage your daughter to love learning!
A few other stocking stuffers could be dolls, painting supplies, books, and also cooking supplies. It really depends on what your girl is interested in!
Stocking stuffers for boys
Boys can also be tricky when it comes to stocking stuffers. When in doubt, find one of their favorite tv shows, or movies and use that for inspiration. Also like with girls, STEM toys are a great way to start your child on a lifetime of loving to learn! A few more options are: cars, painting supplies, action figures, legos, books, video games (that fit in a stocking), and also clothes.
Stocking stuffers for women
Stocking stuffers can even be fun for women no matter if they are hard to buy for or not. Here are a few ideas: jewelry, makeup, skincare, lotion, nail polish, gloves, perfume or a wallet. Does she like to cook? Try out some cooking supplies like rubber spatulas, fun cake pans (again if they fit in a stocking), knives, or a digital meat thermometer. If they like to paint, you could use paint or paint brushes as stocking stuffers.
Stocking stuffers for men
Even men can enjoy stocking stuffers when you pick out an item they will love. Here are a few ideas for them: pocket knife, watch, fashlight, cologne, mini bluetooth speaker, tools (wrenches, sockets, pliers, etc), and also a camera. Do they like to barbecue? Try out some new grill tools, a fun barbecue sauce or even a non-stick grill mat. If they like to fish, you can put hooks, bobbers, or lures in the stocking. Maybe they are a fitness guru, so you could opt for a fitbit, wireless earbuds, or some athletic wear for their stocking stuffers.
Stocking stuffers for pets
Pets really a part of the family, so don't forget stocking stuffers for them! While it does depend on the animal, but dogs would love balls, frisbees, bones, and also some other chew toys. Cats would be just happy with some canned cat food, treats or a fun wind up mouse that they can chase around.
Stocking stuffers for teens
I saved teens for last, because they are probably the hardest to find stocking stuffers for. This doesn't mean it's impossible, just a little more time is involved. For teen girls, you could go with perfume ( if you know what they wear), clothes or even a gift card to a clothing shop, jewelry, camera, fitbit or other fitness tracker. For teen boys, you could pick from cologe (again if you know what they wear), clothes or a gift card to a clothing shop, camera, and also a fitbit or other fitness tracker. Another surefire stocking stuffer for teens would be a cell phone!
When in doubt though, gift cards are going to be a big help around the teen years. Styles are changing, and so will your teen's taste in clothes/jewelry/shoes and just about everything. Gift cards can still be personable when you pick out a gift card from their favorite place to shop!
Well, there you have it! Stocking stuffers for the whole family. Which ideas are your favorite? Who is the hardest person to shop for in your family? Chime in and leave a comment below!
P.S. Don't forget to pin this article so you can refer back to it year after year during Christmas time, or whenever you do your Christmas shopping ;).