Are you looking for some great stocking stuffers for your baby girl? If so, look no further!
Jump to:
1. / 2. / 3. / 4. / 5. / 6. / 7. / 8.
Stocking fillers for baby girl 0-3 months
Crinkle books are great for little babies. They make fun noises and have colors that baby can see.
This fun teether is easy to hold and absolutely cute. You can never have too many teething toys especially when baby starts teething.
3. Bright Starts Lots of Links
These brightly colored links are great for baby to establish a grip and play with them. They are also good for linking other toys and rattles so that baby can have lots of things to play with.
This fun little unicorn provides lots of entertainment and stimulation for your baby girl. There are different textures and colors to keep her busy and interested!
Hair bows are another great idea for filling your baby girl's stocking. There are so many different colors and designs to choose from.
Perfect for the winter time, a baby hat is another great stocking stuffer.
This pack of 10 rattles and teething toys is another affordable option to easily fill up a stocking.
These baby boots are so gorgeous and would be perfect for your baby girl. I like that they are very similar to UGGS.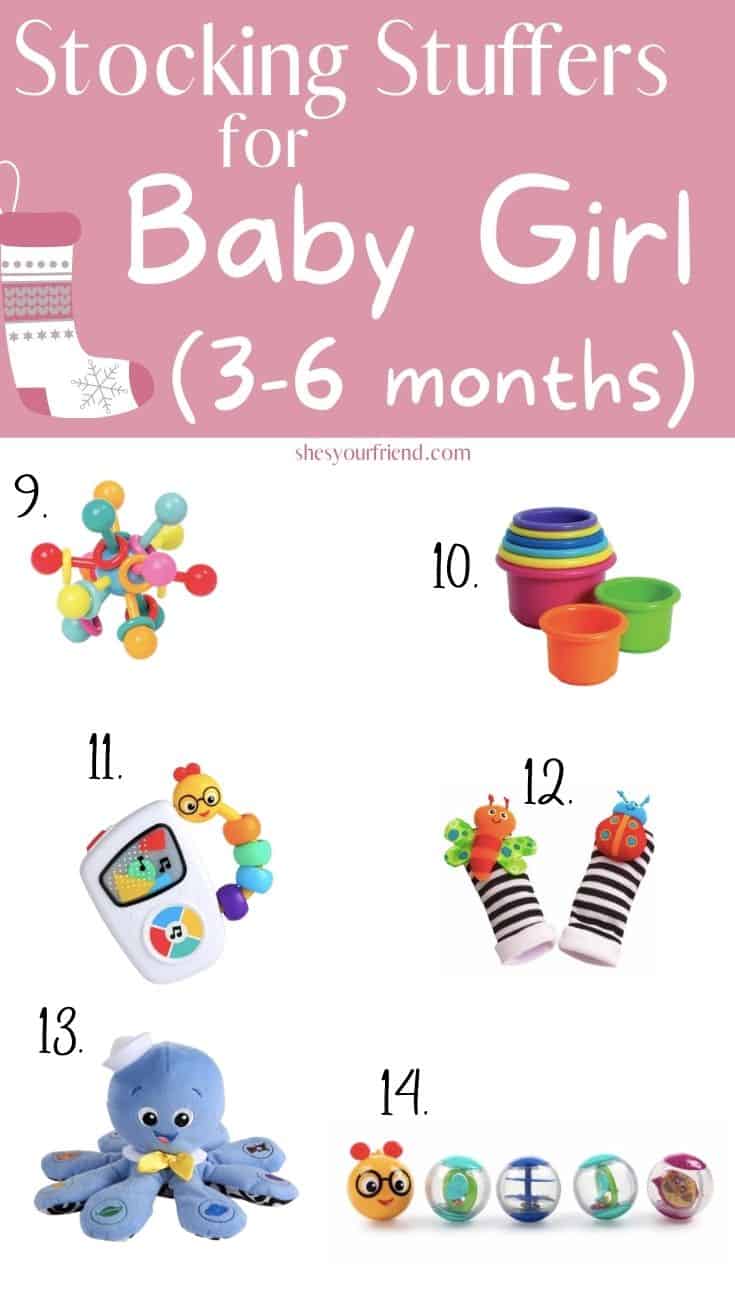 9. / 10. / 11. / 12. / 13. / 14. /
Stocking Fillers for baby girl 3-6 months
9. Manhattan Toy Atom Rattle & Teether
This is a bright and colorful toy that your baby girl will love playing with. It's easy to hold and great for tummy time.
These are another fun idea for your baby girl's stocking. Both my kids LOVED playing with these when they were little.
This toy makes classical music like Mozart and Chopin fun for babies! We always loved Baby Einstein toys because they were educational, and the musical ones were so fun to listen to.
These are just the cutest little socks. They have fun little animals that have rattles. You little one's eyes will just light up with these!
An octopus that plays fun music and is soft enough to cuddle with. This is another toy your baby girl will LOVE!
14. Baby Einstein Roller-pillar
These little balls when lined up look like a caterpillar, but have different activities for baby to play with in each one.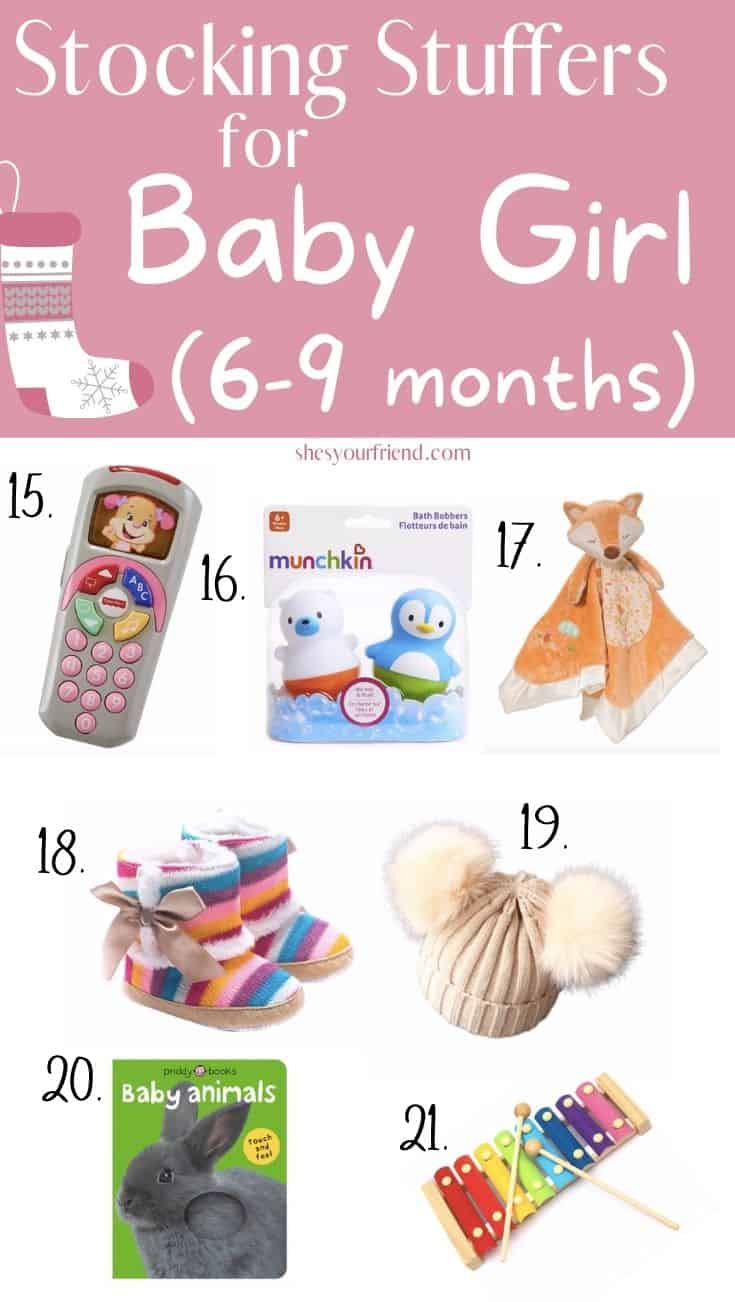 15. / 16. / 17. / 18. / 19. / 20. / 21.
Stocking Fillers for baby girl 6-9 months
This fun remote lights up, plays music and is great for teaching your baby girls different numbers and some abc's.
These cute little animal bath bobbers are great for making bath time fun. We always steer clear of the bath toys with holes in the bottom for squirting as they can get really moldy inside.
This is a great little cuddle blanket for car rides, or just a special little blanket to hold.
These are some of the cutest baby boots I have ever seen! Your baby girl will look so adorable in them.
Pom hats are so popular right now, and these double pom hats are so stylish!
Board books are great for little ones. We have always loved the touch and feel board books because it let's baby feel different textures!
This musical instrument is a fun stocking stuffer because your baby will get to make her very own music!
Stocking Stuffer FAQ
What can you put in a stocking for a baby?
Think small items like teething toys, extra pacifiers (if you use them), little toys, board books or clothes.
What do you put in a newborn Christmas stocking?
Think items that are useful like baby clothes, hats, mittens, and of course board books for parents to read as baby gets older.
What is the most useful baby item?
Baby bottles, formula (if used), wipes, baby blankets, and baby clothes. For Christmas you can find some special holiday themed clothing!