Are you shopping for someone who loves cars? If so, these are the best stocking stuffers for them.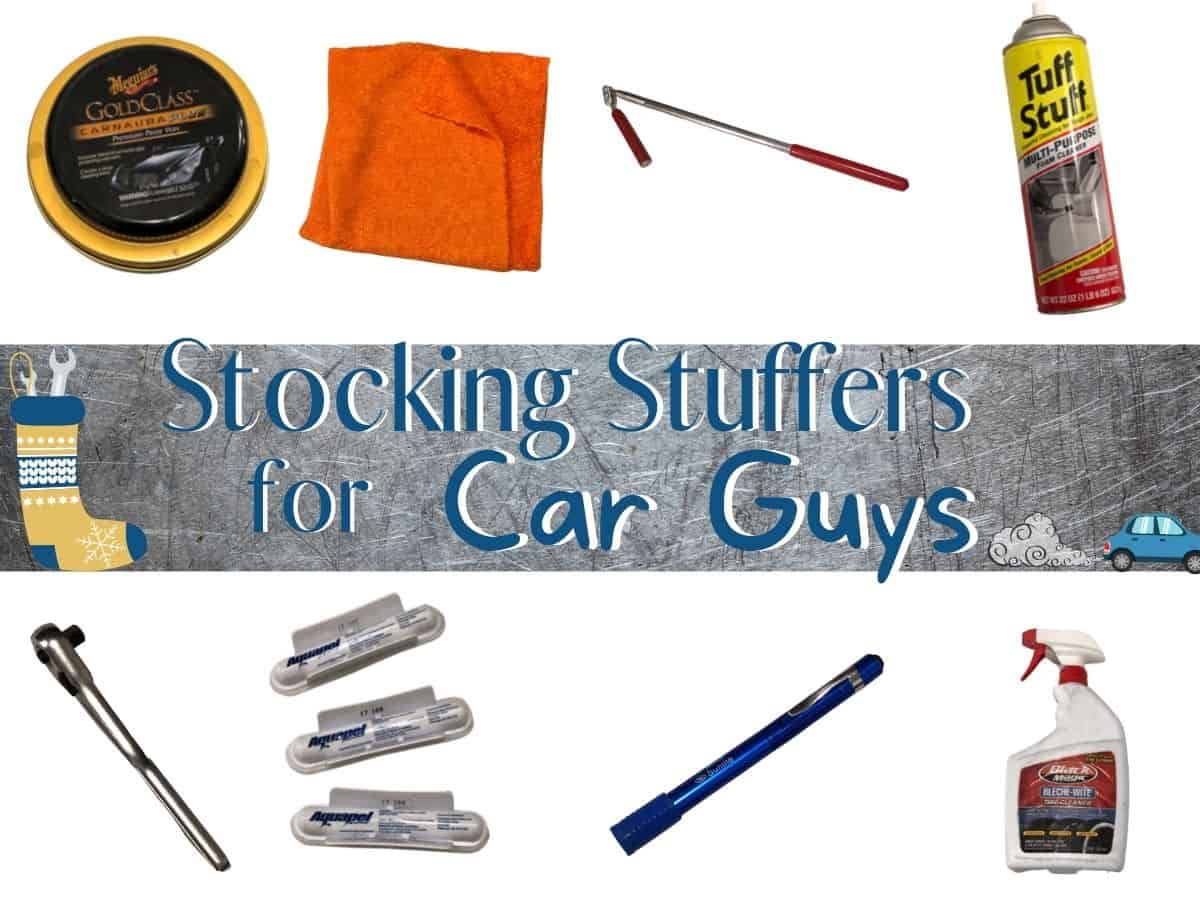 1. Snap-on ratchet
Snap on is a popular brand for tools because they offer lifetime warranty, and are really well made. If you have a car guy in your life, than you can never have too many tools.
Ratchets are great for working on cars and all the tinkering it involves.
2. Car Wax and applicators
Car guys are always cleaning and having a good car wax can be a game changer for that. Waxing a car helps make washing the car a lot quicker. My husband likes using Meguiars's Gold Class paste wax.
3. Tuff Stuff
Tuff stuff foam cleaner is great for cleaning car interiors and carpets which is why it would be a great stocking stuffer.
4. Car Air Fresheners
There are plenty of different scents to choose from, but the Black Ice tree car fresheners are my husband's favorite.
5. Aquapel Glass Treatment
This window glass treatment is amazing! Apply it to your windshield and when it's raining, the water is repelled. It also makes cleaning the windows a breeze.
6. Smart Diagnostic Tool
Diagnostic tools are great for when your car has a service engine soon light on. It will tell you where the problem is so you can fix it easier. This smart diagnostic tool will send you alerts directly to your phone and give you real time data.
7. Flash light
Just as soon as October ends, a penlight will be one of the handiest tools to have. This little flash light is one of the brightest at 180 lumens, while also being durable.
8. Ratcheting pull rope
This ratcheting pull rope is great for when you are hauling lumber or wood and need to strap it down. It's small enough to easily store and grab at a moments notice.
9. Ice Scraper
If you live anywhere that gets snow or ice, an ice scraper is a must! Small in size and extremely affordable, this is another great idea to fill his stocking for Christmas.
10. Bleche-wite tire cleaner
Bleche-Wite is one of the best tire cleaners because it cleans the tire while not attracting dust.
11. Microfiber Towels
Having a good set of microfiber towels is extremely important for detailing and cleaning a car. These professional grade microfiber towels are amazing and would easily make a wonderful stocking stuffer.
12. Magnet Tool
This telescoping magnet tool is important for reaching in and grabbing a dropped bolt or screw that your hands just can't reach.
Car Guy FAQ
What can you put in a guys stocking?
Think small items for cars, accessories, and cleaning and detailing items like a microfiber towel.
What do you get a guy who likes cars?
For his stocking, fill it with a car wax kit, microfiber towels, clip-on air fresheners, and even replacement wiper blades.
What do guys need for their car?
Having a flashlight is a must, an ice scraper, and a magnet tool to help reach things that fall into little areas.
You might also be interested in: