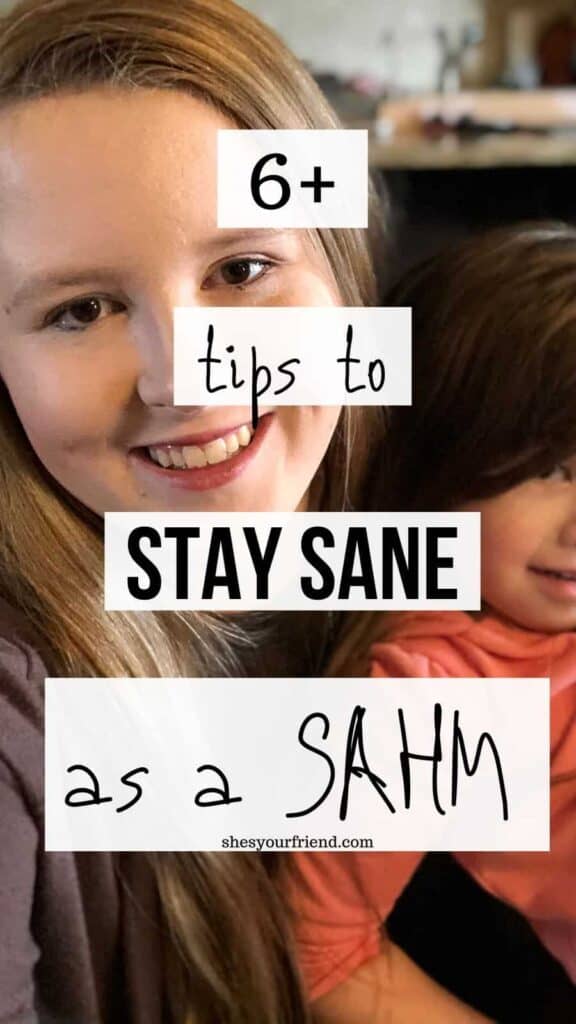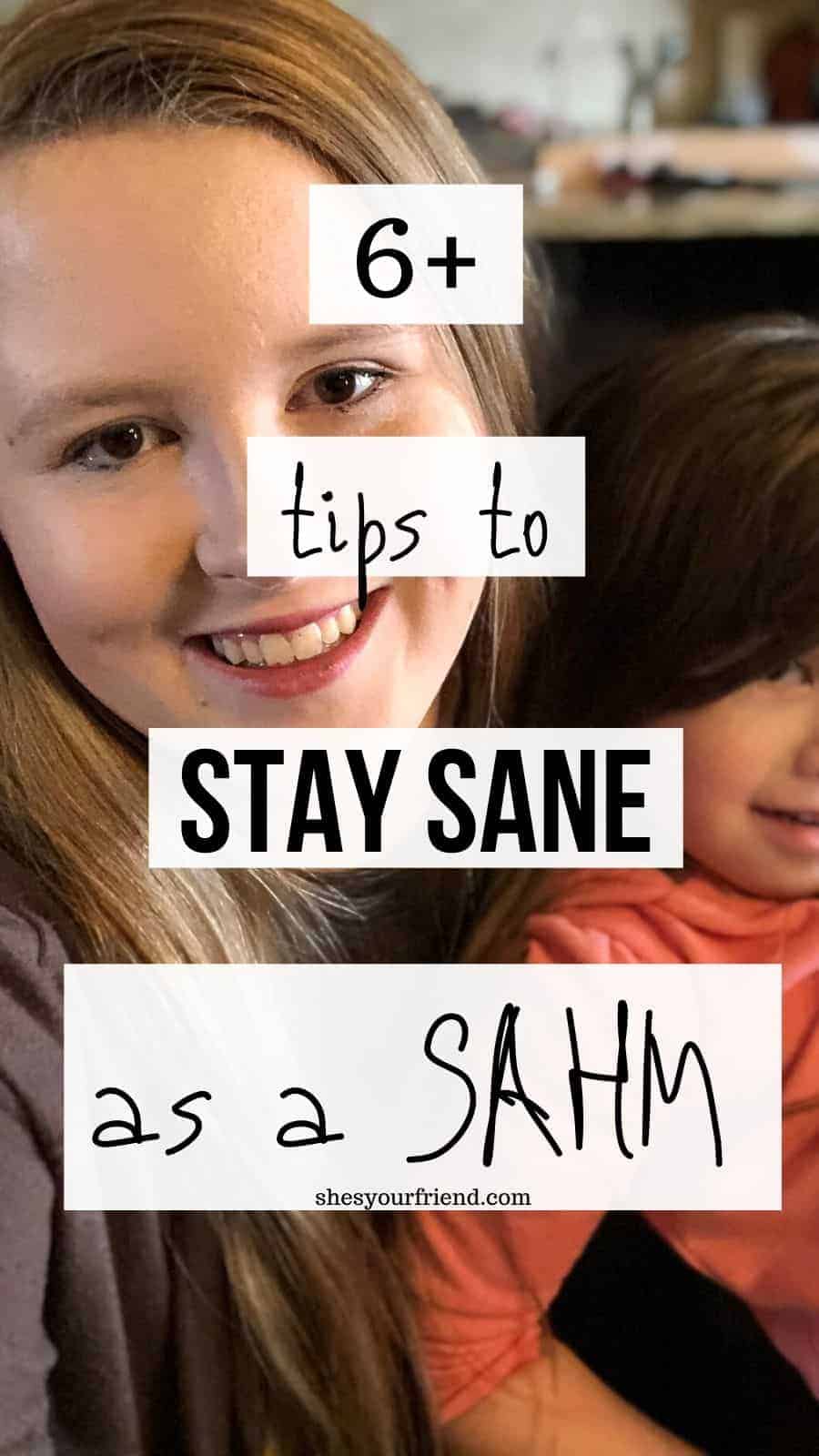 How to stay sane as a SAHM
Being a stay at home mom is rewarding and a great way to give your kids the one-on-one time they might not get at a daycare or nursery. The only thing is, being a stay at home mom can be hard!
It is not always butterflies and sunshine. Staying sane as a stay at home mom can be done, but how? Well, I am here to share my advice on just that!
In an effort to fully disclose, this article may contain affiliate links. This means that if you purchase something, I receive a commission.  For more information, see my Disclosure page.
1. Find Some Me-Time
This is crucial to staying sane as a stay at home mom. Me-time doesn't have to consist of a long-drawn out time away from your kids, but just enough time to regain your sanity!
This is a hard one for us stay at home moms, because a lot of us deal with guilt. Guilt that we aren't contributing as much as our spouse financially. Also, guilt because we did stay home with our kids to be with them, but it is EXTREMELY important to make time for yourself.
If you are having more bad days than good, I am guessing because you are feeling run down. Maybe you never get a chance to do anything without kids.
Well, this is where finding a hobby comes into play. Set aside time every day to do something fun. I like to plan out my me-time around naps/bedtime or when my husband is home. Here's a bigger list of self-care ideas for moms.
Nap times are stay at home moms' saving grace because staying at home all day long with small children can be tiring. When I get my kids to nap, I like to do something I enjoy or simply do nothing and just relax because my demanding 2 year old daughter is sleeping.
Honestly, it doesn't matter what you do, just do something fun or relaxing that you feel like doing. It can make all the difference especially when your kids are always number one on your list at all other times of the day.
If your little one struggles with naps, read my article here on how to make naptime go smoother!
2. Change up your routine
If you are a stay at home mom already, you know how the days seem to be the same thing over and over again with little excitement!
Don't get me wrong the first year of being a stay at home mom is great because you get to be there for your child's firsts (first steps, first words, first foods, first tantrums 😉 ) but when the novelty wears off, the days seem to be an endless loop of the same activities and things day after day.
I'm staying sane as a stay at home mom by finding new activities and things to change up our routine. Not only has it helped me, I think it is important to have my daughter exposed to new things so she can cope better when days don't go as "planned". Here's a few ideas to change up your routine:
Do a fun Craft
Go to the Zoo
Story time at the Library
Go to the park
Walk around your neighborhood
3. Take everything one step at a time
It can get overwhelming at times being a stay at home mom. Another trick to staying sane as a stay at home mom is to take things one at a time.
There are times where you have so much to do, and it all weighs you down. It is important to work on one problem at a time.
If you are a parent to more than one child, this can be difficult. Many times both of my kids want/need something at the same time and when you have a toddler screaming at you because she has to have a snack right this second, and a baby that is hungry crying, it can seem overwhelming.
Focus on calming one down at a time, because while you wish you were wonder woman and could do it all, the reality is you can't.
4. Give yourself reminders or notes
Staying sane as a stay at home mom means trying to get things done on your to do list. While you may not get everything done that you had hoped, it is important to give yourself a reminder or write a to-do list so you know the things you absolutely NEED to get done today.
If you aren't a list maker, write out a few sticky notes of things you want to get done and stick them where you can remember and often look at them.
Or, if the thing you want to get done is laundry, write: do laundry on a sticky note and stick it on the washer! You will be surprised at how these small reminders can truly motivate you to accomplish your goals.
5. You don't have to be perfect
Perfect…I don't think anyone, anywhere is perfect. We are afterall human and so we make mistakes.
The last tip for staying sane as a stay at home mom is probably the most important! Don't beat yourself up if you have a bad day or you lose your temper.
It happens to the best of us…even if we are unwilling to admit it. The most important thing to remember is to just try your best and try to do better if you had a bad day, but don't dwell on your bad day.
Let bygones be bygones and start the next day determined to have a good day!
6. Remember why you wanted to be a stay at home mom
Another way to stay sane as a stay at home mom is to try remembering why you wanted to be a stay at home mom in the first place. Not only does being a stay at home mom save you money, it can also benefit your child is so many ways!
Daycares are full of children, and the ratio of adults to children is going to be a lot higher than if you stay home with your kids. This means your child can receive more one-on-one time with you!
7. Laugh to keep from crying
When your kids seem to be driving you crazy, making messes left and right, laugh. Laughing instead of getting angry will help change how you view a bad situation. While messes are not exactly funny, it's more a matter of laugh to keep from crying.
Staying sane as a stay at home mom can be tricky. If you give yourself some me-time, find new activities to break up your schedule, take everything one at a time, give yourself reminders, and remember you don't have to be perfect it really can help your sanity!
Being able to stay at home with your kids is awesome, so these tips will help you actually enjoy each and every moment you stay at home with them.
Don't forget to share with all your other mom friends who are stay at home moms as I am sure they could use some sanity saving tips too!