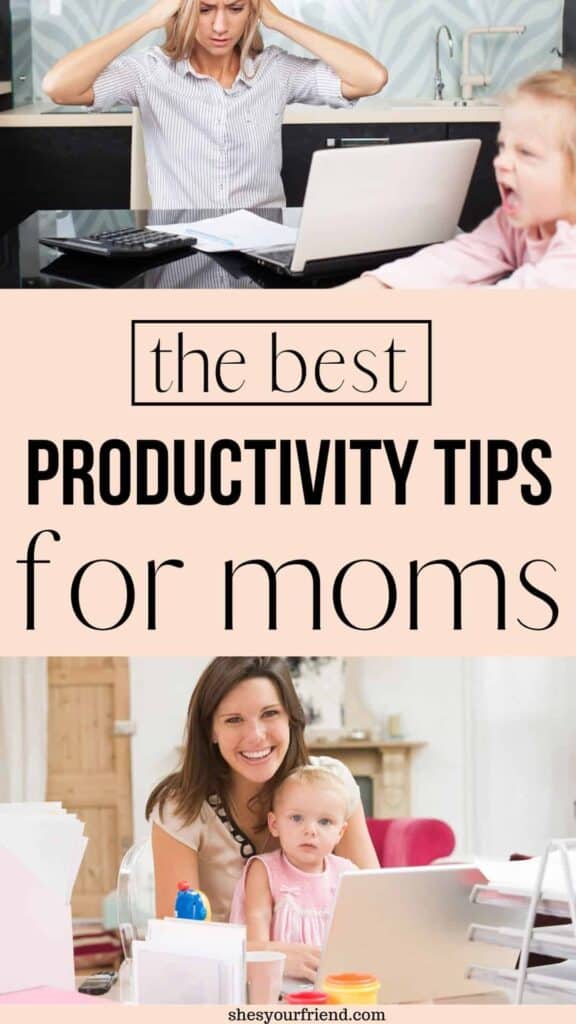 Do you constantly feel you never get much done? Is your to-do list gaining more things than you are checking off?
If you answered yes to either of these, this article will help you increase productivity as a mom and get more things done! (YAY!)
In an effort to fully disclose, this article contains affiliate links. If you purchase something, I would receive a commission. For more information, see my disclosure page.
1. Wake you before your kids
You will hear this over and over but waking up before your kids is ESSENTIAL to increase productivity as a mom. The extra time you have before your kids wake up can really make or break your day.
I know it's so easy to just sleep in as long as your kiddos, but waking up early will make your day much more productive!
Depending on how much earlier you wake up, you can get a lot done when you are kid-free.
2. Do the hardest task first thing
Waking up before your kids is one piece, but the next involves doing your hardest task first!
Ask yourself what is it that you NEVER seem to get done, but always want to. Is it exercising? Laundry? Cleaning? Cooking? Blogging?
Whatever that hardest activity is for you to do, get it done first thing!
It will make the rest of your day seem so much simpler, and you will feel like you can accomplish anything now that the worst thing is done.
3. Make a to-do list
EVERYDAY
The next thing to increase productivity as a mom is to make a to-do list of everything you want to accomplish for that day. Now, here's the secret…do this EVERYDAY!
Having a list will help keep you focused on what you need to get done, and can also motivate you as you check things off your list.
4. Crockpot like a boss
For many moms, dinner is a struggle. In order to increase productivity, take advantage of your crockpot.
Not only can meals be prepared quickly, it will also free up some more time that you would have been using to make dinner.
We are big fans of dump and go crockpot meals around my house!
5. Plan your meals weekly
Another time-waster is deciding on what to make. After the umpteenth "I don't care" or "I don't know" you are already wishing dinner was over.
Planning out what you will make on a weekly basis will help prevent the time wasted in daily trying to figure out what you will make when dinner time rolls around.
6. Use Nap time and Bed time to your advantage
Another crucial time for moms is nap time and bed time. When your little one is sleeping, take that time to really focus on getting things done on your to-do list.
For me, nap time and bed time are when I catch up on laundry, folding, and do a quick clean up. Then, I move on to my blogging.
Even if you don't blog, just use the kid-free time wisely to get things done that are more difficult to do when the kids are up.
Thanks for stopping by! If you enjoyed reading about how to increase productivity as a mom, please share it on Pinterest. THANKS!!