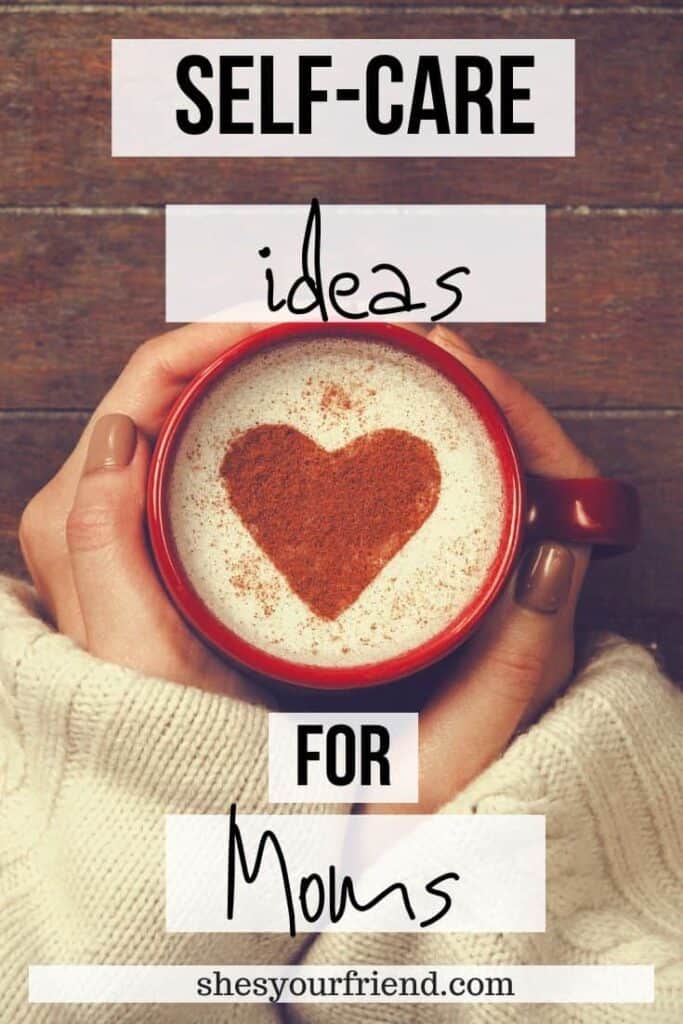 Take Care of Yourself Mom
Being a mom means giving so much of yourself to your children, and often times this can lead to mom-burnout. That's why having a few go-to self care ideas are essential for every mom.
Take a look, and see what you can start implementing in your life today!
Just wanted to give you a heads up, this article contains affiliate links, so if you make a purchase after clicking on a link I receive a commission. For more information see my Disclosure/Advertising page.
Self Care Ideas You Can Do at Home
As moms, it's important to be able to find things you can do from home to practice self care. Here are a few self care ideas you can do at home in the morning and at night.
Morning Self Care Ideas
As I stated early, making time for yourself is so important because if we don't it can lead to mom-burnout where you start losing your patience more often and snapping at everyone around you.
Here are a few morning self care ideas that you can follow to start becoming a better mom and a better you. Just remember to set your alarm or make it a point to get up before your little one(s).
Early morning exercise
Stick with me, I know you might think I am crazy, but exercise can actually be a great stress reliever. If you are like me and have kids that make exercising difficult, get up before them.
Seriously, every time I try to do abdominal exercises, my daughter sits on me!
Do your makeup
Maybe you already do this, but if you don't make it a point every once in awhile to slather on some makeup and embark on your day with a little more confidence.
Read a book
Have you been wanting to read a book someone has reccommended? If so, another great morning self care idea would be to read a book.
It's relaxing, quiet enough you don't wake the kid(s), and is a great idea for a little bit of me time. One of my favorite books is Wash Your Face by Rachel Hollis.
Night Time Self Care Ideas
So maybe getting up early isn't your thing, or your day was pretty rough and you need to de-stress. Well, that's where these night time self care ideas come into place.
Try one out before you drift off to sleep and see what a difference it makes!
Take a bath
Maybe it's just me, but I LOVE taking baths. They are probably the most relaxing thing you can do while not leaving your house.
Grab a book and that you might have started on this morning and enjoy the serenity of a little bit of peace.
Exfoliate your Face
Even if you didn't put makeup on, a great night time self care idea is to exfoliate your face. Grab a facial scrub or even just a hot washcloth or loofah and gently clean your face and all the excess build-up of oils on your skin.
Stretch
Bear with me here, but stretching is another great tip for your night self care ideas. Stretching before you go to bed will help those worn out muscles (from picking up kids/toys/etc all day) get a chance to take a break.
If you have a hard time falling asleep, try it next time and see how much easier you fall asleep!
Self Care Ideas outside your home
Whether you are a stay at home mom/working mom/work at home mom, it's important to be able to get out of the house and do something just for you! Arrange someone to stay with your kids and plan out on of these activities:
Getting Your Hair Done
If you are anything like me, you probably haven't been to the hair salon in who know's how many months/years! Whether you decide to just get it trimmed, a new hair style, or even a new color, this will make you feel 1000 times better about yourself.
Mani/Pedi
Another great self care idea is to get your nails done. It's a great way to relax and just focus on doing something nice for yourself.
Go Shopping…for something for you
We moms do a lot of shopping for our kids, our spouse, and just everyday things. When is the last time you stopped and bought something for yourself?
Go to your favorite clothing store or shoe store and actually try on some clothes. Since your kids are at home or with someone you trust, you can focus on enjoying your day.
Well, there you have it. The go-to self care ideas every mom should know and try!
The most important thing to remember is to give yourself a break and do something relaxing. It will not only help you be a better person, but also a better mom.
What are your go-to self care ideas when you have had a rough day/week/month? Leave a comment, and also don't forget to share with all your other mom friends.