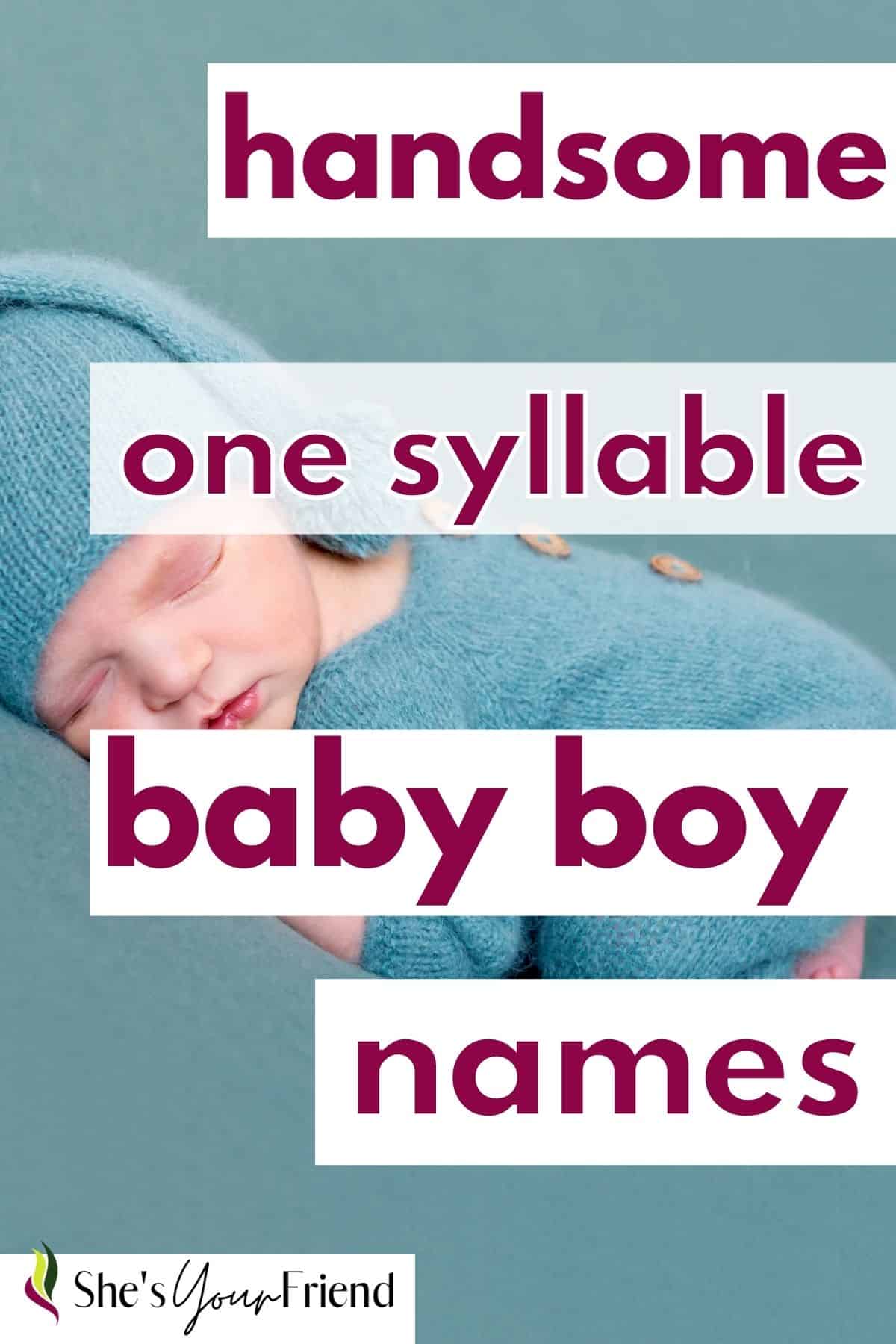 A popular baby name trend is using one syllable names. Here's a list of some great one syllable boy names and their meanings.
Jump to:
One Syllable baby boy names
Vic- Latin for conqueror.
Bill- English for resolute protection.
Will- English for protector.
Ben- Hebrew for son.
Ray- Germanic for wise or advisor.
Kai- Hawaiian for sea, and Japanese for shell.
Ryu- Japanese for dragon.
Abe- English for father of Nations.
Fin- Gaelic for fair or wanderer.
Dan- Hebrew for God is my judge.
Tim- English for one who honors God.
Tom- Hebrew for innocent or pure.
Bob- German for famed, bright, or shining.
Rob- English for bright fame.
Dax- French for leader.
Max- Latin for greatest.
Mat- Hebrew for gift of God.
Pat- English for noble.
Cam- Vietnamese for orange fruit.
Lex- Greek for man's defender.
Joe- Latin for God will give.
Jed- Hebrew for beloved of God.
Wes- Old English for western meadow.
Roy- Celtic for red-haired.
Zack- Hebrew for the lord has remembered.
Gil- Hebrew for bright promise.
Trey- English for three.
Mark- Latin for the mythological God Mars.
Ken- Scottish for handsome.
Pete- English for rock.
Lee- English for meadow.
Ren- Japanese for lotus.
Gus- English for great.
Bo- Swedish for 'to live'.
Don- Irish for chief or noble.
Van- Welsh & Russian for God is gracious.
Chris- Greek for bearer of Christ.
Chance- English for good fortune.
Chase- English for hunter.
Scott- Scottish for a person from Scotland.
Luke- Latin for light.
John- Hebrew for graced by God.
Stan- Latin for stand or remain.
Bart- Hebrew for son of the earth.
Sean- Irish for God is gracious.
Drake- Latin for dragon.
Beck- English for small stream.
Paul- Latin for small or humble.
Vance- English meaning from the earth.
James- Hebrew for supplanter.
Mike- Hebrew for who is like God.
Von- Old Norse word for hope.
More baby boy names
Need more baby name ideas? Here's a few more you might enjoy: