The best middle name ideas for your baby Benjamin that are popular, strong, cute, unique, and old-fashioned.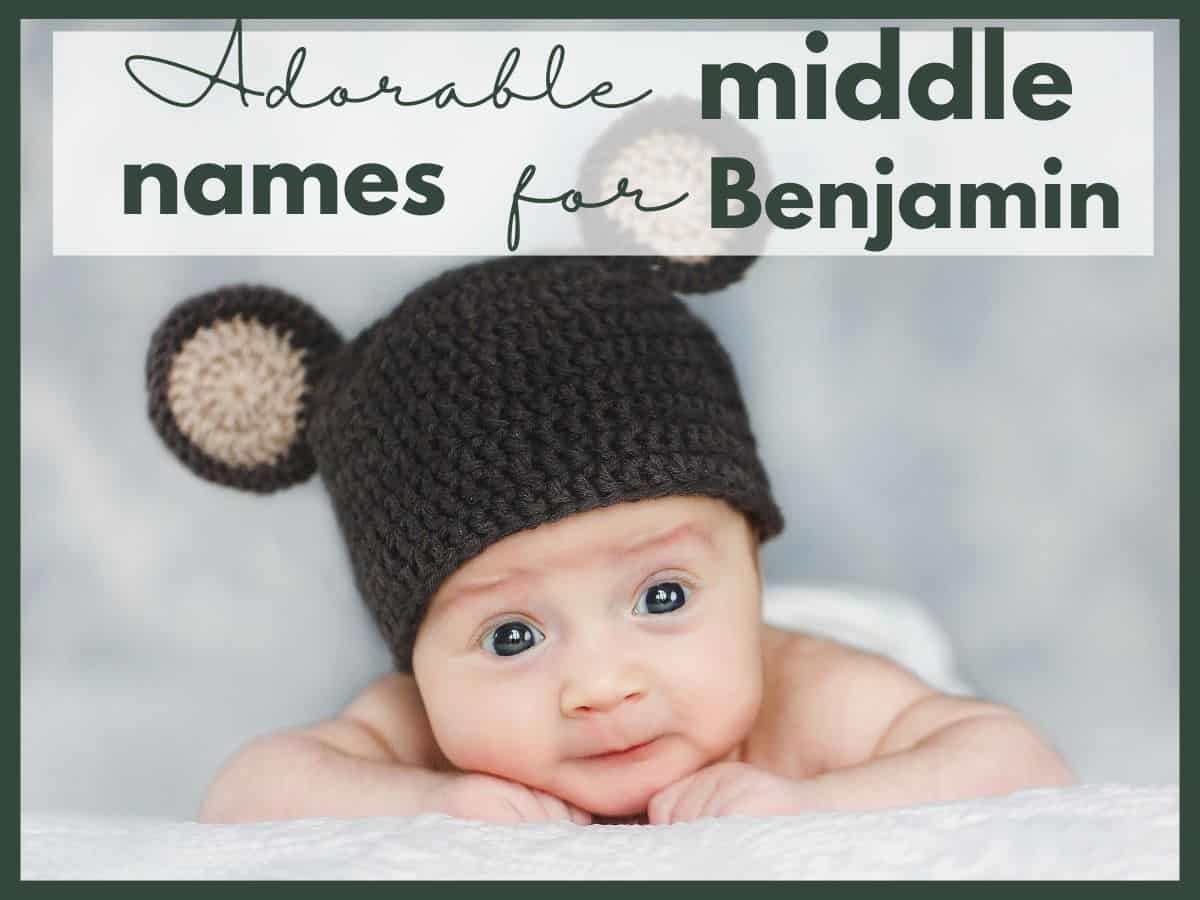 Jump to:
These middle names and their meanings will help you decide that perfect name for your son!
Popular Choice Middle Names
Popular middle names for baby Benjamin you will love and flow together in a perfect way. These top middle names are also some of the most popular first names too!
1.Benjamin Oliver
Oliver is Latin and French for olive tree. This handsome middle name pairs together great for your little Benjamin!
2.Benjamin Daniel
Daniel has a Hebrew meaning of God is my judge. This is another great middle name for your baby boy.
3.Benjamin James
James is a biblical middle name that means "supplanter". It's easy to spell and makes a cute middle name.
4.Benjamin Leo
Leo is Latin for Lion. It's another ideal middle name for your son.
5.Benjamin Michael
Michael has another Hebrew meaning of Gift from God, and what better meaning for your new baby.
One Syllable Middle names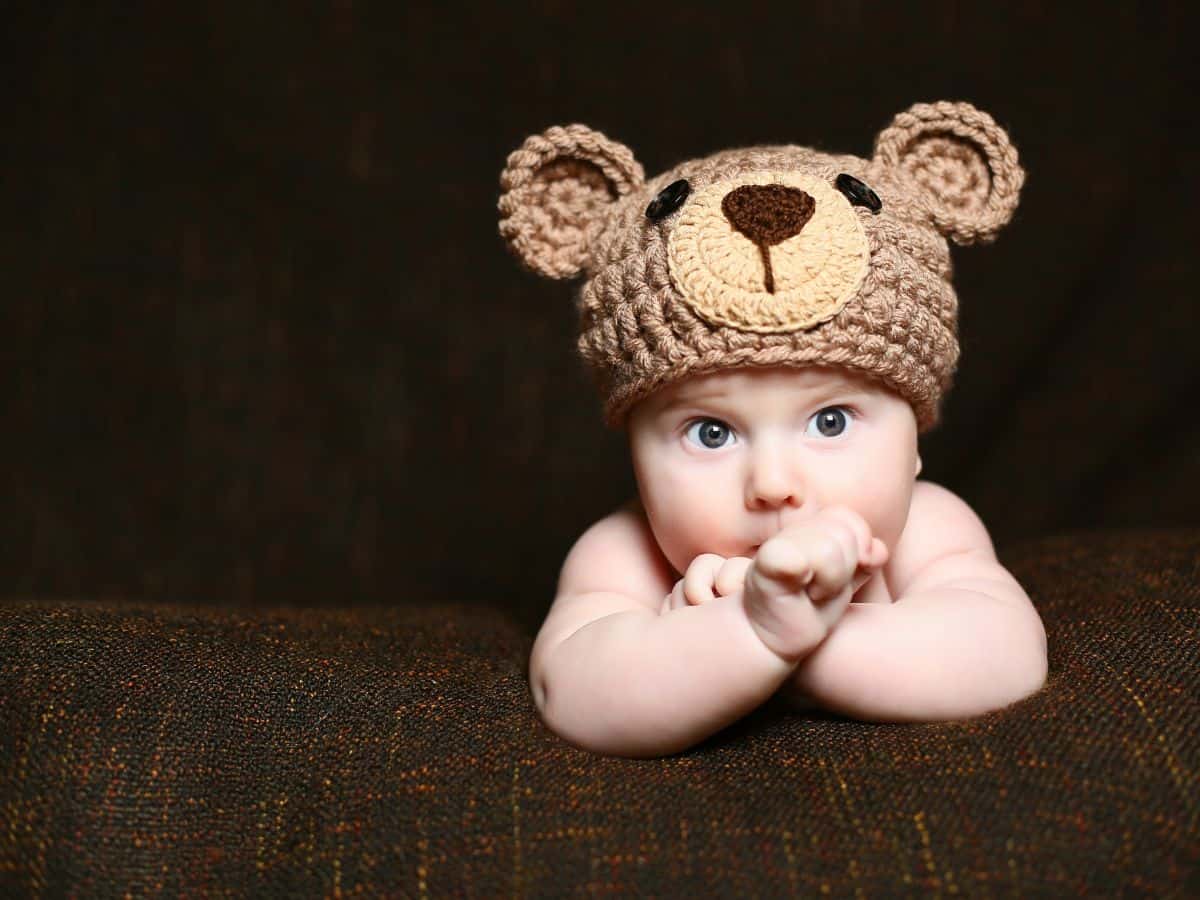 Choosing a one syllable middle name is great for many reasons because they typically flow together with a lot of different names. One syllable middle names are also easy to spell and pronounce.
6.Benjamin Jack
Jack is British for God is gracious. It's a variation of John and Jacob that came about in the middle ages.
7.Benjamin Dean
Dean means valley in Old English. It's another cool middle name for your son!
8.Benjamin Lee
Lee is English for meadow. With only 3 letters, it's got a great middle name to compliment Benjamin.
9. Benjamin Mack
It's Gaelic meaning is son, and is great for honoring your Irish or Scottish family history.
10.Benjamin Ryu (pronounced Roo)
Ryu is Japaneses for dragon. This is a powerful middle name your son would be honored to have!
11.Benjamin Kane
The Celtic origin of Kane means warrior. It also has a Japanese meaning of "golden".
Strong Middle Names
Your baby's middle name can hold great power with these strong middle names for Benjamin. Whether it's a name for your oldest child or your youngest, this list of middle names will help!
12.Benjamin Asher
Hebrew for blessed, this gender-neutral middle name goes well with Benjamin.
13.Benjamin Arthur
Arthur is Celtic for bear. Talk about a strong middle name for your son!
14.Benjamin Archer
Archer has a literal meaning coming from the Anglo-saxons for bowman.
15.Benjamin Archie
Archie is a shortened version of Archibald meaning genuine or bold. This sweet middle name is perfect for your little baby boy!
16.Benjamin Anthony
Anthony has Latin origins meaning priceless one.
17.Benjamin Alexander
Alexander has a Greek origin meaning warrior. There are a few different spelling variations including: Aleksander, Alexandre, and Allexander.
18.Benjamin Edward
Edward means wealthy guard in Old English. It can also be spelled Eduard, which ever you prefer.
19.Benjamin Alan
Alan is Irish for handsome or cheerful. This middle name also has multiple spelling variations including: Allen, Alen, and Alyn.
20.Benjamin Jeremy
Jeremy means exalted by God in Old English. This could be another handsome middle name for your son!
21.Benjamin Thomas
Thomas has a Hebrew meaning of twin. If your little Benjamin is a twin, this could work perfectly.
22.Benjamin Peter
Peter is Greek for stone or rock.
23.Benjamin Max
Max is a shortened form of the name Maximillian which in Latin means greatest.
24.Benjamin David
David means beloved and has a Hebrew origin. This middle name definitely has a special meaning for your little one.
25.Benjamin Lucas
Lucas means bringer of light. Some spelling variations include: Lukus and Lukas.
26.Benjamin Andrew
Andrew is Greek for strong and would make an excellent middle name idea.
27.Benjamin Nicolas
Nicolas is Greek for victory of the people. You have a couple of different ways to spell this middle name including: Nicholas, Nikolas, and Nikolaos.
Unique Middle Names
Unique middle names for Benjamin that aren't overly used, but sound very handsome when paired together. While not traditional, these cool middle names are fantastic!
28.Benjamin Atticus
If you like To Kill a Mockingbird, Atticus is another great middle name idea for your son!
29.Benjamin Harvey
Harvey is French for battle worthy.
30.Benjamin Leon
Leon is Greek for lion. This name is another good choice if you are looking for a middle name that is unique.
31.Benjamin Arlo
Arlo has an origin from the middle ages and means fortified hill.
32.Benjamin Cooper
Cooper means barrel maker and also has origins from medieval times.
33.Benjamin Garrett
Garrett means rules by the spear.
34.Benjamin Ezekiel
Ezekiel is Hebrew for God's strength. It's an ideal name if you are looking for a biblical name.
35.Benjamin Wade
Wade comes from Scandinavian mythology, and was associated with the sea.
36.Benjamin Carter
Carter has a more literal meaning of one who transports goods using a cart.
37.Benjamin Miles
Miles has a Latin origin meaning soldier and is another cute name for your son.
38.Benjamin Alec
Alec is Greek for defender of man. A great meaning for your little one.
Old-Fashioned Middle Names
Old fashioned names for Benjamin that you can bring back from your past family tree.
39.Benjamin Theodore
Theodore means gift of God. Both Benjamin and Theodore have historical significance if you want a history inspired name!
40.Benjamin Albert
Albert is German for noble or bright. This vintage name is another handsome name for baby Benjamin.
41.Benjamin Douglas
Douglas is Scottish for dark river. This middle name will definitely add some mystery to your little one!
42.Benjamin Elijah
Elijah has biblical origins in that Elijah was a prophet sent to Israel.
43.Benjamin Jeremiah
Jeremiah means the lord exalts. This is another baby name with a biblical origin.
44.Benjamin Franklin
This name comes directly from history and is definitely old-fashioned.
Cute middle names
Cute and rare middle names for your sweet little baby Benjamin. This ideas are sure to help you find the perfect name for your son!
45. Benjamin Harrison
Harrison means son of Harry and has both English and German origins.
46. Benjamin Fitzwilliam
​An ode to Mr. Darcy, Fitzwilliam is one of the longer names you could use for baby Benjamin.
47.Benjamin Tyler
Tyler has an Old English origin meaning brick layer. This cute name is very popular!
48. Benjamin Javier
Javier is Spanish for new house.
49. Benjamin Alejandro
Alejandro has Greek and Spanish origins and means warrior or defender. A great, strong middle name for your Benjamin.
50. Benjamin Santiago
Santiago comes from the Latin Saint James.
FAQ
What name goes well with Benjamin?
Some great middle names for Benjamin are Oliver, Daniel, Anthony, Leo and James.
What are some nicknames for Benjamin?
Benji and Ben are both very popular and fun nicknames for Benjamin.
Is Benjamin a bible name?
Yes, Benjamin has Hebrew origins and was a man on prominence in the bible.
What are some famous Benjamins throughout history?
Benjamin Franklin, Benjamin Harrison, and Benjamin Netanyahu are some of the most distinguished Benjamins throughout time. Just think what your little Benjamin can do!
How to find the perfect middle name?
Some parents like to find a name from their cultural heritage, while others are inspired by fictional characters from their favorite novels and books.

If there is a special family tradition you would like to carry on, this is another great way to find baby name inspiration.
What are some Spanish middle names for Benjamin?
Javier, Alejandro, and Santiago are all great Spanish middle names for Benjamin.
More baby names: