Liquid iv is quickly becoming popular because it helps you stay hydrated even if you can't get around to drinking enough water every day.
Jump to:
Reasons to try liquid IV
It tastes delicious.
It helps replenish electrolytes fast!
It comes in easy to open pouches so you can bring them with you to the gym, in your purse, or wherever.
Some Liquid IVs have immune support, so it has added Vitamin C, Zinc, and Wellmune.
It's a low-calorie drink mix.
Liquid IV Flavors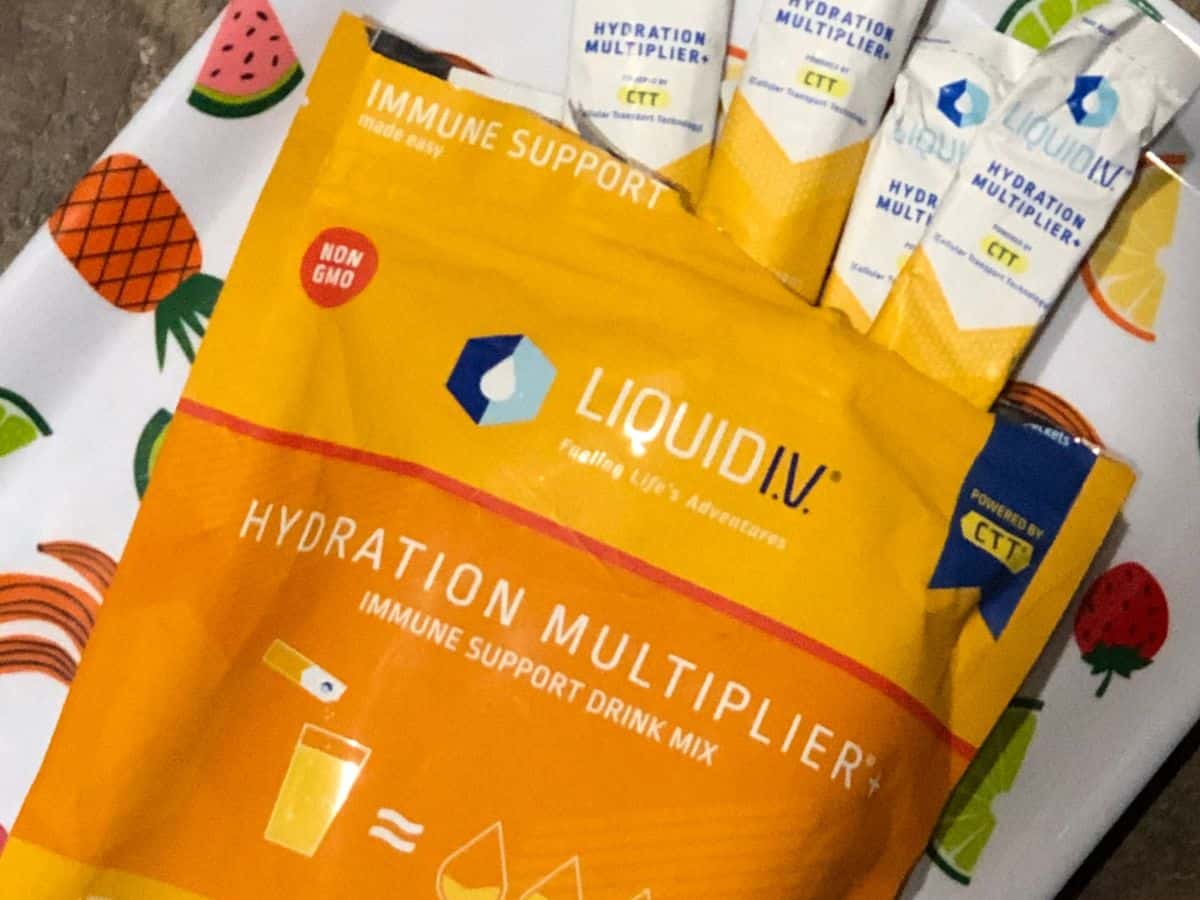 Here's our top favorite flavors:
There are lots more flavors to choose from too including: golden cherry, passion fruit, açaí berry, concord grape, and tropical punch.
How does liquid iv work?
Liquid iv helps your body quickly absorb water using a cellular transport technology made up of electrolytes.
This means the water you do drink gets to where it needs to go a lot faster, which can help you feel much more energized.
Who is Liquid IV for?
What does the immune support do?
Some liquid iv drink mixes also have an added immune support benefit. My favorite flavor is the Tangerine immune support hydration multiplier because it has vitamin c, zinc, and wellmune in it.
These vitamins and minerals are important for a healthy immune system, and like many of you, moms can't take sick days.
Is it worth it?
Absolutely! Liquid iv comes in on the go packets that you can put in your purse and add to your water anytime.
They taste great, and best of all, they help you stay hydrated!
If you find yourself reaching for that coke or diet coke in the afternoon, try this first. It gives you the sweetness you are craving while providing the hydration you didn't know you needed.
Alternatives
Here are a few other similar drink mixes:
FAQ
How many liquid iv can you drink a day?
They recommend only 1 packet a day. Because these are filled with lots of electrolytes, you don't want to overwhelm your body with too much.
What does liquid iv do?
Liquid iv works to quickly deliver electrolytes into your blood stream faster than traditional water. This means you will feel hydrated a lot quicker!
Which flavor is your favorite? Leave a comment below!
More what's trending reviews: