These 21 gifts for her are perfect for any occasion from Birthday, Christmas, Mother's day, and also Valentine's day. You will definitely find what she wants with this gift guide.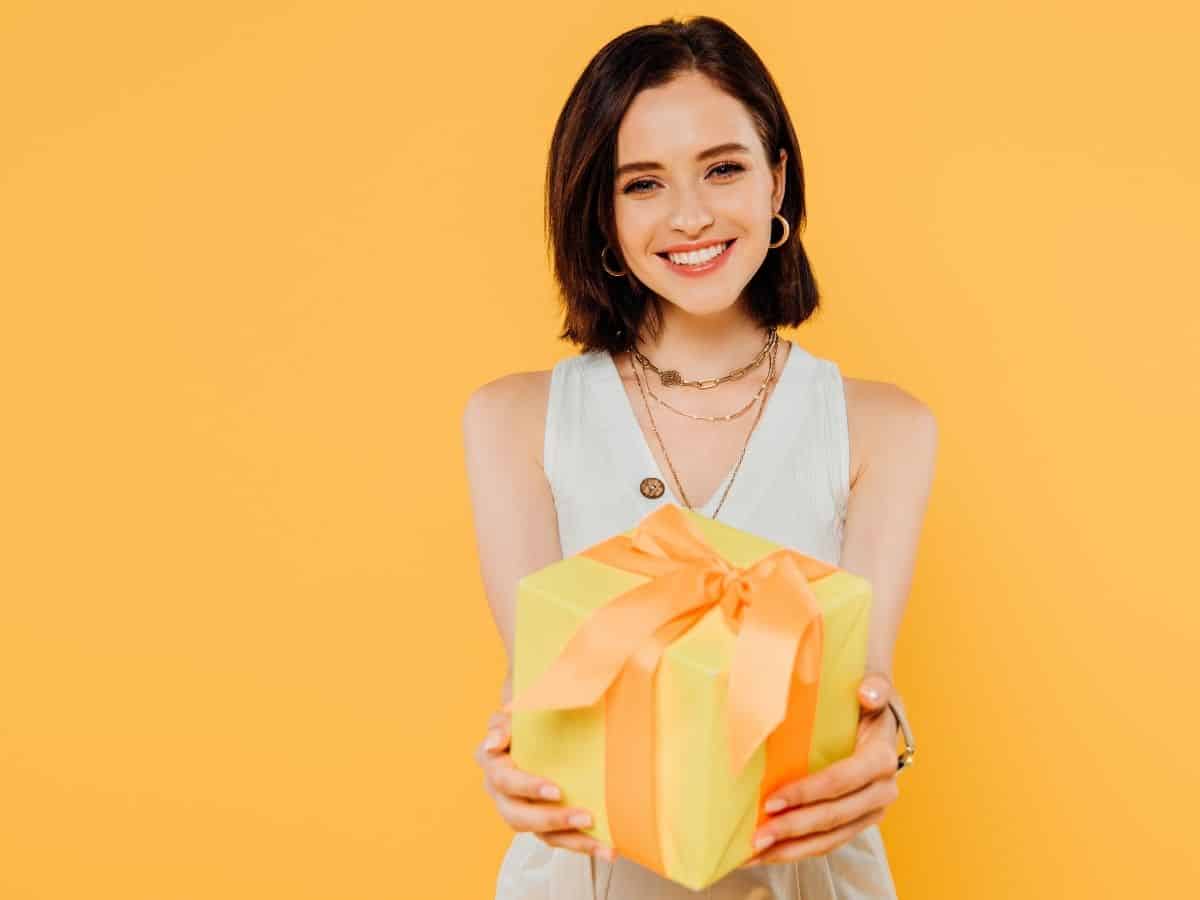 Jump to:
Gifts for Women
1. Purses
Ok, so here's the deal: there are women who use purses and women who don't. First things first, ask yourself "have I ever seen her wear a purse before?"
Well if she does, a purse is a great gift! A quality purse lasts a long time, and it will be something she can use over and over.
2. Makeup
Makeup can be a wonderful idea for a gift but there are a few things to remember.
Avoid buying foundation (there are so many different kinds, and if you don't know exactly what she wears, you are going to be trying to find a needle in a haystack).
The other thing to remember is that if you are looking at eye shadow, keep it neutral (like the Urban Decay Naked 2 Palette).
Don't worry, there are so many gift sets out there that have lipgloss, lipsticks, mascaras, blushes, and more.
3. Instax Camera
This camera is fun to take a picture with! Not only that, you get instant (almost) gratification of the picture that is printed out.
My younger sister received this as a gift, and let me try it out for a bit. Warning: it is addictive, and will make you want to take tons of pictures.
The one downside would be that the film is on the pricier side, just like that of other Polaroid cameras. They also make cute little frames for the small pictures like the one pictured above.
4. FabFitFun Subscription
Another amazing fit idea is a FabFitFun subscription! It comes with full-size beauty products, home decor items, and lots more.
They have a one time box you can purchase, or gift her an annual subscription so she can receive four boxes filled with things she has been dying to try!
5. Gift Cards
I know what you might be thinking...gift cards are so impersonal. Well, not necessarily.
If you get them a gift card to their favorite store (clothing, restaurant, electronics, home decor), it shows them you know where they like to shop.
Also, it shows them that while you may not have known exactly what to get them, you wanted to let them pick out something they actually want and avoid giving something they don't.
See, when you look at it this way...not so impersonal after all. Also, check out this article on best ways to give gift cards.
6. Bath/Spa Gift Sets
Sometimes it is nice to be pampered. Whether at a spa, or simply in the comfort of our own homes.
A spa or bath gift set is great for just the thing. They often have different scents to help relax, and energize and you don't have to leave your house!
7. Comfy Blanket
Everybody loves blankets, and there is nothing better than a super soft, plush blanket. I like the elegance of some of the faux fur blankets too!
For a convenience factor, find a blanket that can be machine washed.
8. Fitbit
Fitbits make exercising fun!
They are stylish pedometers that keep track of your steps, sleep patterns, heart rate, weight, and give you friendly reminders to get up and step.
If they already have a Fitbit, get them a scale that can link to a Fitbit for easier weight tracking.
9. Wine Glasses
...and wine. Many women (myself included) like wine.
There is something about this fruity adult beverage that puts a smile on our face---like beer and men.
That being said, wine glasses are a great gift because they are elegant as well as useful.
They add just a touch of style to a dinner party (are those even a thing anymore?), or a refreshing twist on drinking water out of.
Not only that, they also can be used as a musical instrument (seriously). See the great uses wine glasses have?
10. Jewelry
Jewelry is timeless. A lot of stores have sets of matching necklaces and earrings which can make buying for someone easier.
Pajamas are great because women love snuggling up or putting on pajamas before bed. What's nice is that they have a lot of luxurious sets made out of silk and polyester.
11. Shoes
Shoes...need I explain more? Ok, I love shoes!
That being said, it is important to know their size or at the very least remember the gift receipt.
12. Activewear
Nothing makes you want to workout more than when you have a cute new set of yoga pants and a tank! These are great for people who workout a lot or even a little.
13. Water Bottle
Another great gift for her would be a fancy new water bottle.
What's cool about some of these water bottles is that they have fruit infusers built-in. All you do is place some fruit in it and your water will have a fruity taste!
14. Perfume
This is another gift idea where it comes in handy if you know what she uses. Perfume is 100% preference.
What I might think smells good, might not be the same as another woman.
15. Home Decor
Home decor is another great gift idea. From a throw pillow to an elegant mirror, there is a gift for every price range!
16. Manicure Set
This is another spin off of pampering. There are so many varieties of manicure sets, so you are sure to find something she will like.
17. Planners
Planners like this one are no longer boring, but have so many extras that really make it a wonderful gift. Pair it with some fun gel pens and you have a wonderful thank you gift or a gift for whatever.
18. Adult Coloring Books
When I first heard about adult coloring books, I laughed and wondered why?
Then, I actually colored in them and there was something oddly satisfying about coloring in these.
Maybe it's the throwback to our younger selves, or maybe it's a good way to zone out of your everyday problems even if it is just for a few minutes.
Add a few gel pens, and its a gift they will enjoy!
19. Luggage
Everyone should have at least one piece of quality luggage, and what better gift than a nice set of luggage or even one travel bag!
20. Pepper Spray
What better gift, than something they can use to defend themselves. I have this pepper spray and love how cool it looks.
Luckily, I have never had to use it, but I am prepared.
I really like how it is camouflaged because it doesn't look like pepper spray until you pull the lid off. Standing there, you would think it was a perfume container.
21. Accessories
These are perfect for small gifts! They are reasonably priced, and lots to choose from: scarves, belts, and hats.
Gifts for her FAQ
What is best gift to give a girl?
Getting her a gift based on her interests in the top tip to remember. If she's always wearing makeup, get her something beauty related or a gift card to Sephora.

If she's active, get her some activewear, sneakers, or a new water bottle.
What is the most romantic gift for a woman?
Jewelry is probably one of the most romantic gifts because not many people give this.
What do women like the most as gifts?
Clothes, shoes, accessories, home decor, a fancy water bottle, a planner, and also home decor. If you still can't decide though, get her a gift card to her favorite store!
I hope this helps! Remember to pin this to your gifts board on Pinterest so you can quickly look back at it throughout the holidays.
More gift guides for her