With Halloween right around the corner, it's time to break out the fun graphic tees! Whether you are a teacher or a mom, these shirts are perfect for you.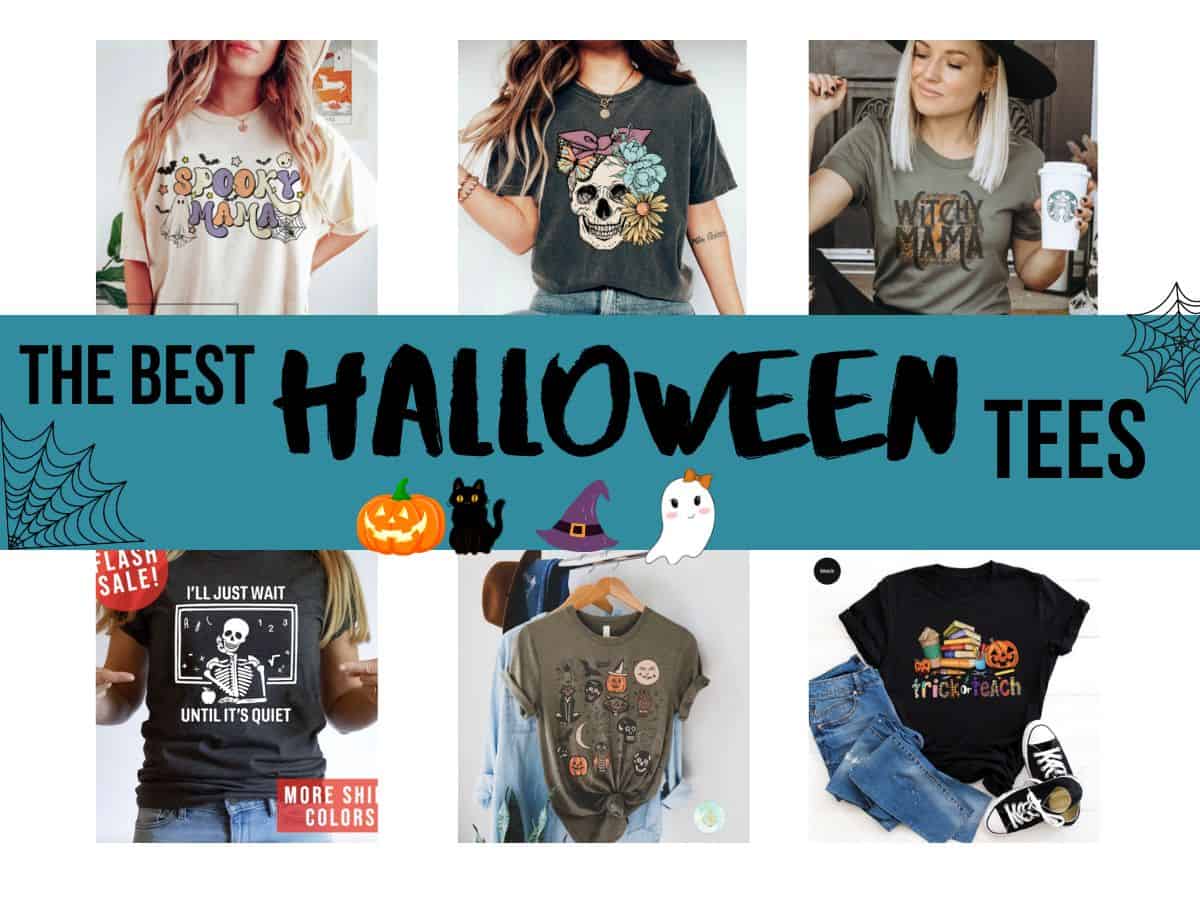 Jump to:
Epic Halloween Shirts
1.Vintage Doodles Halloween Shirt
Pefect for teachers or moms! This graphic tee has vintage Halloween doodles that are fun and silly.
2. 1692 salem shirt
Grab this 1692 shirt for you and all your witchy friends! But hurry, because it's selling fast.
3. Floral Skull Shirt
How adorable is this floral skull shirt?! The pops of color really let you get creative on how to style it.
Halloween Graphic Tees for Moms
Find the perfect Halloween shirt to wear to your kids' class party or out trick or treating! These shirts are stylish, and made just for you mama!!
4. Mama Skull Halloween shirt
This Halloween skull shirt for moms is great for Halloween or day of the dead. Stylish and festive for October!
5. Spooky Mama Shirt
This spooky mama shirt is another favorite of ours! Great for Halloween class parties, trick or treating with the kids, or just a trip to the store during October.
6. Witchy Mama
For the witchy mamas, this beautiful shirt is another perfect staple for Halloween.
7. Bat Mom Halloween shirt
Sometimes you just have to get a little batty, and that's exactly the kind of vibes this halloween shirt is giving!
8.Momster shirt
Perfect for your kids' classroom parties, or trick or treating! This Momster shirt is so fun.
Halloween Graphic Tees for Teachers
Need some stylish shirts for Halloween that you can wear to work as a teacher? Look no further, these shirts will have your students smiling all day!!
9. Ghost reading Books Halloween shirt
This ghost halloween shirt for teachers is so cute and simple! Great for preschool teachers, elementary school teachers, and librarians.
10. Lots of Reading ghosts
How cute is this shirt with reading ghosts! Great for teachers, librarians, and moms.
11. I'll just wait until it's quiet shirt
This funny Halloween shirt is made for teachers, especially with elementary students!
12. Trick or Teach Shirt
Another simple and seasonal shirt for Halloween is this trick or teach one.
Other Halloween must haves: