Decorating for Halloween shouldn't make your home feel cluttered. This year create a spooky atmosphere with minimalist halloween decor.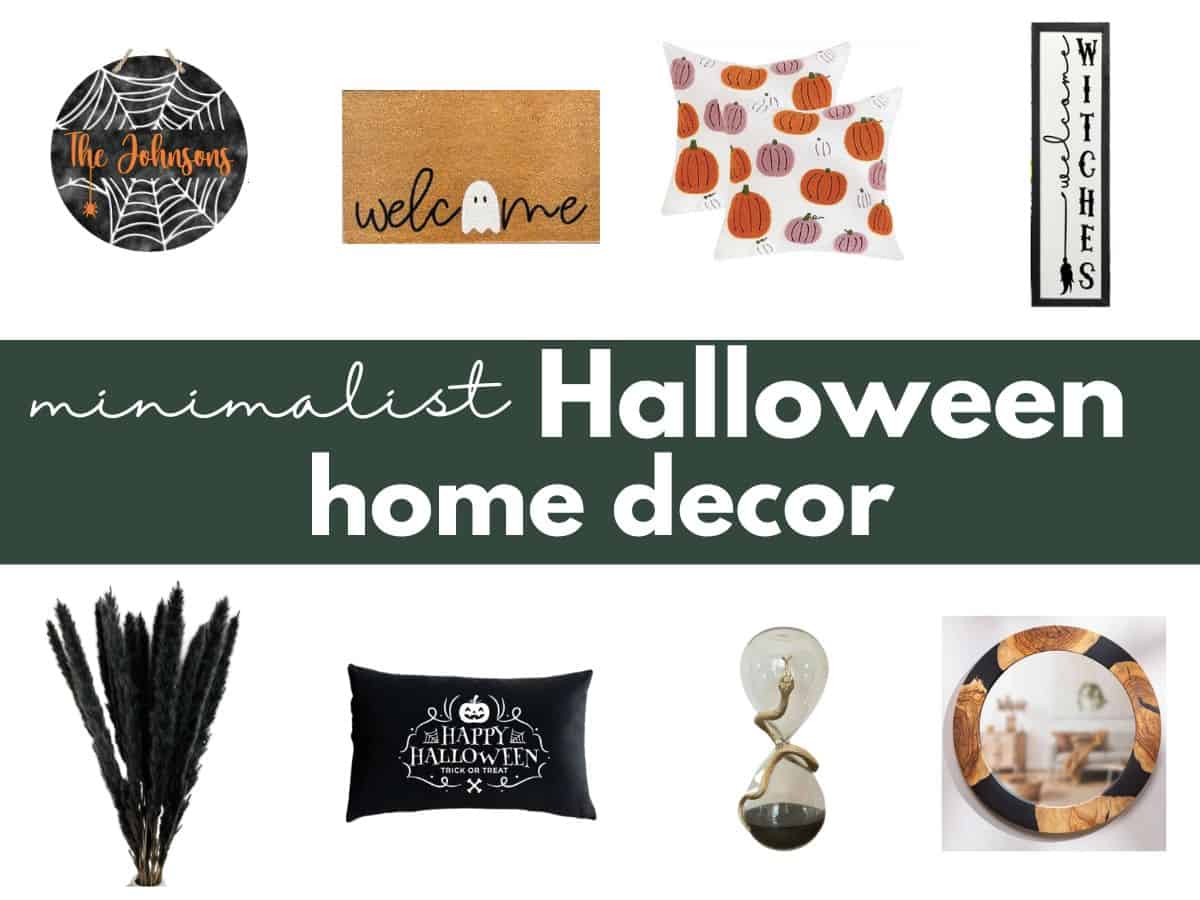 It's perfect for the mom who wants to elevate her home for October!
Jump to:
Minimalist Halloween decor
This sleek Halloween decor is minimal and a stylish way to bring the Halloween spirit to your interior design.
1. Personalized door hanger for Halloween
Hang this charming personalized door sign on your front door for Halloween. It's stylish yet simple and pairs with any color door.
2. Welcome ghost doormat
Welcome your guests with this fun ghost doormat. Perfect for decorating the front porch of your house!
3. Pumpkin pillow covers
Grab these pumpkin pillow covers for your throw pillows. They work for Fall, Halloween, and even through thanksgiving.
4. Welcome witches porch sign
This welcome witches porch sign is a statement piece that lets everyone know your house is Halloween-ready!
5. Black pampas grass
Black pampas grass is a must have during Halloween! It takes your interior design to a whole new level.
Find a large white vase, and you could display this in any room of your home!
6. Happy Halloween pillow
This halloween throw pillow is gorgeous! Also, it has a timeless design, so you can use this pillow year after year.
7. Snake hourglass
This snake hourglass will liven up your mantle or front entry way table! It has halloween vibes while still looking sophisticated.
8. Resin and olive wood mirror
This elegant mirror is great for your home or office! It has a subtle Halloween vibe but could be used all year around because it's beautiful.
9. Ghost pillow cover
Halloween pillow covers are another subtle way to bring the festive spirit and this embroidered ghost pillow cover is so fun!
10. Black and gold area rug
This black and gold area rug adds a touch of class to your home and makes a great statement during October.
More halloween finds on Etsy
You can also shop Etsy's Halloween Editor picks to see what's trending right now in their Halloween collections.
FAQ
How do you decorate for Halloween minimally?
The secret to a minimalist Halloween is to pick a few statement pieces that have Halloween vibes like black pampas grass stems.

You don't have to overdo it to still make your home ready for October.
How to decorate a whole house for Halloween?
The best thing you can do is find a theme you like and select home decor items that play into this.

The minimalist approach is to select one theme and add just a touch of this to each room.
How to decorate minimally?
The best thing you can do is pick one theme for your entire home. Add a few touches that will help incorporate each room together.
You might also enjoy reading: