Puzzles are a great learning resource for toddlers because they are fun! It helps kids learn about spatial reasoning, and problem solving.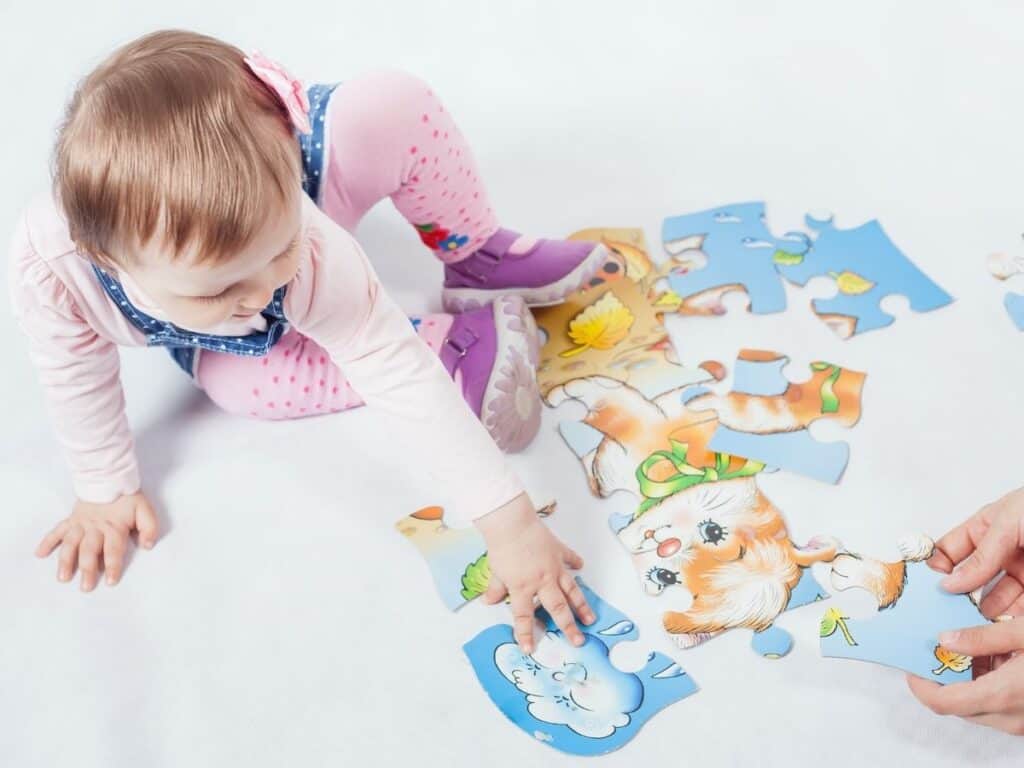 Jump to:
They learn to try a different puzzle piece until they can get it to fit. The reward is the completed puzzle with the fun image.
Fun Puzzles for Young Toddlers (age 1-2)
1.Dreampark Wooden Jigsaw Animal Puzzles
These bright and colorful animal puzzles are perfect for young toddlers. With the large wooden pieces, they are easy to hold and simple enough to solve.
I know what you might be thinking though: aren't these too simple? Nope! This helps teach kids how puzzles work, and as they get older they will be better at solving even more complicated ones.
2. Princess Wooden Puzzles
How charming are these puzzles with a princess, a castle, a unicorn, and a rainbow. It also come with a little fairy wand for some imaginative play.
3. Vehicle Wooden Peg Puzzle
Melissa & Doug make some great puzzles, like this vehicles peg puzzle. It has some vibrant colors, and the puzzle itself is easy to do.
Fun Puzzles for Toddlers (age 3-5)
4. Animal Puzzle ( 9 pieces)
As your little one gets older, finding puzzles with a few more pieces can help expand their reasoning. It might be difficult at first, but with help they will start learning how to finish puzzles like these ones from Wood City.
5. Shape Color Sorting block puzzle
Another different kind of puzzle is this one that organizes shapes. It helps with hand eye coordination, sorting shapes and counting.
6. Under the Sea Jigsaw Puzzle (24 pieces)
Melissa & Doug also have this great under the sea ocean puzzle is great for kids who are getting better and better at puzzles. It has a lot more pieces, but the finished image with all the sea creatures is so beautiful.
Exciting Puzzles for Kids (ages 5-7)
7. Scenic Jigsaw Puzzles
These scenic jigsaw puzzles are more detailed and more complex. The images are super fun though!
8. Dinosaur A to Z Puzzle
This dinosaur puzzle is another great one and it even stands up on it's own. Each piece is labeled with a letter, and the idea is to put it together piece by piece following the alphabet.
9. Moana Puzzle (100 pieces)
This larger puzzle is great for older kids as it has 100 pieces. It depicts Moana sailing on a boat with Maui.
The list could literally continue as there are so many great puzzles out there for kids! While each puzzle might have a different level of complexity, they are all going to help teach your kids about problem solving and spatial reasoning.
How do you find the best puzzle?
It all depends on your kid's age. For starters, they have really simple puzzles for young toddlers that don't involve a lot of pieces.
As they get older, there are more difficult puzzles with more pieces.
To keep your child interested in the puzzle, find one with an image that they like. If they are into animals, search for those kind of puzzles.
Thanks for stopping by. If you enjoyed reading this, please remember to share to your favorite board on Pinterest. Thanks!!
Related articles