Playing pretend kitchen is a fun activity for kids that also gets them interested in learning how to cook and bake things.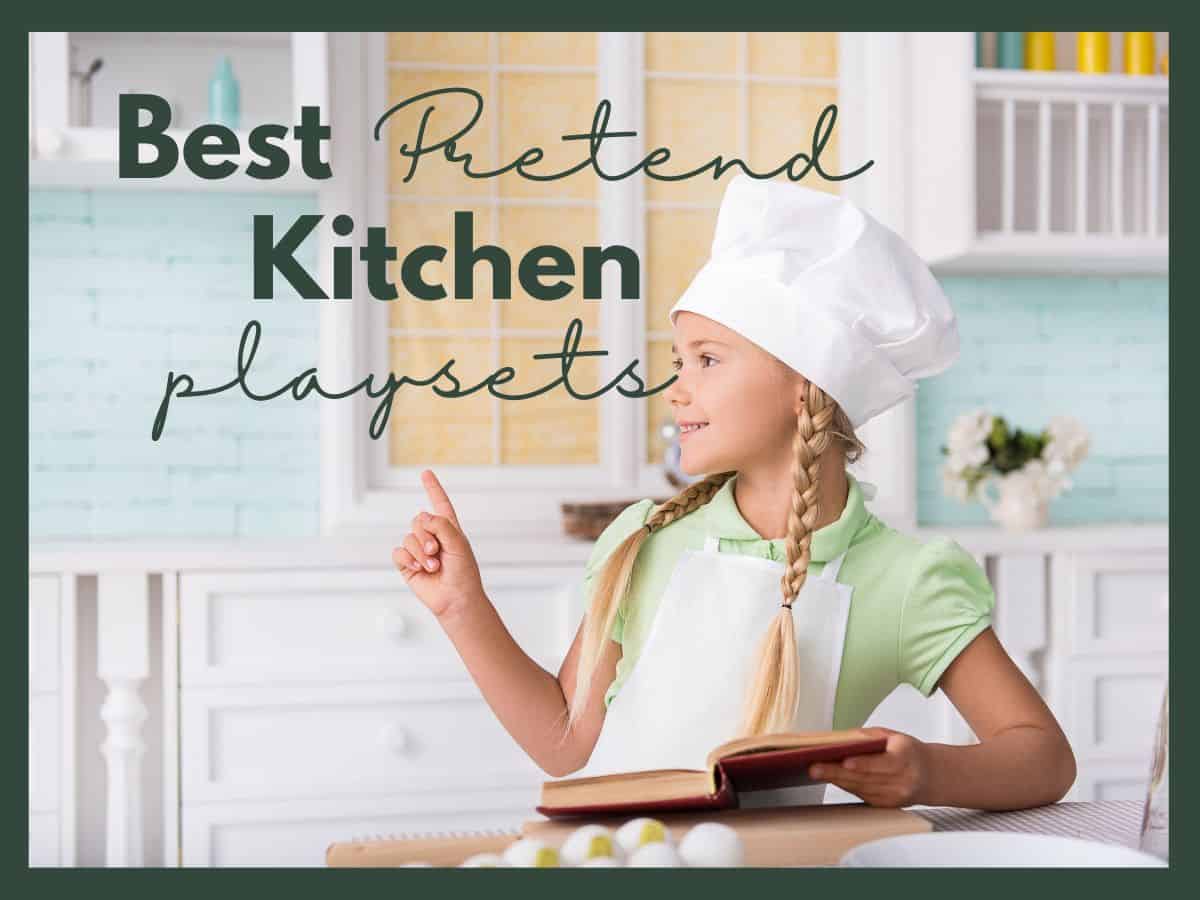 Here's a look at the top 5 best toy kitchens available.
Jump to:
Top 5 Pretend Play Kitchens
1. Best Choice Products Pretend Play Kitchen
The Best Choice play kitchen is our top pick!
It comes with 7 accessories, a large refrigerator, and a chalkboard surface. Your little chef can write what they are serving for dinner or just doodle on.
It also comes in white and pink, with a working ice maker (but the ice is pretend cubes).
2. Teamson Kids Little Chef Chelsea Modern Play Kitchen
This pretend kitchen play set is our second pick for a number of reasons.
We like that the refrigerator is separate from the rest of the play kitchen, because this is more of a realistic idea. The gray fits with any home decor or play room, but they also offer 3 other colors.
The only downside is that it doesn't come with any accessories or pretend food.
3. Step2 Best Chefs Kitchen Playset
This play kitchen is the most budget friendly of all of them. With 25 extra accessories, your little ones will spend hours and hours pretending to bake, cook and clean in their little kitchen.
4. Step2 Fun with Friends Kitchen
Step2 makes a lot of great pretend toys and this friends kitchen is another popular one with even more accessories. It has a total of 45 extra accessories included with the kitchen, but the refrigerator isn't very big.
5. Melissa & Doug Wooden Chef's Pretend Play Toy Kitchen
Last, but certainly not least is the Melissa & Doug play kitchen. It has a working ice maker that dispenses fake ice cubes, the microwave plate spins, and the knobs can turn on the oven.
One thing is for certain though, Melissa & Doug make extremely good quality toys and pretend play stuff. You might pay a little extra, but it's worth it for the quality.
FAQ
Are play kitchens good for 5 year olds?
Yes, play kitchens are great for letting your independent 5 year old use their imagination and create different foods (even if they are pretend).
Is wood or plastic play kitchen better?
Plastic play kitchens are easier to clean, where as wooden play sets typically last a lot longer and look more realistic.
Do little boys like play kitchens?
Absolutely! Your little boy might just be the next Gordon Ramsay after playing and using his imagination with a play kitchen.
You might also enjoy reading: