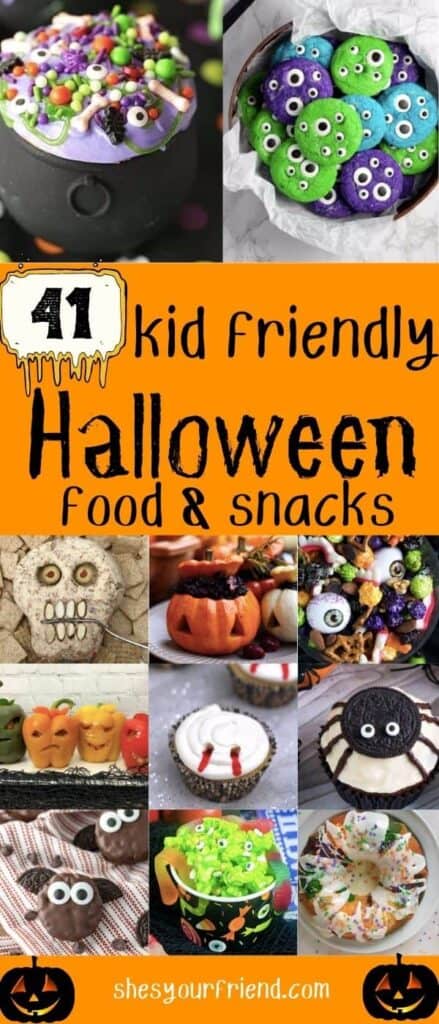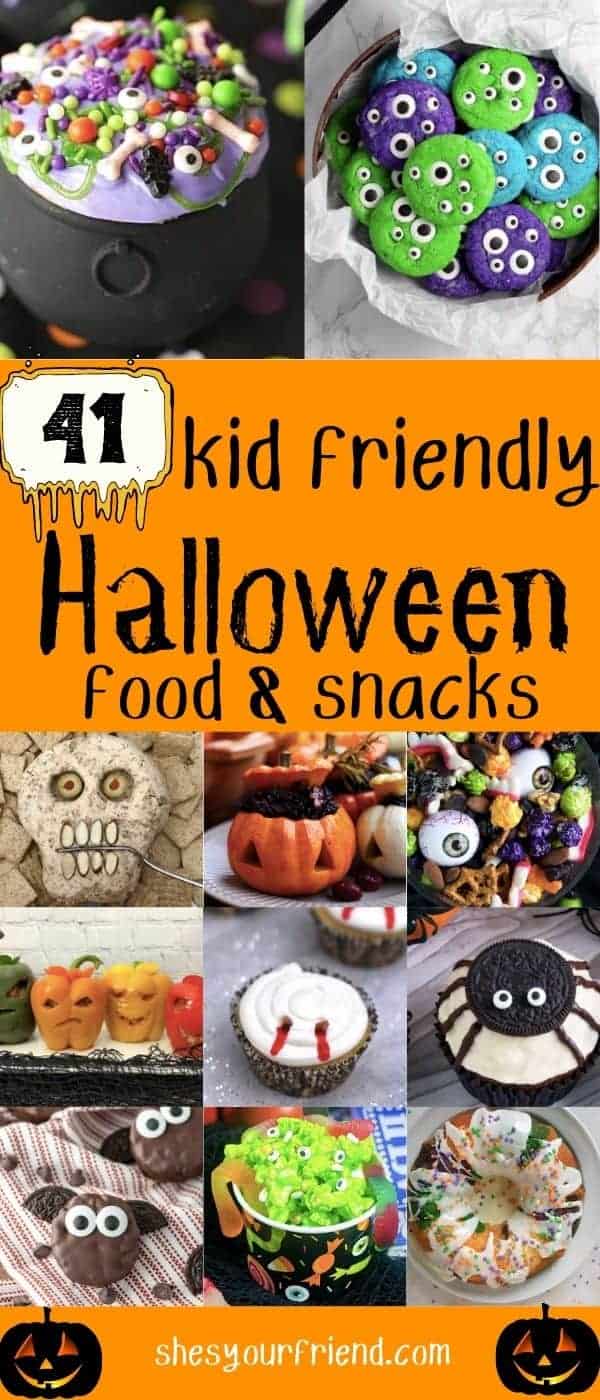 One of the best ways to celebrate Halloween and get in the spirit is munching on some delicious party snacks and food.
If you are looking for ideas that are kid friendly and easy to make, then this list is just for you!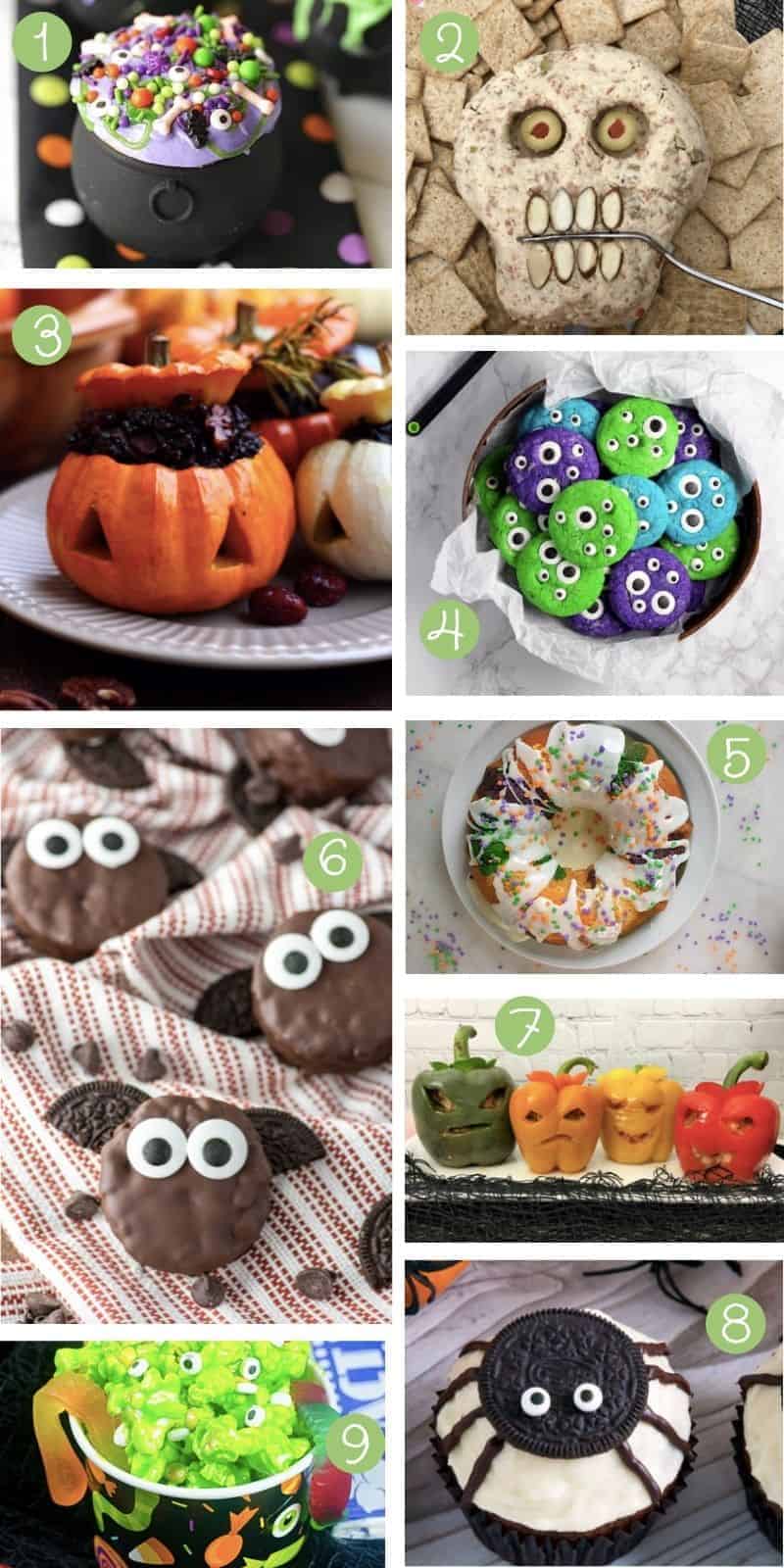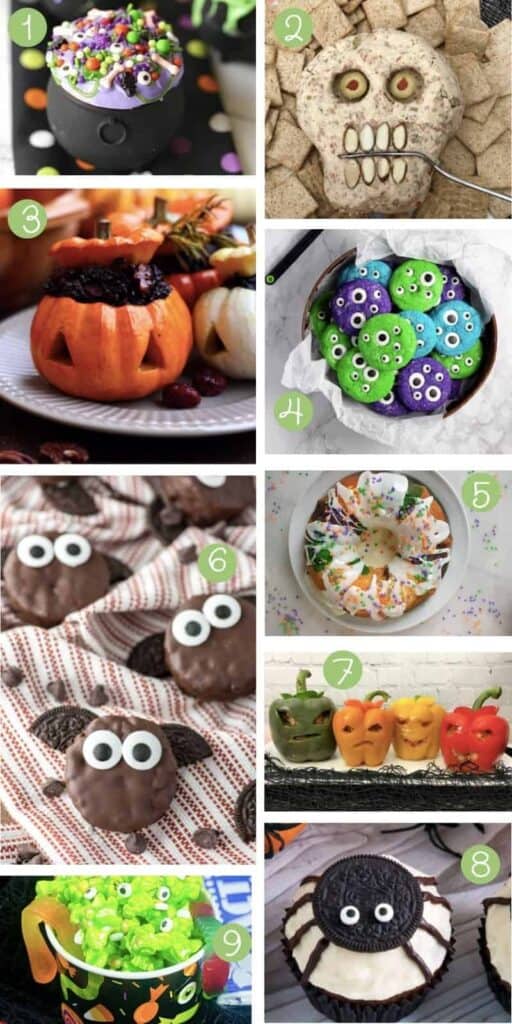 1. Witch's Brew Cupcakes
Double, double, toil and trouble. These Witches' Brew Cupcakes are the perfect Halloween treat. These bewitching cupcakes are perfect for a Halloween party. Save this fun Halloween cupcake recipe so you can make it for your family.
2. Pepperoni Cheese Ball
This skull-shaped pepperoni cheese ball will be a huge hit at your next Halloween party. Serve it with your favorite crackers!
3. Halloween Stuffed Pumpkins
Easy Halloween carved pumpkins with wholesome wild rice stuffing. Serve these spooky kid-friendly stuffed pumpkins for a healthy holiday treat!
4. Monster Cyclops Cookies
How fun are these blue, green and purple monster cyclops cookies?! The candy eyes really make it perfect for Halloween.
5. Halloween Bundt Cake
This colorful Halloween bundt cake looks amazing! Drizzle with your favorite icing or even some spooky sprinkles.
6. Chocolate Covered Rice Krispies Bat Treats
Homemade brown butter rice krispies dipped in dark chocolate make these bat treats the perfect Halloween dessert or snack.
7. Jack O' Lantern Stuffed Peppers
These Jack O' Lantern stuffed peppers are the perfect Halloween meal. They are easy to make, healthy, and look so fun!
8. Spider Cupcakes for Halloween
Easy to make spider cupcakes with a pumpkin cupcake base and cream cheese frosting! With grain-free, gluten-free, whole grain, all-purpose flour options. Can also be made vegan. Perfect for Halloween!
9. Ghoulish Goosebumps Popcorn
Looking for a treat for your next haunted Halloween movie night? This ghoulish goosebumps popcorn is sure to be a hit with all your ghosts and goblins.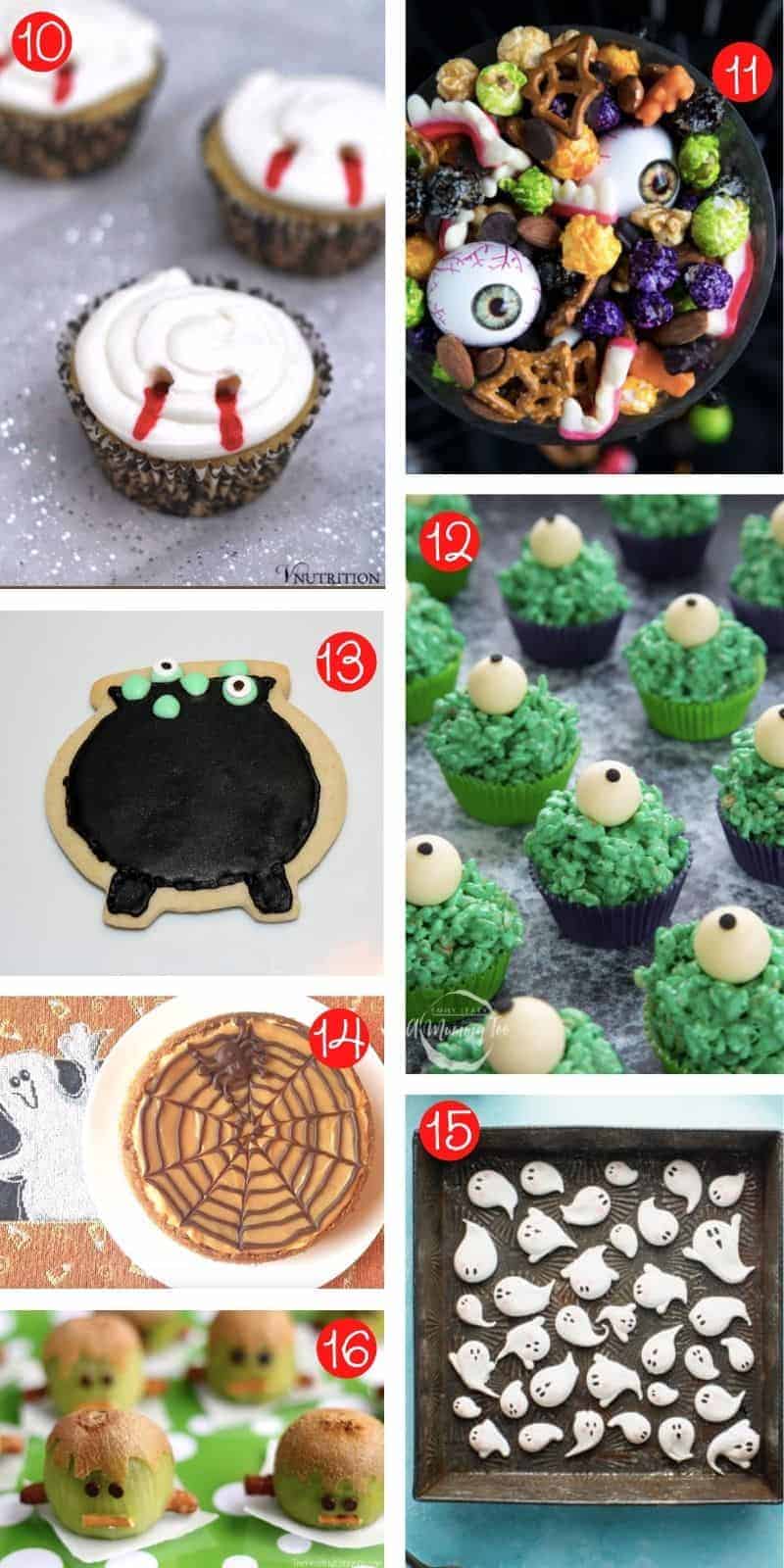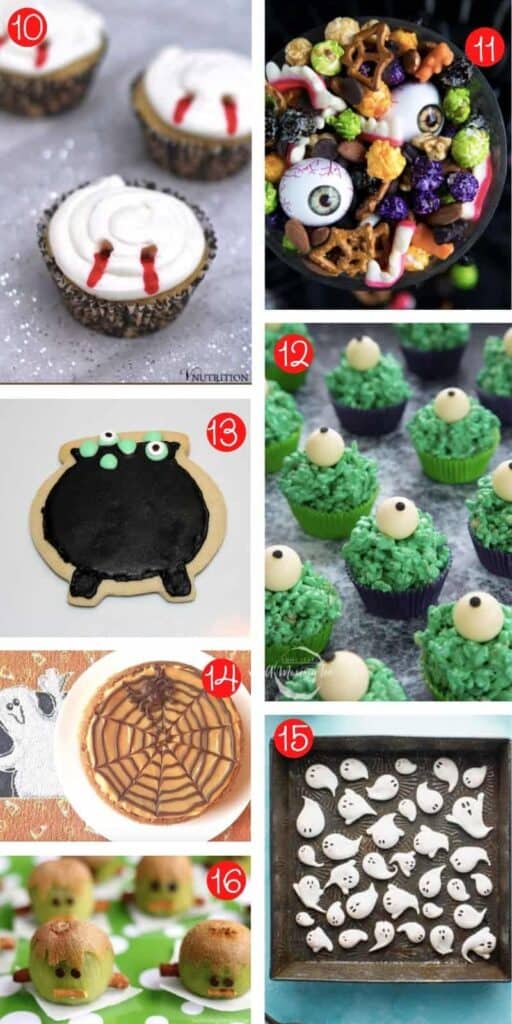 10. Vampire Bite Cupcakes
These Vampire bite cupcakes are a perfect treat for Halloween! They're filled with strawberry jam to scare everyone that takes a bite!
11. Halloween Monster Mash Party Mix
This Halloween Monster Mash Party Mix is a little creepy, a whole lot of fun, and has a little something for everyone. Just 5 minutes to throw together, enjoy at your next Halloween party or give to friends and teachers in cute little gift bags for a sweet Halloween surprise.
12. Halloween Monster Crispy Cakes
These Monster crispy cakes (or better known in the U.S. as rice crispy treats) are formed into a ball and topped with white chocolate Lindor truffles for eyes. Such a fun and festive treat for kids this Halloween.
13. Witch Cauldron Cookies
Another delicious Halloween treat are these witch cauldron cookies. So fun especially with some candy eyes.
14. Instant Pot Halloween Spider Web Cheesecake
Instant Pot Halloween Spider Web Cheesecake with a Dulce de Leche Topping and spider web, are perfect for your Halloween Party.
15. Marshmallow Ghosts
These homemade ghost marshmallows are sure to delight all the boys and ghouls this Halloween! Whether you're enjoying hot cocoa, a spooky s'more or just looking to learn some marshmallow making basics, this recipe has you covered!
16. Frankenstein Kiwis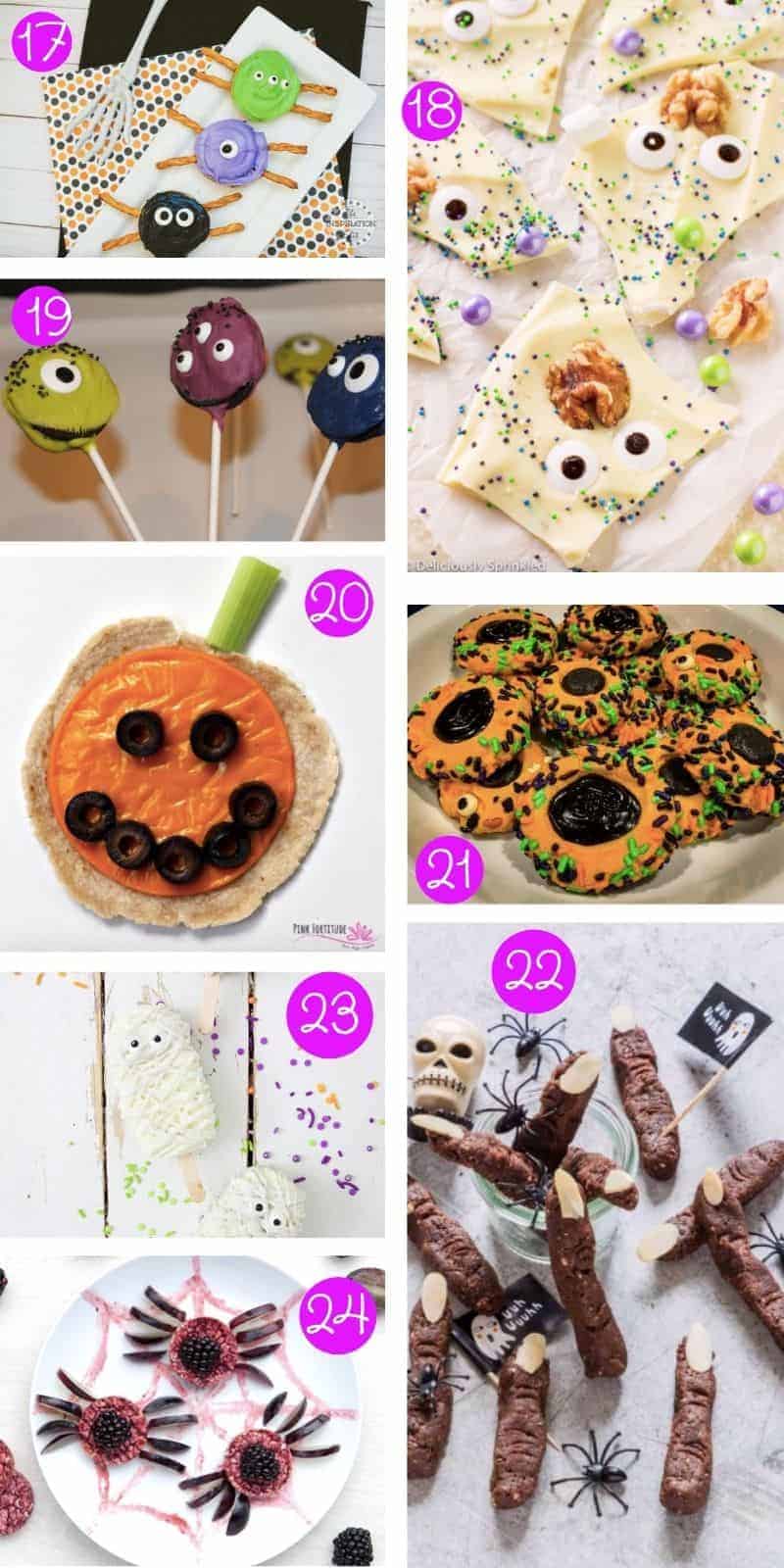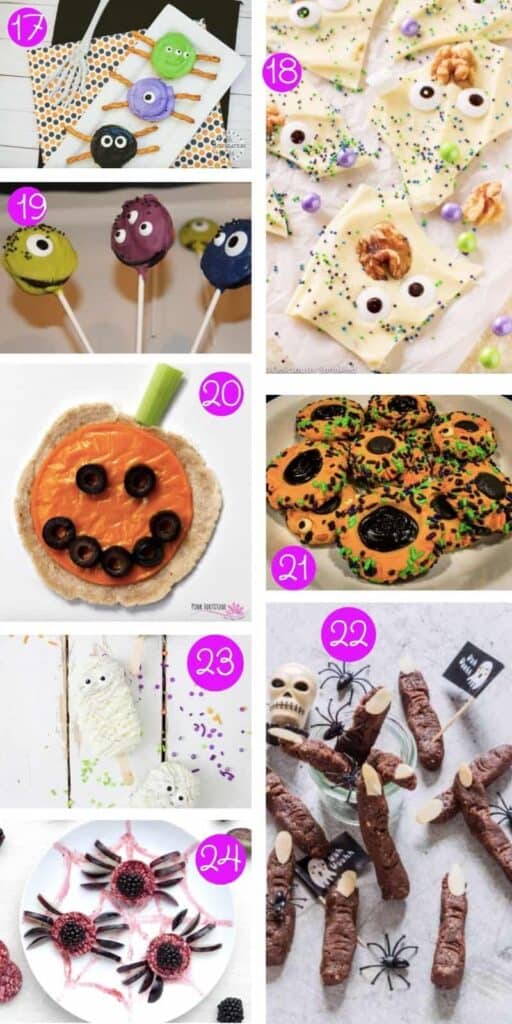 These Franken-kiwis are an easy, really cute, healthy Halloween treat! And so fun to make – like yummy little Halloween craft projects! They're perfect for Halloween fruit trays, fun after-school snacks, and as edible Halloween party decorations!

17. Spider Halloween Snacks
These Spider Halloween Snacks can be made even by the least creative person in the world. Trust me, you are going to love how quick, easy, and harmless this recipe actually is.
18. Monster Brain Halloween Bark
This monster brain Halloween bark is another great treat for your party. Kids and grown-ups both love it!
19. Monster Oreo Cookie Pops
An easy Halloween dessert are these monster Oreo cookie pops. Play around with different candy eye size for a really fun look.
20. Halloween Tortilla Appetizer
This Halloween tortilla appetizer looks like a pumpkin or Jack O' Lantern. It's gluten free, grain free, and you can have either a regular dairy or dairy free or vegan option. Make it for Halloween dinner or for your Halloween party. It's fun food!
21. Spooky Halloween Sprinkle Cookies
Kids and adults alike will love these Halloween themed thumbprint sugar cookies. They'll liven up any dessert table and look cute too!
22. Zombie Fingers
These Zombie Fingers Halloween party favors are no-bake Halloween treats that kids and adults alike will love.
23. Mummy Cakesicles
These mummy cakesicles are fun Halloween themed cake pops. So delicious and easy to make!
24. Halloween Rice Cakes
These scary Halloween rice cakes are decorated to look spiders. They are a healthy treat that kids will love!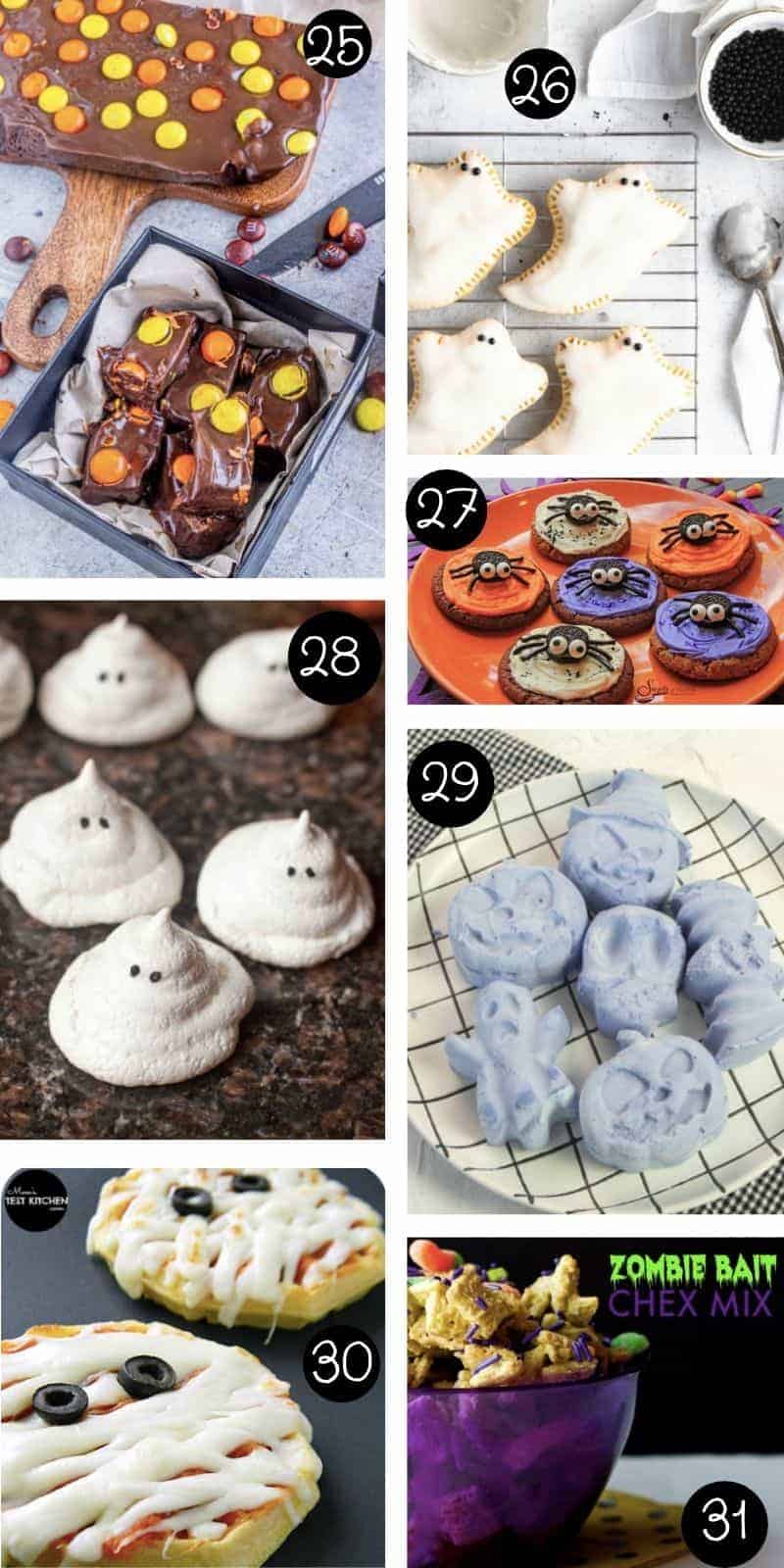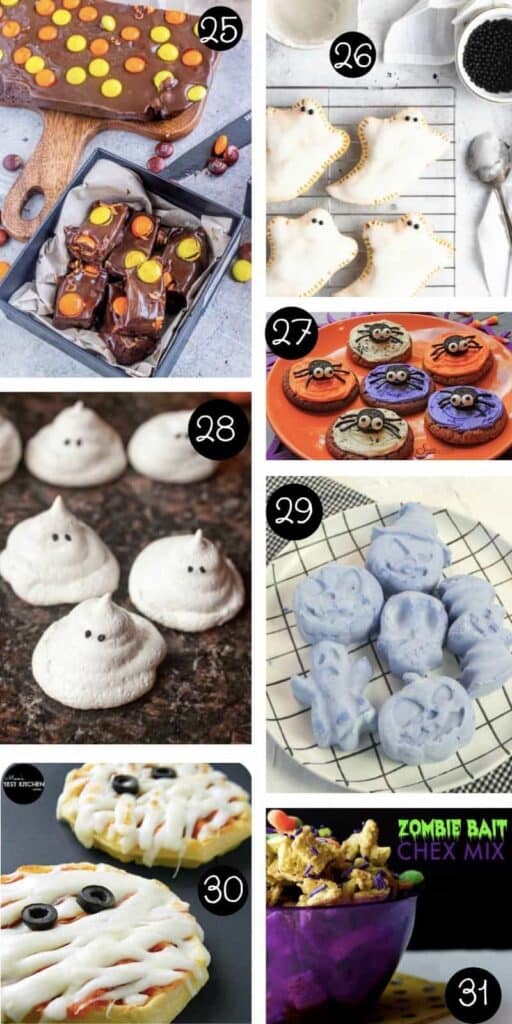 25. Halloween Dark Chocolate Fudge
Just in time for Halloween, this decadent chocolate fudge is all decked out with orange and yellow candy. It's so tasty and easy to make, you'll want to keep a batch on hand all year round.
26. Pop Tart Ghosts
Who needs store bought pop tarts when you can make your own right at home? These flaky pop tarts are stuffed with a decadent nutella filling, covered in a sweet vanilla icing and decked out to delight even the pickiest goblin or ghoul in your life.
27. No Bake Spooky Spider Cookies
No-Bake Spooky Spider Cookies are the perfect addition to your Halloween celebration this year! With their big googly eyes and creepy little legs, these no-bake Halloween cookies with be the hit of your ghoulish celebration.
28. Boo-ringues
BOO-Ringues! Light, airy, slightly sweet puffed Halloween treats that are fun and easy for kids to make!
29. Halloween Spooky Ice Cream Treats
These spooky Ice cream treats are very easy to make and the kids would definitely love it.
30. Mummy Waffle Pizza
Waffle Mummy Pizzas would be a great after school snack or even an easy supper for the kids before you head out trick-or-treating.
31. Zombie bait chex mix
This Zombie Bait Chex Mix is a fun Halloween treat. Grab the kids, they'll LOVE making it with you! Plus you'll only need 4 ingredients.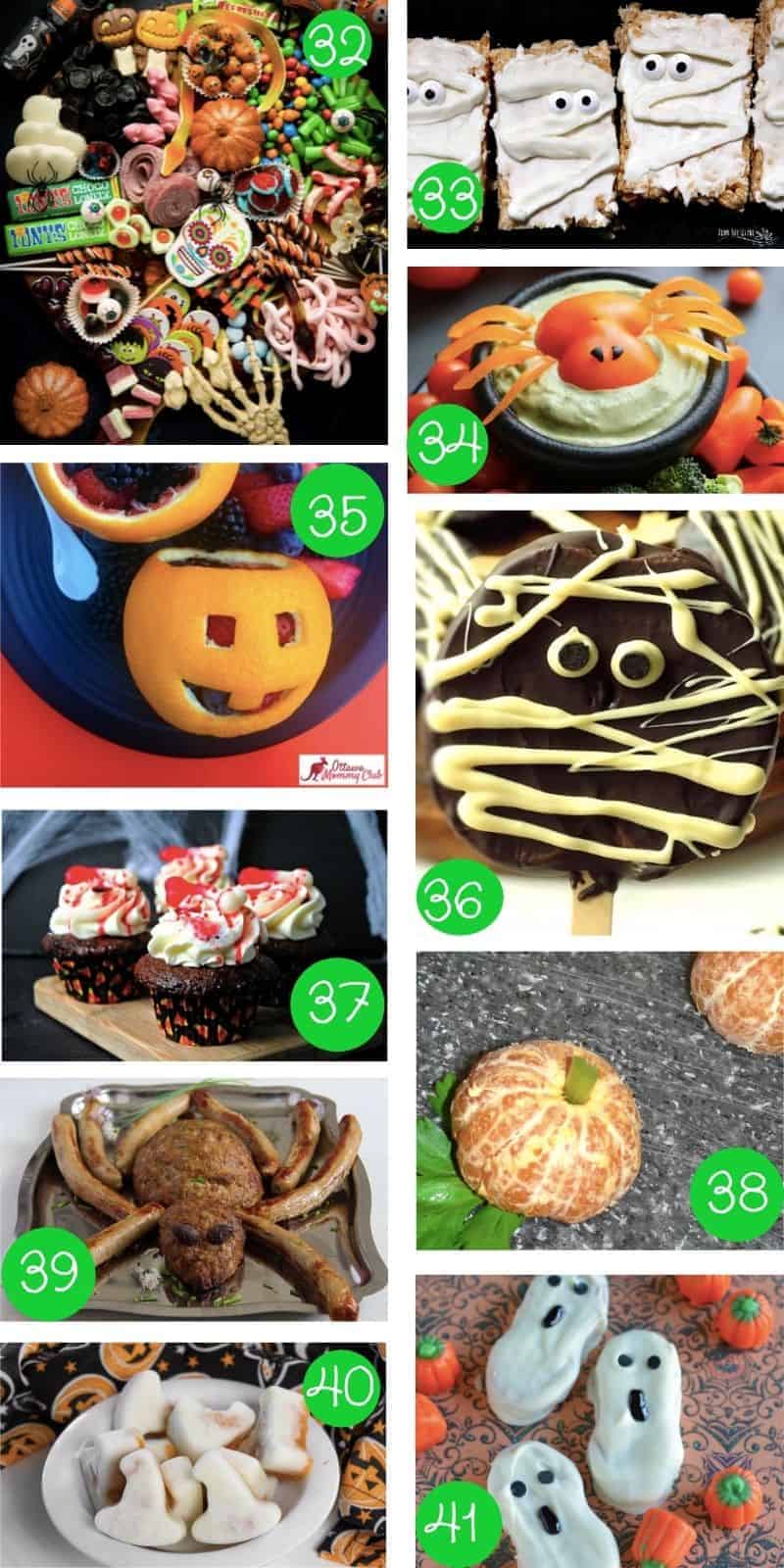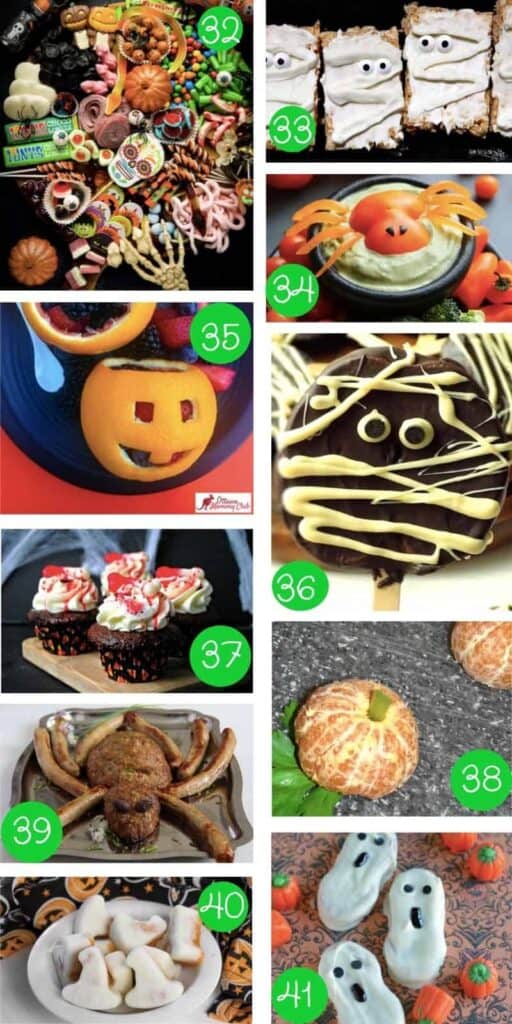 32.Halloween Treat Platter
Trick or Treat? Give me something good to eat! This Halloween Treat Platter has it all from colourful sweets and sour candy to chocolate Jack-O-Lanterns and spooky lollipops.
33. Mummy Rice Krispies Treats
How stinkin adorable are these Mummy Rice Krispies Treats? These gluten free and vegan treats are the perfect Halloween treat for kids of all ages. And no worries about scaring anyone at Halloween with processed and scary ingredients!
34. Spooky Spider Halloween Appetizer Dip
The spooky yet adorable "pepper spider" can top any veggie dip you like (although we love it with scary-good green dips). It's fun and easy to make, and can even be created ahead of time, so your spider is all ready to go, just waiting to make a spook-tacular appearance on your Halloween appetizer buffet!
35. Jack-O-lantern Orange bowls
These adorable Jack-O-Lantern orange bowls are similar to that of carving a real pumpkin, just on a miniature scale. It's best to fill the Jack-O-Lantern bowls with berries – their small size is just right.
36. Chocolate covered apple slices
These healthy and easy chocolate covered apple slices are decorated to look just like mummies.
37. Bloody Bone Cupcakes
The Bloody Bone Cupcake recipe is not for the faint-hearted! How a little bit of red food colouring mix to some corn syrup can make it look like blood dripping!
38. Clementine Pumpkins Recipe
Who doesn't love pumpkins? These Clementine Pumpkins take just 5 minutes to make, and they are a fabulous Halloween snack!
39. Halloween Spider Meat Loaf
Learn how to make a spider meatloaf, perfect for Halloween. Delicious pork and beef meatloaf with sausages shaped like a spider.
40. Witches hat pumpkin yogurt bites
These Witches Hat Pumpkin Yogurt Bites Recipe is so easy to make and only requires 4 ingredients.
41. Ghoulish ghost dip cookies
These ghoulishly good ghost dip cookies are so easy and so fun for Halloween parties and celebration. Here is how to make them!
Anyone else ready for Halloween now? I know I am!!
Make sure to share this to your favorite Halloween Pinterest board so you can look back at all these tasty treats and snacks!