When babies starting teething, it can seem like a nightmare! Your baby will be fussy, drooly, and just not their self.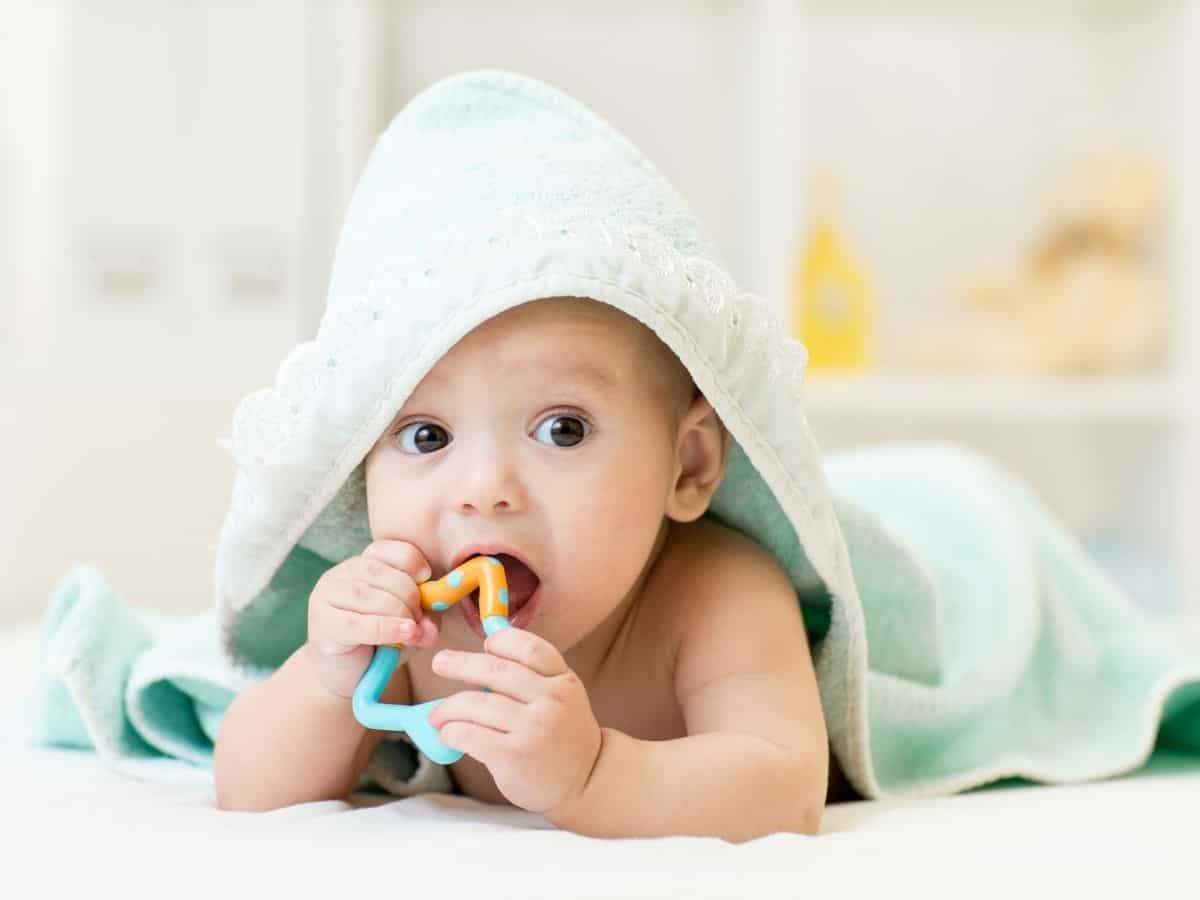 Jump to:
So, how can you help your baby? One of the easiest ways to help is by having some teething toys your little one can gnaw on.
When do babies start using teething toys?
Although most babies won't start teething until 4-6 months old, its a great idea to have these on hand before you need them!
Put a few of them on your baby registry must haves, and maybe one of your friends will buy them for you. 🙂
Also, whats great about a lot of these teething toys are that they are versatile and can be played with long before the teething stages.
Best Baby Teething Toys
1. The First Years Massaging Action Teether Star
This particular teething toy is unlike any other! When your baby bites down on the star, it will lightly vibrate to massage those gums.
It also features a little pink and green rotating rattle that will also be fun for them to play with.
My kids loved this teething toy!
More Info:
To clean, wipe surface with a damp cloth or sponge using mild liquid soap, then wipe with wet washcloth. Do not immerse!
Best for babies 6 months and older
2. Baby Elefun
This turquoise elephant teether by Baby Elefun is our runner up because it offers 5 different textures for baby's gums, and it's made of food grade silicone. It's really easy to hold, and they are so sure you will like their product that they offer a full lifetime warranty.
More Info:
You can clean this with warm soap water, or on the top shelf of your dishwasher!
Can be used with babies as young as a newborn.
3. The First Years John Deere Massaging Corn Teether
Very similar to the Bright Starts teether, this John Deere corn teether also vibrates to help soothe your baby's gums! It's also just too darn cute.
More Info:
You can clean this by gently wiping it down with a washcloth. Do not immerse in water!
Can be used with babies 6 months and up.
4. Bright Starts Playful Pals Activity Rhino
This next one is actually more than just a teething toy! It's a snuggly rhino that offers lots of stimulation and fun for your little one.
There are a couple of different places baby can chew on, a mirror, a rattle, and can be attached to a carseat or stroller with ease!
More Info:
To clean, wipe with damp cloth. I have also cleaned it in my washing machine on gentle cycle with cold water.
Can be used with babies as young as a newborn.
5.Nuby Icy Bite Soother Ring
While this pick is simple, it's actually a great teething toy! Toss this sucker into the frigerator to get cold, and than it provides your baby with cooling relief while they gum on it. It's also super easy to clean!
More Info:
Clean this teething ring with warm soapy water.
Best for babies 3 months and older.
6. Baby Einstein Teether-pillar
Baby Einstein makes some wonderful toys, and that goes for teething toys too! This fun catepillar rattles when shaken, and can be refrigerated to provide a cool relief for your teething baby's gums.
More Info:
Wash this with warm soapy water, and then let it air dry.
Best for babies 3 months and older
7. Nuby Ice Gel Teething Keys
The Nuby Ice gel teething keys are another great option for your baby. Place this colorful keyring into the refrigerator so the gel-like keys will get cold. It's also easy to hold onto and the contrasting colors are so fun!
More Info:
Clean with warm soapy water and let it dry.
Best for babies 3 months and older
8. Nuby Bug-a-loop Teether
The last teething toy on this list is the Nuby teething ring. It has many different colors, shapes, and even a couple of plastic bugs too! This is such a fun little ring that your baby can discover all the different colors and bugs.
This one my daughter loved when she was younger!
More Info:
Wipe clean only
Best for babies 3 months and older
Now that you know the best teething toys for making your baby a little less cranky, I hope you remember that it's just a phase. Your baby will eventually have all of their teeth, and there will be a new phase of getting used to!
Knowing the right tips and tricks can make all the difference in your baby's happiness as well as your own.
Thanks for stopping by! If you enjoyed reading, please remember to pin this to your favorite baby board on Pinterest. Thanks!!
More baby gear