Are you planning on taking your baby to the beach? If so, don't forget to pack these essentials to keep baby happy and safe!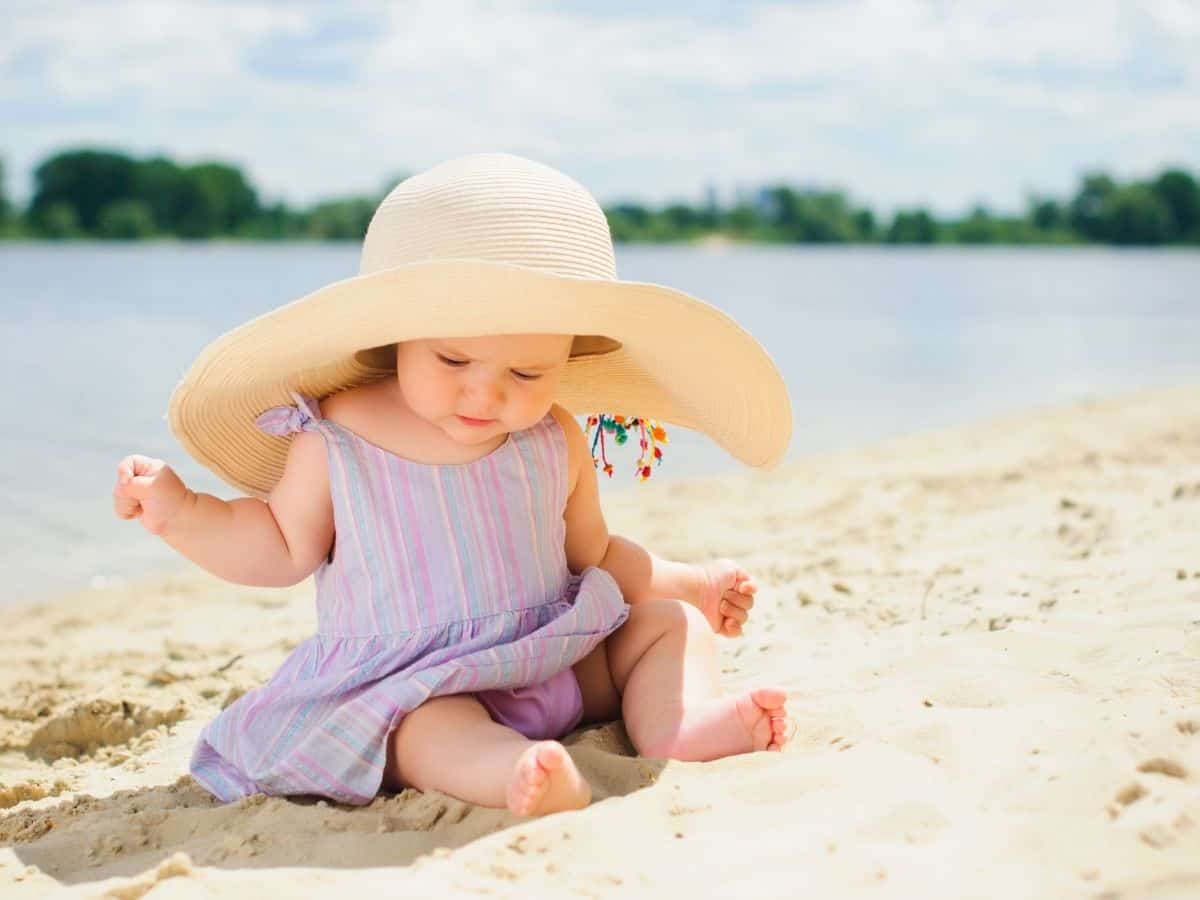 Jump to:
Beach Items for Baby
1. Baby Hat

There are plenty of cutesy hats out their but for a day at the beach you should look for one that covers baby's entire head. This floppy sun hat would be perfect and it comes in lots of different colors and patterns!
2. Baby Sunscreen

Not only is a hat a good idea, but you don't want to forget the baby sunscreen! We have a whole article dedicated to the best baby sunscreens which you can read.
To summarize though, our favorite is the Aveeno Baby continuous protection sunscreen with an SPF of 50.
3. Extra Diapers
If you plan on bringing baby into the water, you will go through a lot more diapers! You don't need to buy swim diapers, because the regular ones do the same thing and baby won't be in the water for long amounts of time.
4. Swimming Suit

A baby swimming suit is another must for your beach trip, but look for the swimming suits that have sun protection like this one from RuffleButts. It is long-sleeve with built-in UPF 50+.
This means you will use less sunscreen because baby's arms are covered!
5. Pack n Play (with extra crib sheet)
If you are going to stay at the beach for a long amount of time, a pack n play is another good item to bring.
Now the reason for the extra crib sheet is to put over the pack n play to help shield the sun from your little one.
Here's a look at the best pack and plays if you don't have one!
6. Baby Sunglasses

Even with a hat, there's no telling where your baby is going to look and that means they might end up glancing at the sun from time to time. Having a good set of baby sunglasses will help keep baby's eyes safe!
7. Baby water shoes

Another fun beach activity is walking at the edge of the shoreline or dipping your feet in the water. If this is something you want to do with your baby who has started walking with assistance, than a pair of water shoes is another good idea to bring.
8. Mini Fan

Most babies have a hard time regulating their body temperature, so bringing along a little fan can work wonders for cooling them down. We like this flexible tripod fan because it can easily hook onto your stroller or beach chair.
9. Drinks & Snacks
Make sure to pack adequate snacks and drinks so that baby doesn't get dehydrated!
10. Towel
If you plan of letting baby get wet, than don't forget to bring a towel. Babies might like the water, but it's hard putting dry clothes on a wet baby!
Beach Safety Tips
Babies get hot a lot faster than older kids, so keep an eye out. If baby is getting to hot, find an indoor location with some air conditioning to cool baby off.
Make sure baby is drinking plenty when he/she is out in the heat.
Put sunscreen on 30 minutes before baby will be in the sun, this gives your skin time to absorb the lotion and work properly.