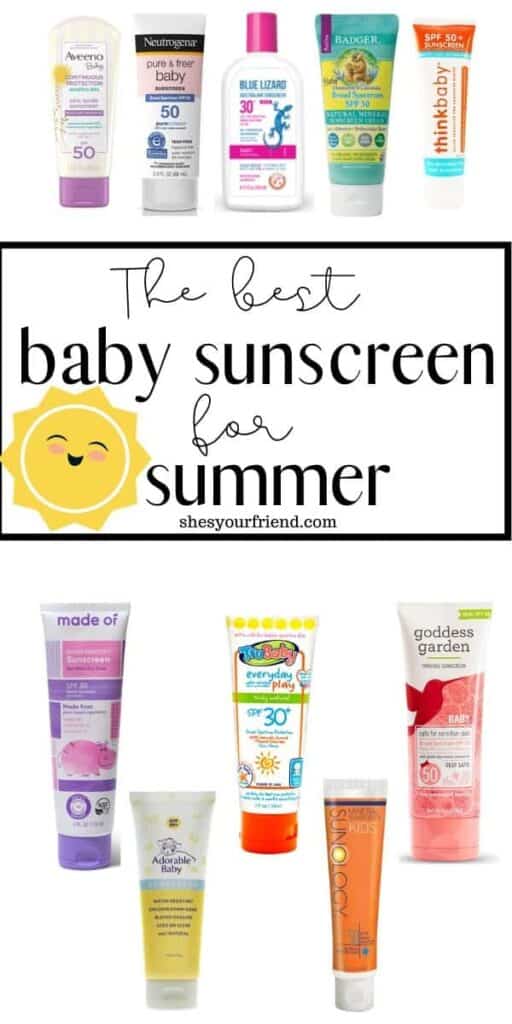 With summer inching around the corner, it means there are going to be a lot more sunnier days! To help keep your baby safe from the sun, you need a good sunscreen.
Maybe not just a good sunscreen, but a great one! One that you can feel safe slathering on your little baby's gentle skin. After all, you are their first defense!
Now in an effort to fully disclose, this article contains affiliate links. If you purchase something, I would receive a comission. For more information, please see my disclosure page.
What SPF is recommended for a good sunscreen?
The American Academy of Pediatrics recommends an SPF of at least 15, and anything above 50 might not really be worth it. So, don't be swayed by the alluring SPF 100!
Best Practice for Using Sunscreen
We all know to put it on before going outside, but did you know that you should put it on at least 30 minutes before going outside? According to the American Academy of Pediatrics this is because it takes time for your skin to soak it in. They also give a few other ground rules on sun safety you can check out too!
Are all sunscreens equal?
There are so many different sunscreens on the market today, but are they all equal? The answer is no!
Some sunscreens protect just from UVB rays while others protect from UVA and UVB rays.
Another notable difference is the SPFs (but again anything over 50 might not matter).
Some sunscreens are waterproof, while others are not.
They are also found as creams, sprays, and rub-on sticks.
Best Sunscreens for Babies and Kids
After doing a thorough research, looking at Environmental Working Group (EWG) recommendations, and reviews from customers, as well as testing out products for ourselves, we have came up with a list of the best sunscreens for babies and kids. Grown-ups can also use them too!
They are also all zinc oxide based so they are thicker, but they don't have a bunch of the harsh chemicals that other oil based sunscreens would have.
1. Aveeno Baby Continuous Protection Sensitive Skin Lotion Sunscreen (SPF 50)
This great sunscreen helps protect your baby from UVA and UVB rays. It is also designed for delicate and sensitive skin, so you don't have to worry about any harsh chemicals on your baby's skin.
It is sweat and water resistant for 80 minutes, so make sure to reapply if you are going to be out longer than that!
2. Neutrogena Pure & Free Baby Sunscreen (SPF 50)
This next sunscreen is also a great choice for your baby because it offers a tear free and fragrance free formula that is safe for baby.
It is water resistant for 80 minutes just like the Aveeno, and is thick so it might leave a white sheen too!
3. Badger Baby Sunscreen Cream (SPF 30)
This is the best smelling sunscreen I have ever smelled-chamomile and calendula! That being said, if you are looking for an unscented option, you might want to pick a different sunscreen.
It will protect from UVA and UVB rays and is sweat and water resistant for 40 minutes. It's also a thicker formula, so you will need to rub it in well.
4. Blue Lizard Australian Sunscreen Baby (SPF 30+)
Blue Lizard also makes a great sunscreen for babies and kids! It protects against UVA and UVB rays, and is water resistant for 40 minutes.
It's fragrance free, and has a cool feature where the bottle will turn pink when there are harmful UV rays present! How cool?!
5. ThinkBaby Sunscreen (SPF 50)
ThinkBaby is another great sunscreen that protects against UVA and UVB rays while offering 80 minutes of water resistant protection.
It's also a little easier the the others to rub in which is a huge plus!
It has a citrus scent which isn't too overpowering, and is gentle on delicate and sensitve skin.
6. Goddess Garden Organics Baby Natural Suncreen Lotion (SPF 50)
This is another great baby sunscreen that is made with natural ingredients like aloe vera and coconut oil, while still protecting against UVA and UVB rays.
It is water resistant for 80 minutes, and is fragrance free!
7. Made Of Baby Sunscreen Organic (SPF 30)
The Made Of Brand of baby sunscreen also makes their sunscreen with natural ingredients including argan oil, raspberry oil, and coconut oil. It also protects agains both the UVA and UVB rays, while still being gentle on your kids' skin.
It also offers 80 minutes of water resistance before needing to reapply.
8. Adorable Baby Sunscreen (SPF 30)
Adorable Baby has great baby sunscreen that will protect you from both UVA and UVB rays! It's water resistant for 40 minutes, and is clear. This is a great sunscreen if you are tired of the ghostly white effect a lot of sunscreens cause.
On the downside, while it does apply clear, it also has a greasy look to it! So, that is the trade-off you need to make.
9. TruBaby Everyday Play Sunscreen (SPF 30+)
This is another natural sunscreen that protects against UVA and UVB rays, and offers about 60 minutes of water resistant coverage.
It was also created by a mom with 6 kids, so you know it's mom friendly!
10. Sunology Kids & Baby Safe Mineral Sunscreen (SPF 50)
The last on this list comes from Sunology, and their sunscreen is water resistant for 80 minutes. It is also fragrance free, and protects against UVA and UVB rays.
It has moringa oil which has a lot of great skin benefits like helping with dry skin and acne. So, this is a perfect sunscreen for sensitive skin or skin prone to breakouts!
While it's fun to be in the sun, having the right sunscreen can make all the difference in keeping your family safe and protected! Make sure to find one that is rated 1 by the EWG, like the 10 listed above).
Also, try to find a sunscreen with little to no harsh chemicals and ingredients! You will feel a lot better knowing your baby has the best!!
Thanks for stopping by! If you enjoyed reading, please remember to share this on Pinterest. Thanks!!