Do you know someone who is moving for the first time? Or perhaps they just bought a house? It so, gifting them a housewarming present can really show them you care.
Jump to:
Practical Gifts for new home owners
1. Pantry Storage Containers
Seseno
New home owners will appreciate having some storage items that match and help bring their pantry together.
Related: best pantry organization supplies
2. Garden Hose
Flexzilla
Another practical gift idea is garden hose. Every new home needs a good garden hose to water flowers, plants and gardens.
Traditional Gifts for new home owners
4. Plants
The Magnolia Company
Plants like this lemon tree are a traditional housewarming gift. This one even comes with a personalized keepsake ornament!
Christmas Gifts for new home owners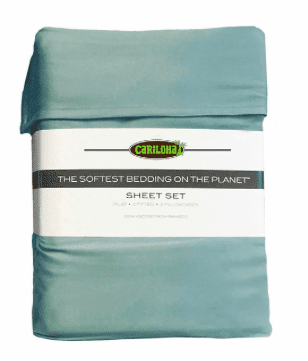 5. Bamboo Sheets
Cariloha
These super soft bamboo sheets from Cariloha are amazing! After you feel them, you might want a set for yourself too.
6. Cooliing Pillows
Beckham Hotel Collection
Pillows are great because they can have an extra set for when guests visit them. Honestly, no one is going to complain about having too many pillows.
These have over 90,000 five star reviews!
7. Towels
Welhome
Now they may already have towels, but gifting them a set of luxurious towels that aren't in their budget right now will really wow them!
8. Faux Leopard Throw Pillows
Cheer Collection
Another gift idea for new homeowners is some fun decorative pillows. These faux fur throw pillows would be perfect for their new home!
9. Laundry Basket
Everlove Creations
Another gift idea for new We are extremely obsessed with these rope baskets with leather handles. It something we always include in housewarming gifts for our friends.
10. Charcuterie Board
Smirly
Charcuterie boards are great for dinner parties, get togethers, or date nights. Definitely a great gift for a new homeowner.
Luxury Housewarming Gifts
11. Wine refrigerator
Wine Enthusiast
A splurge worthy gift for the new home owner would be this coutertop wine refrigerator. You can bet, they are going to be shocked and surprised in all the best ways.
12. Ice Maker
Euhomy
Most refrigerators have ice makers, but this countertop nugget ice make is a show stopper. It makes the same kind of ice you would find at Sonic. Umm, yes please!
When in doubt, gift cards are another great gift to congratulate a new homeowner. Pick from places like Lowes, Home Depot, Amazon, or Wayfair so they can pick buy something to help their house feel more like a home.
Gift guide FAQ
What do you gift a new home owner?
Think practical in terms of gifting, like a fun home decor item or small appliance. Or even a tool kit for when things need to be repaired!
How much should you spend on a new house gift?
Anywhere from $20-$50 is standard. This might vary depending on the relationship you have with this person though.