Pick out the perfect father's day gift for the car guy in your life with this complete guide guide of ideas!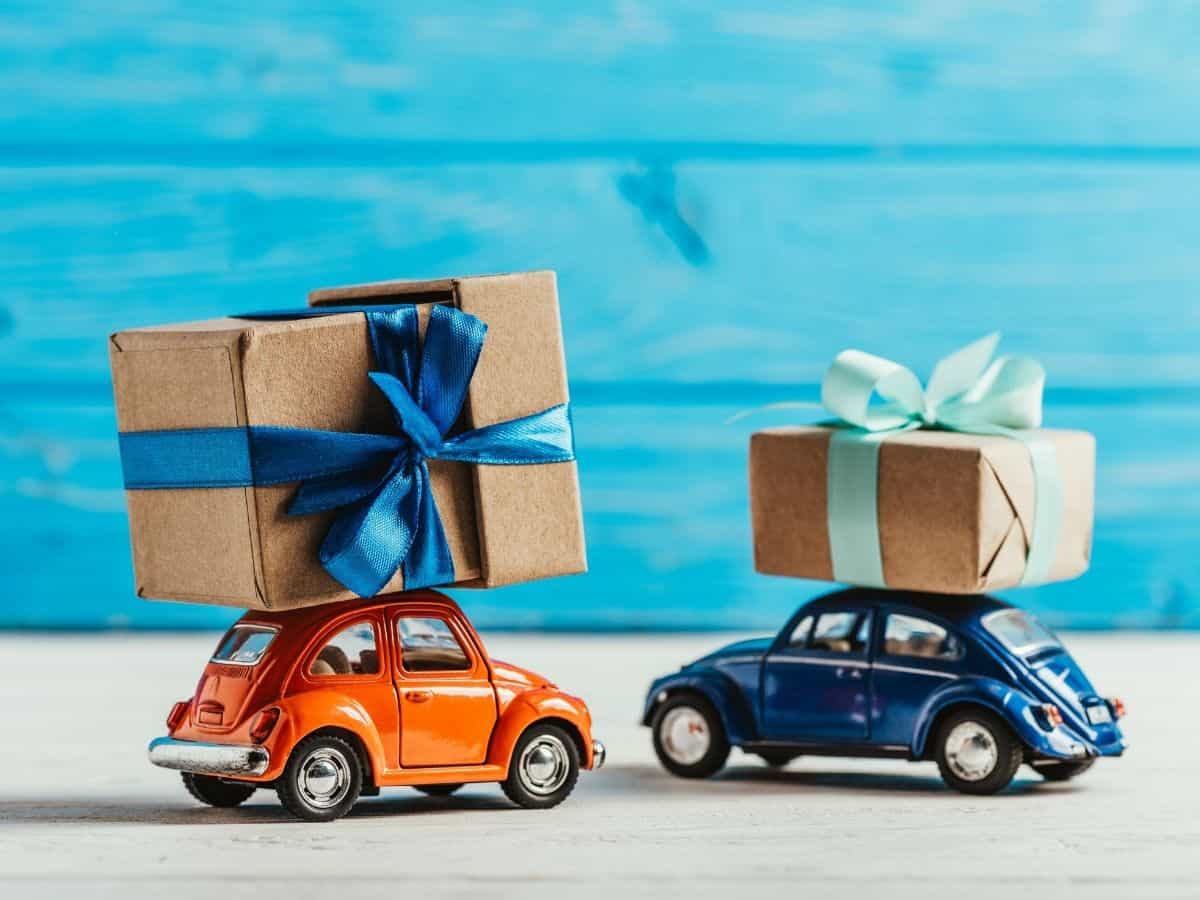 Jump to:
What Car Guys Want
1.Wrenches
This is kind of generic, but my husband says that two different sets of wrenches are handy to have--by two sets he is referring to a short set and a long set. This Craftsman set comes with both long wrenches and short.
2. Sockets
There are two different kinds of sockets: deep and shallow. There are also sockets made for ratchets and also impact guns.
They also offer wiggle sockets (sometimes called flex sockets) which are handy tools for maneuvering in hard to reach spots. The most common sockets are 1/4" drives.
These sockets from Craftsman are laser etched so you can easily see what size they are.
3. Extensions
This is another accessory to a ratchet and aids in getting in tight areas or allows someone to reach a little bit farther with their socket as they only make sockets so long.
4. Creepers
I will never understand how they came up with the name, but creepers allow for someone to lay on their back and roll under a car while working.
5. Aquapel Glass treatment
This Aquapel glass treatment is a must for windshields! It helps rain repel lasts a long time.
6. Toolbox
A tool box is another great idea to hold all those tools he has. Not only that, it helps organize tools so that you can find the tool you are looking for easily. There are small, medium, and large tool boxes.
This is a great thing to look for at garage sales too. Some of the popular brands are Snap-on, Mac, Cornwell, and Craftsman.
7. Work Table/Bench
When my husband is out tinkering on his trucks/cars, he inevitably uses his work bench similar to this one.
Having a table out in the garage or workshop dedicated to his stuff is nice because if he has to stop and run to the auto parts store-he can leave everything sitting.
8.Flashlight/Work Light
Working outside, or on a car with a dimmly lit underhood light, a work light or even a small pin light can make all the difference.
There are so many different varieties including a treble light that is plugged into an outlet, and also a wireless light that uses the rechargeable battery pack.
When it comes to flashlights, there are large ones and small ones. It really becomes a matter of preference here.
9. Jack & Jack Stands
A jack is important for lifting up a car to change oil, tire, or just lifting it up to be able to get underneath your car easier.
Jack stands let you keep your car lifted up and is more for a long-term solution for lifting the car/truck.
The jack lifts the car and then you would put the jack stands in, this makes it safer to have at least 3 points of contact holding up the vehicle.
Sunex offers a good bundle on Amazon that includes a jack and jack stands.
10. Vice
A vice is an accessory to a work bench. This holds something steady enough to be able to pry, cut, grind, hold something hot, or press something. It is essentially like another set of hands.
11. Air Compressor
This has so many uses, it would be hard to name them all. From airing up tires, to cleaning out vacuum cleaners, an air compressor always comes in handy.
12. Battery Charger
Ever had a car that wouldn't start due to a dead battery? Well, this beauty would help you to charge that battery so your plans aren't ruined.
Most battery chargers can be used on cars/trucks/boats/lawn mowers/motorcycles.
13. Diagnostic Tool
A diagnostic scan tool is great for newer vehicles that helps with diagnosing problems and can tell you what is triggering a check engine light.
Some of the more expensive models go into greater detail about what the problem is, while the cheaper versions give you a code for the general problem to look up online.
14. Car Lift
This is more of a gift if you have a lot of space and a large budget. Car lifts might not be realistic for most people, but it is still a gift that I am sure most car guys don't have.
Gift guide FAQ
What do you get a guy that loves cars?
Short answer, get him something for this car like a detailing kit or some tools.
What to get people who just got a car?
If they just got a car, some car air fresheners, floor mats, or even a diagnostic tool would be great gift ideas.
What does a car guy want for Christmas?
Some of the best gifts for Christmas are the bigger items they might not be able to splurge on like tools, a power washer, or even a battery charger.
More gift ideas for him
Thanks for reading 14 Gifts for Car Guys! I hope it helps you pick out that special gift he is going to love.
Please remember to share this to your gifts board on Pinterest too! Thanks!! 🙂