For Father's Day this year, why not surprise him with a gift that will take his grilling game to the next level!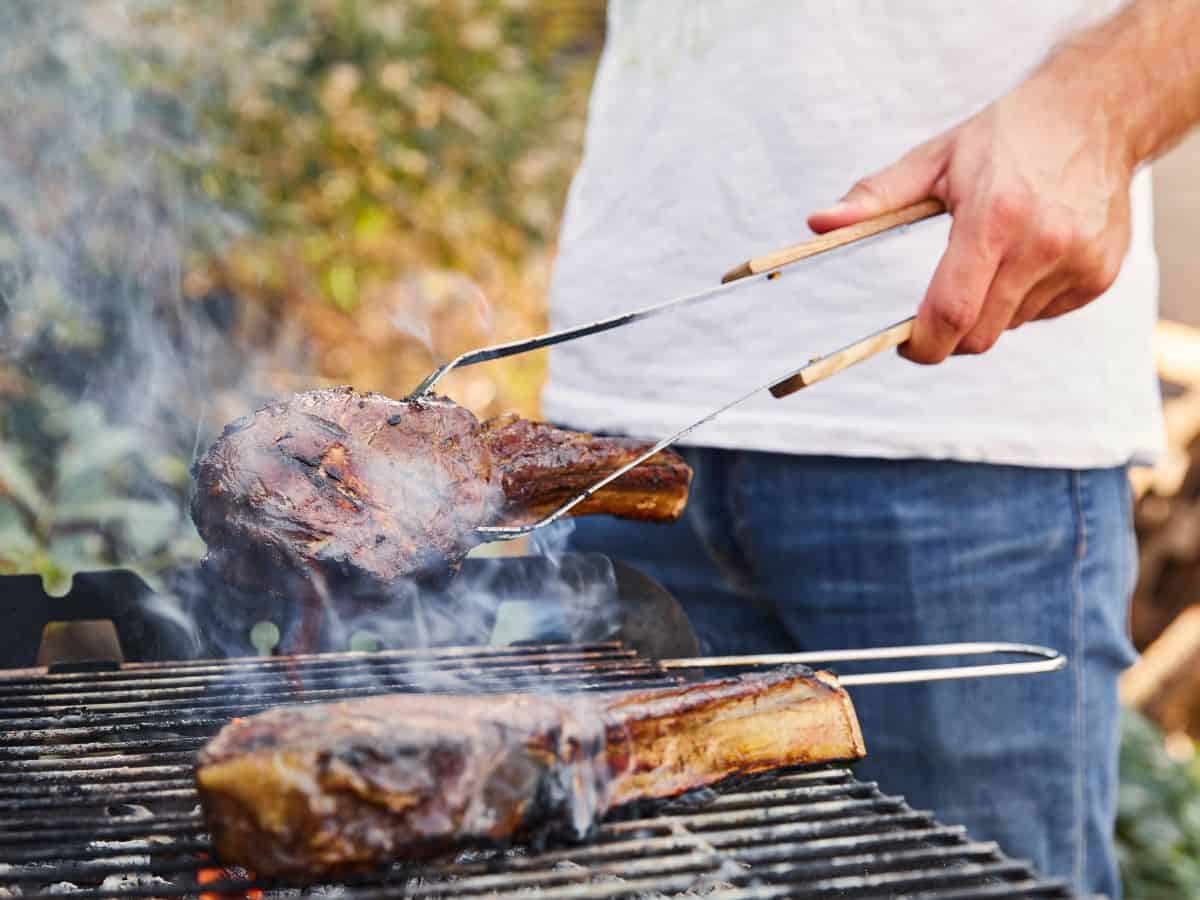 Jump to:
Whether he's a seasoned pro or starting out, our grilling gift guide has something for every dad.
Grilling Gifts for Him
1. The GrillFather Cutting Board
Every grill master needs a high-quality cutting board they can count on. This one is made with a food safe oiled walnut.
2. Marinade Basket Set (cuisinart)
This marinade basket lets you go straight from marinating to grilling with ease. It also has a lid so you can store it in your refrigerator until you are ready to grill.
3. Char-Broil Universal Rotisserie kit
One of the coolest grill accessories is this Char-broil universal rotisserie kit. It lets you grill your own rotisserie chicken.
4.Himalayan Salt Block Cooking Plate
Cook directly on the grill with this Himalayan salt block. It add so much more flavor than grilling on the grates.
5.Grill Bot Automatic grill brush cleaner
Take the work out of cleaning the grill with this automatic grill cleaner. This is a gift he will use over and over!
6. BBQ Mesh Grill Bags
Some things are hard to grill because they fall through the grates, but with these mesh grill bags that's a thing of the past.
7. Sauce Pot and Basting Brush
Adding sauces to meat while you cooking just got a lot easier. This sauce pot is heat safe so keep it right on the grill and use it when you need it.
8. Bear Paws meat shredder
This meat shredder is perfect for pulled pork, and shredding beef brisket. It's a must have for every grill master!
9. Little Griddle Stainless steel griddle
This BBQ grill griddle helps food cook evenly and can be used for gas and charcoal grills.
10. Firsgrill Burger Press
This burger press helps smash your burgers so they cook faster and evenly.
11. Smokehouse by Thoughtfully Ultimate Grilling Spice set
Try out some delicious new seasonings with this ultimate sampler set from Smokehouse by Thoughtfully.
12.Grill bro 16 inch stainless steel tongs/turner
These GrillPro tongs are a must have for every griller. They let you easily turn hamburger, steak, hotdogs, chicken and so much more.
13. Yummly smart meat thermometer
Take the guess work out grilling with this smart meat thermometer. You will know the perfect time to remove your food from your grill.
14. Charcoal Chimney Starter
This charcoal chimney starter helps get charcoal ready for grilling and makes a great gift!
15. Grumpy Butcher Premium Steaks Set
The last gift idea is this premium steak set from Grumpy Butcher. It comes with 4 NY strip steaks, 2 filet mignon, and 3 ribeye steaks.
FAQ
What to buy a guy who likes to grill?
Give him some accessories like a Himalayan salt cooking plate, a smart meat thermometer or a sampler set of some grilling spices.
What to buy for a BBQ gift?
A high quality cutting board, marinades, spices, or grilling tongs all make great gifts.
What to get a guy who likes to bbq?
The best gift ideas are accessories for his grill, new sauces or spices, or a nice cutting board.
You might also enjoy reading: