Is your child ready to be potty trained? Are you looking for some potty training tips to make things go smoother?
If so, look no further! Here you will find tips and strategies on how to successfully potty train your toddler.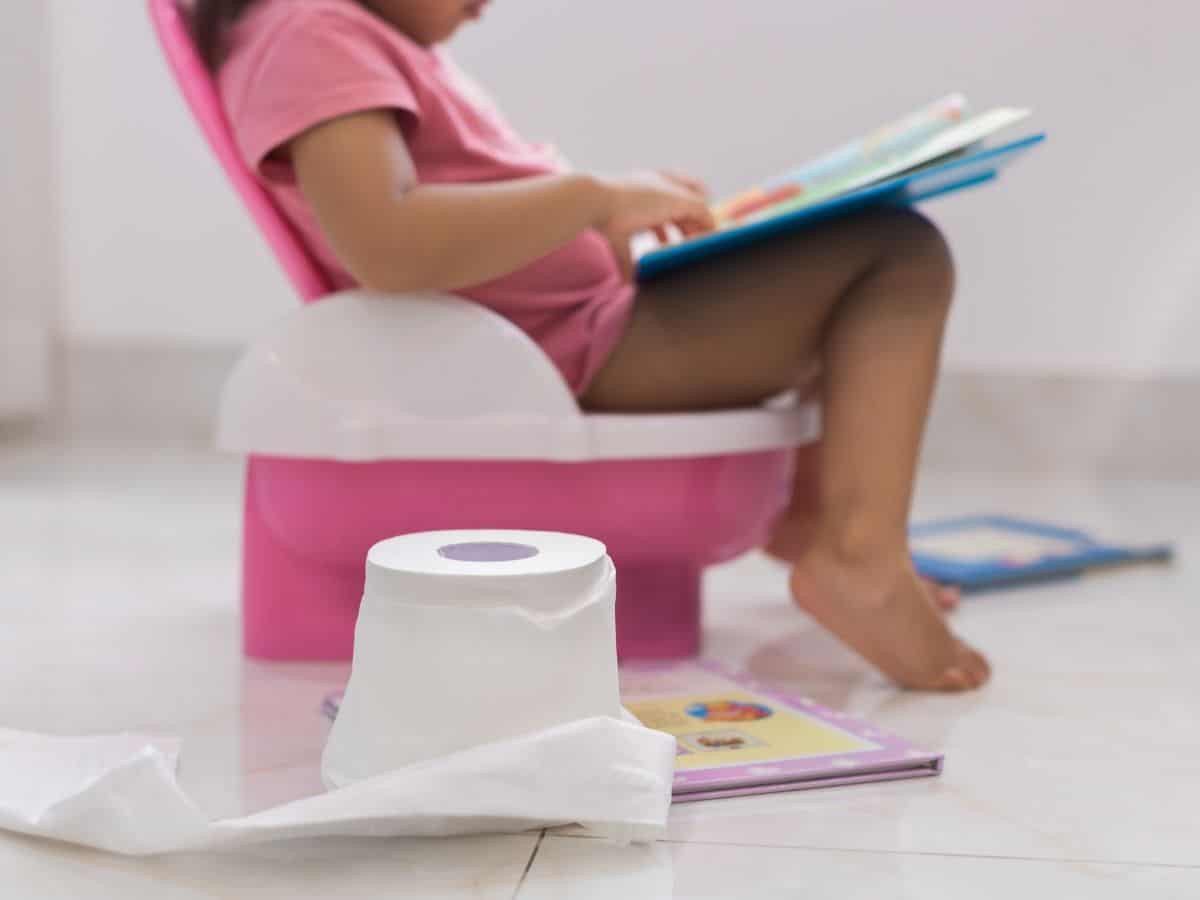 Jump to:
Without further ado, here is my toddler potty training guide to help you succeed too!
Potty Training tips
Find a kid's book about potty training
Get a fun potty seat or chair
Make it fun (use rewards and songs)
Ditch the diapers
Don't set unrealistic expectations
1.Find a Children's Book about Potty Training
Getting your toddler excited for potty training can be as simple as using a fun book.
Both my kids liked Potty Time with Elmo because it has sounds that go with the book!
2. Get a fun potty seat
Learning a new skill is always easier when they have something familiar like a favorite potty seat.
3. Make it fun (use rewards and songs)
A key part of toddler potty training is to make it fun.
Find a good reward that your toddler will love.
Also a fun song/dance is another way to bring some excitement into learning this new skill.
4.Ditch the diapers
Ok, this was a lot harder to do than I thought, but so important. Pull-ups are going to be your best friend.
Diapers are a lot more absorbent. While this is good for when they are babies, it can make toddler potty training challenging because your little one won't feel wet when they go potty.
Pick pull-ups that have a cooling sensation, like these ones. It's a great way for them to start learning.
5. Don't set unrealistic expectations
It's not fair for you or your child. Also, be prepared for the inevitable accidents.
The more you work with your child and practice, the better they will get. CONSISTENCY IS KEY!
Another important thing to remember is that all children are different. One child might be potty trained at 2 years old while another not until they turn 3.
Potty Training Readiness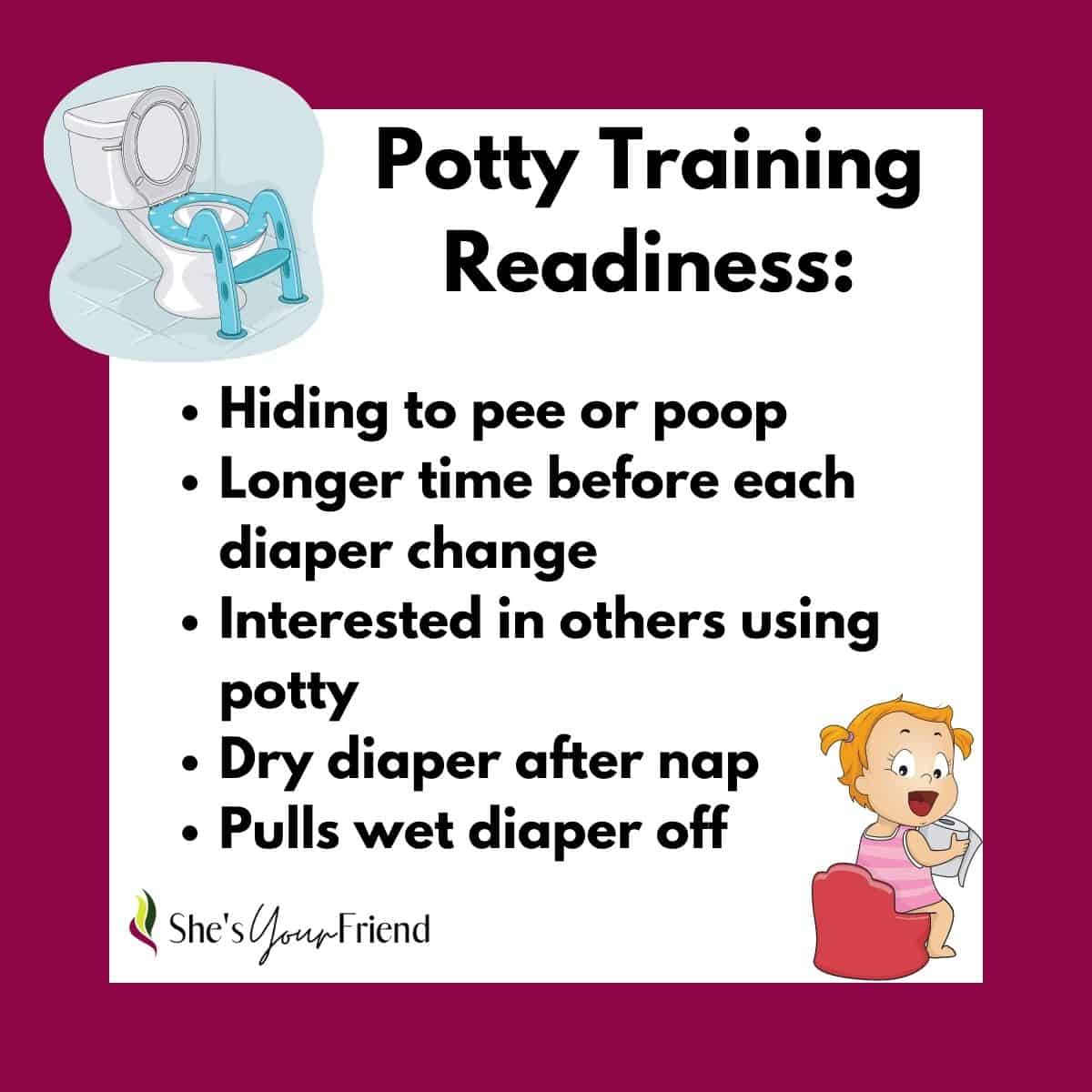 Here's some signs your toddler might be ready for potty training:
Hiding to pee or poop
Longer times in between diaper changes
interested in others using the potty
Dry diaper after nap
Pulls wet diaper off
Stages of Potty Training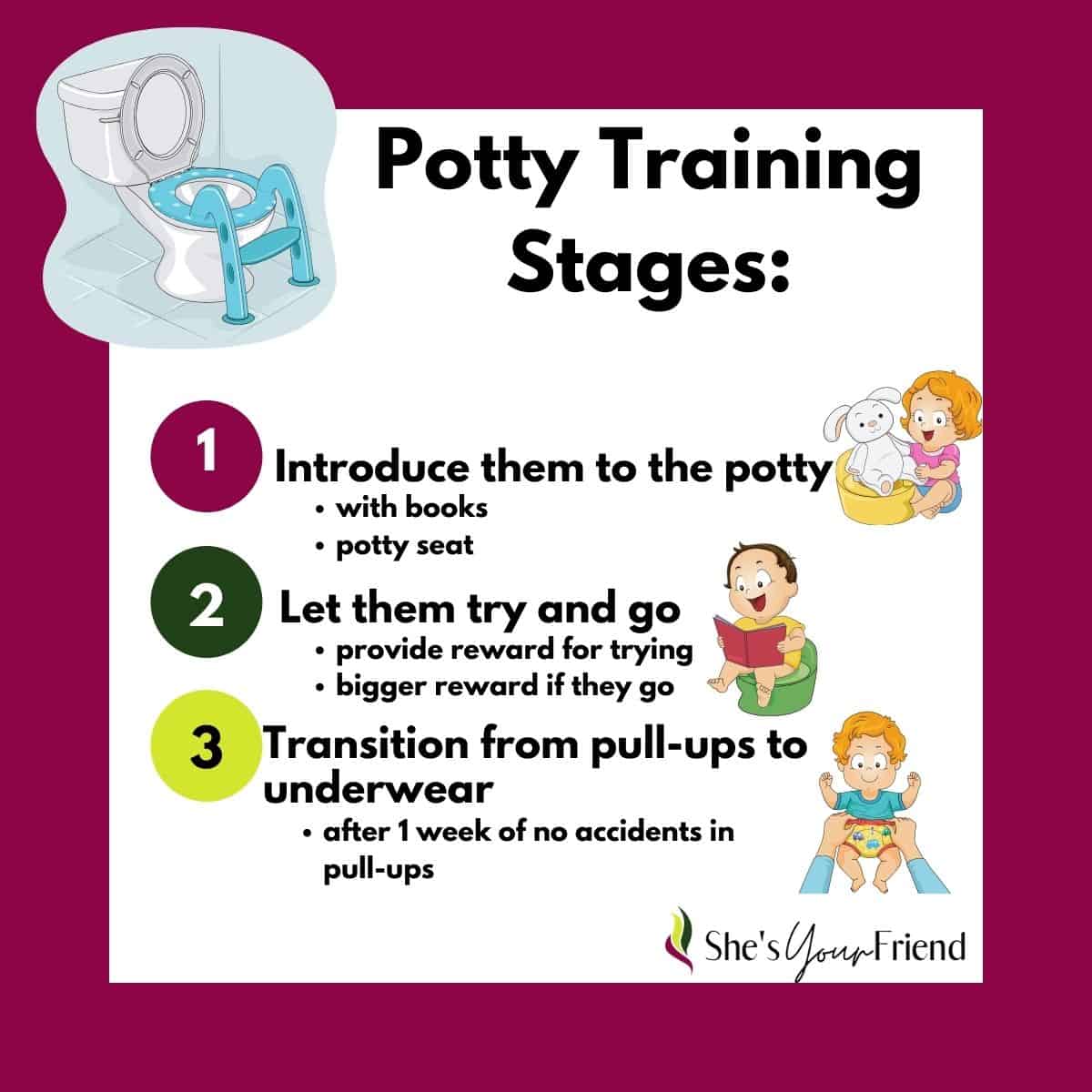 Introduce them to the idea of potty training (with books and finding a fun potty seat).
Taking them to the potty to try and go. Reward them for trying then give them an even bigger reward if they go.
After they have been successful for at least a week, start working on transitioning away from pull-ups and into underwear.
Best time to start potty training
Every child will be ready at different ages. Some moms notice readiness signs at 18 months, while others aren't interested in learning until they are 2 or 3.
If your child is in daycare, daycares will focus a lot on teaching them as soon as possible, but every child will be ready on their own timeline.
Potty Training Regression can happen
Another thing that CAN happen to toddler when you potty train them too early, and/or depending on the child, they might have some regression.
We struggled with this after my daughter learned how to go potty. One day, she just wouldn't do it anymore.
The best thing you can do when your toddler suddenly stops wanting to go is to accept that it's just not their time. Forcing them to go will put an even bigger wall between your child and the potty.
Don't worry that so-and-so's kid is already potty-trained. Your child will get their, they might just take their time.
Potty Training FAQ
Where to start potty training?
The best place to start is at home. If your toddler attends daycare, they may also work with your little one and help potty train.
How to teach toddler potty training?
Like most things, toddlers learn by example. You can also get them a fun book and a potty chair to get them more excited about starting this new thing.
How often should a toddler pee during potty training?
This will depend on how much they are actually peeing. A lot of kids become wise to rewards and try to play the system for more treats.
What age are toddlers potty trained?
Ages vary based on how ready your child is. Some toddlers learn at 2 years old while others are stubborn and aren't potty trained until they are 3. Just give them patience and keep an eye out for signs they are ready to learn.
Remember that when it comes to potty training, you should introduce your child to the potty slowly and make it fun. Also, don't get discouraged, if your toddler has a potty training regression.
In time your little one will be a confident potty champ!
Thank you for stopping by and reading. If you enjoyed reading this, please remember to share it! Thanks, and good luck!! 🙂
More toddler tips