We all know about babies teething, but did you know toddlers can also have teething pain.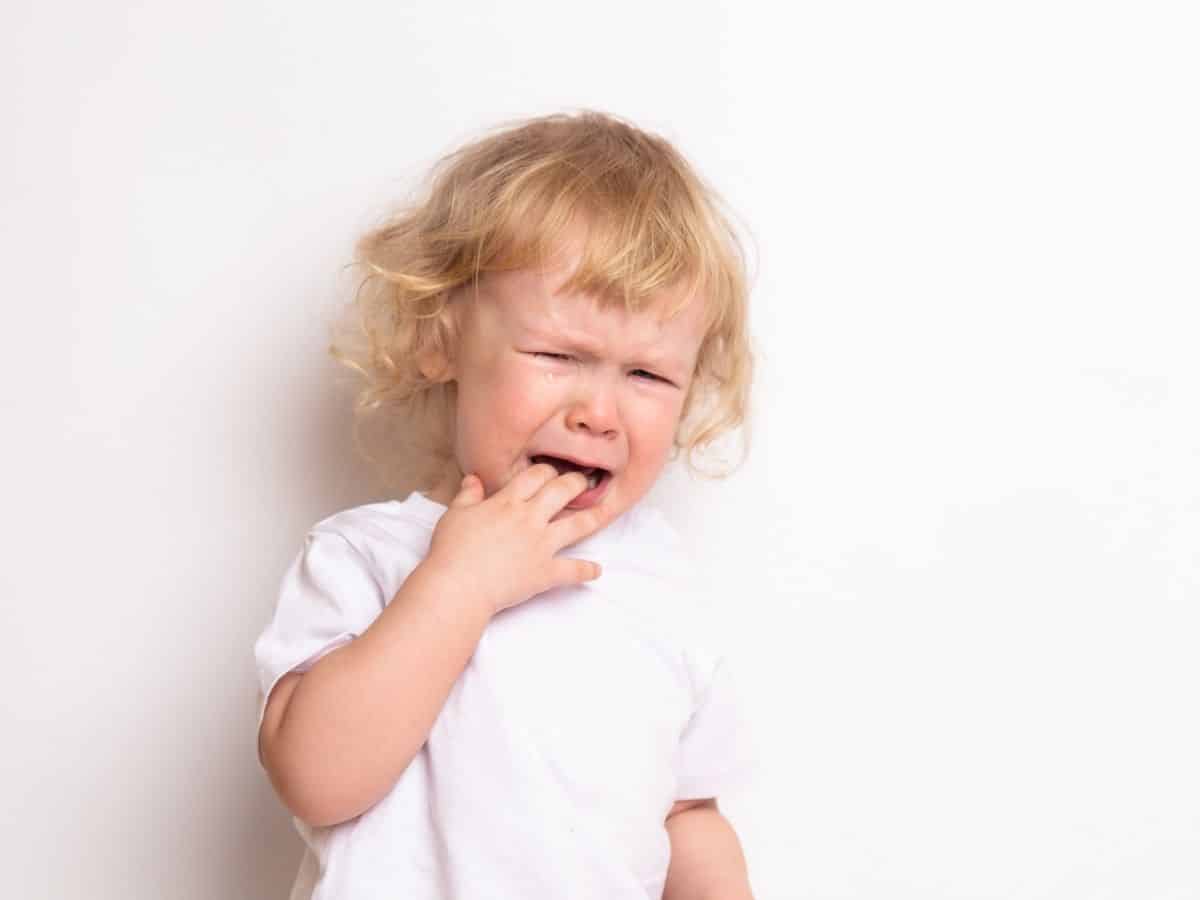 Jump to:
Here's a look at the symptoms and what you can do to help ease their pain.
Toddler Teething Symptoms
Your toddler is extra fussy or moody
The signs of teething in a toddler are similar to that of a baby, in that toddlers can also be real fussy or moody. It is especially bad when they are getting their 2 year molars. When your toddler is cutting those molars in, that is probably the worst and they let you know it.
2. They complain of an "ouchy"
Another one of the signs of teething in a toddler is that he or she might vocalize "ouchy" and point to their teeth. With babies, they can only cry.
It does help though, because you know what is bothering them and can help soothe it.
3. Diarrhea
When toddlers are teething, you might also notice they have diarrhea. This is from all that excess saliva they are swallowing which makes their poop very slimy and soft.
4. Toddlers Struggle with napping when they are teething.
One of the last signs of teething in a toddler is that naptimes might become more of a struggle. When toddlers are teething, they are going to be a lot more demanding of attention.
Again, it's at the worst time when they are getting their 2 year molars. My daughter was a good napper and sleeper, but when she was getting her 2 year molars, she was like a whole different person.
Don't fret though, after those teeth come in, things seem to go back to normal pretty quickly.
When people think of teething, they mostly think it's babies who go through this, but even toddler go through teething. If you haven't yet reached the 2 year molar phase, beware!
Pain Relief for Teething Toddler
Here are a few things you can try to help relieve your toddlers teething pain:
Baby Orajel (benzocaine free)
Sucking on a cold washcloth
Infant tylenol
Cold baby food pouch.
You might also enjoy reading: