Choosing the right mattress for your kids is essential for their sleep. Here's how to pick the best twin size mattress, the different kinds, and more!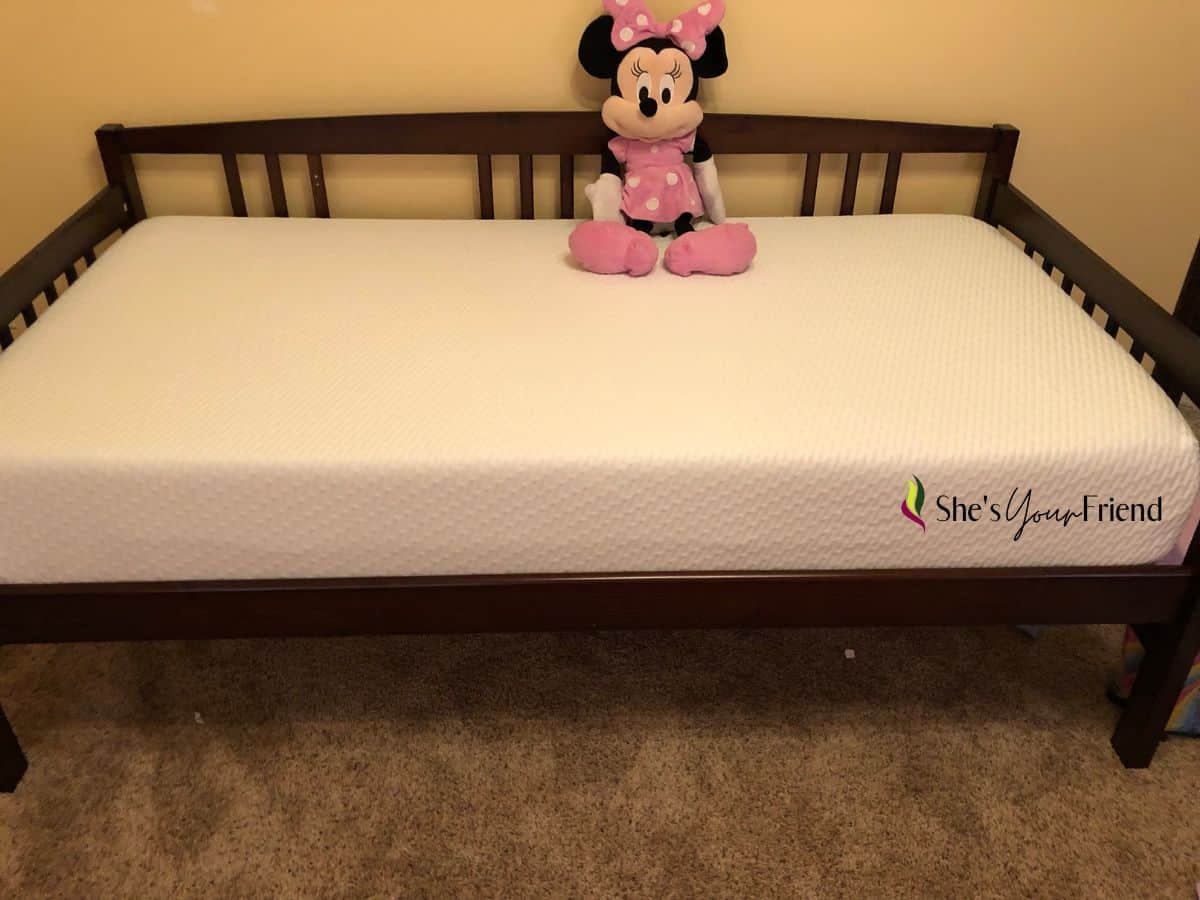 Jump to:
Best Twin mattresses for kids
Tuft & Needle Twin Mattress (best memory foam mattress)
Midway Jenna hybrid twin mattress (best hybrid mattress)
1. Tuft & Needle Twin Mattress
Tuft & needle make one of the most incredible memory foam mattresses on the market. With over 10,000 five star reviews, this mattress is easily our favorite.
Both my kids each have one, and it's really quite amazing!
What we like:
Offer 100 night trial- try the mattress for 100 nights, and if you don't like it return it.
Cooling- if you or your kids are hot sleepers, this mattress is great for staying cool while you sleep. A lot of memory foam products can't say this, but this one really does stay cool.
You don't sink into it-a lot of memory foam mattresses you feel like you sink into. With this mattress, you don't.
9.5 inch thick mattress
10 year limited warranty
It's medium firmness.
What we don't like:
It's probably one of the most expensive memory foam mattresses.
2. Midway Jenna Hybrid Twin Mattress
A more affordable option is this hybrid twin mattress from Modway. It's a hybrid option combining memory foam and wrapped coils.
What we like:
Multiple layers offering a truly comfortable sleep.
10 year guarantee
10 inch thick mattress
It's more affordable than the Tuft & Needle.
What we don't like:
It's a firmer mattress.
It's not as cool as the Tuft & Needle.
3.Linenspa
This Linenspa innerspring mattress is a great budget-friendly mattress for kids.
What we like:
5 inches of tempered steel coils with a 1 inch cushioned foam layer
Low profile so it's better for bunkbeds.
It's affordable.
What we don't like:
It's a lot more firm than the other two.
It's only 6 inches thick.
Different types of mattresses
There are three different kinds of mattresses and each has their pros and cons.
Memory Foam mattress
Memory foam mattresses are usually the most comfortable, and least firm mattress. They are also usually more expensive than the other styles.
Hybrid mattress
A hybrid mattress combines both memory foam and innersprings. They are still a lot more firmer than a full memory foam mattress, but they are also more affordable.
Innerspring mattress
The third and final mattress is usually the most affordable option, but it's also the firmest mattress. While still comfortable, the other two styles provide more comfort and support.
Mattress FAQ
What's the best mattress for toddlers?
Honestly, picking a twin size mattress is more economical than getting a toddler bed. This way your toddler will get to use the bed for a lot longer, and the section of twin size beds are a lot better!
What type of mattress is best for a child?
The best mattress is a memory foam like this one from Tuft & Needle. They cost a little more, but they are 100% worth it for the comfort.
How thick should a kids twin mattress be?
Anywhere from 6 to 15 inches thick will provide adequate support for your child. The thickness will vary depending on the top of mattress you choose, as well as the price.
How to protect a mattress?
If you do decide to invest in a Tuft & Needle mattress, you should make sure to also get a waterproof mattress protector. This protects it especially during the potty training years.
You might also enjoy reading: