Back to school is in full swing and having a great lunch box for your kids is an essential item. Here's our guide to pick the best one for school!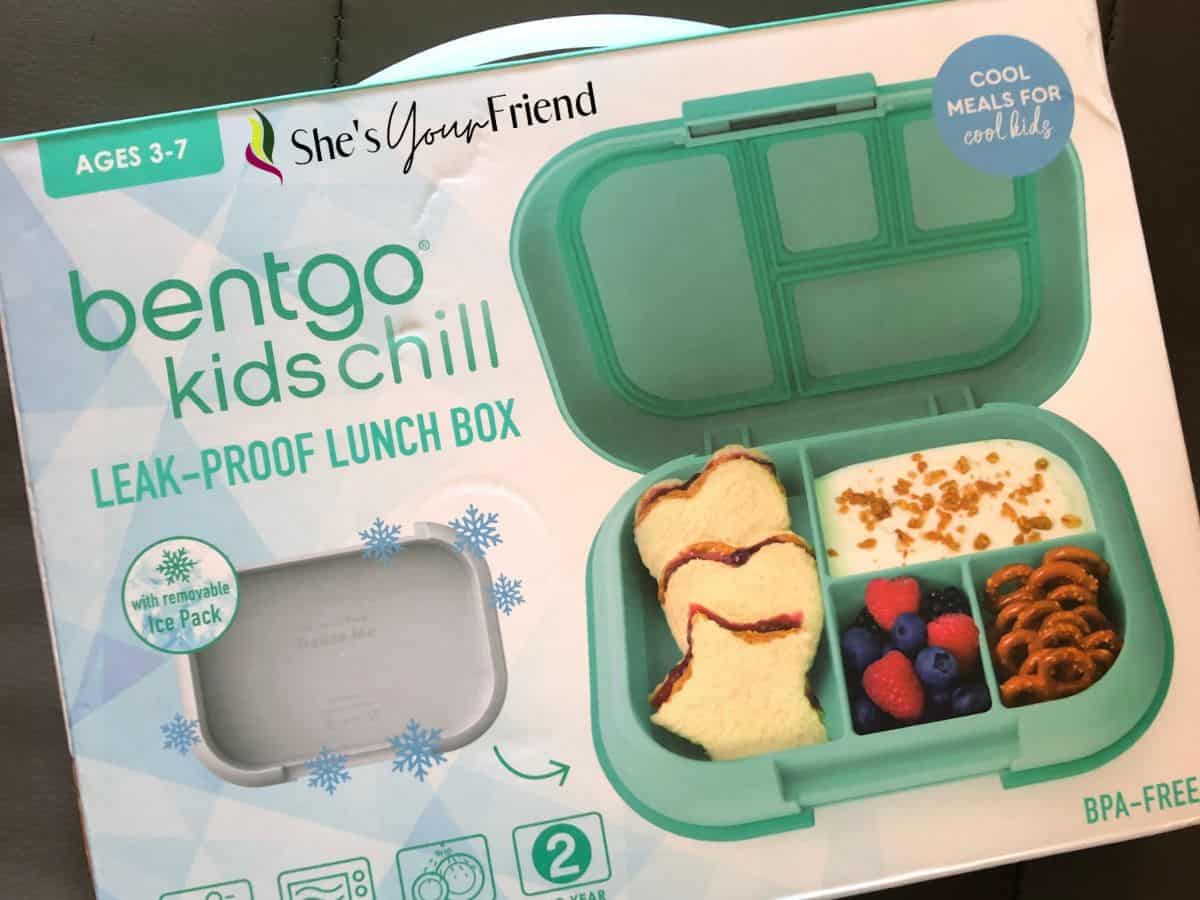 Jump to:
Best Kids Lunch boxes
Here's our top boxes and why:
Bentgo Kids Chill Lunch Box (top pick)
1. Bentgo Kids Chill Lunch Box
Our top pick is the Bentgo Kids chill lunch box. It has a removable freezable tray that can keep foods cool and fresh.
What we love:
It's dishwasher safe on the top rack.
It has 4 different compartments for portioning.
It's microwave safe (except for the freezable tray).
It has a 2 year warranty.
It's leakproof and BPA-free.
2. Munchkin Bento Box for kids
Our runner up this bento box from Munchkin. It has built-in dividers for portioning and it a little more affordable.
What we love:
It's dishwasher safe.
It has 5 different compartments for portioning your kids lunch.
It comes with stainless steel utensils that snap into the box.
What we don't like:
It's not leak proof.
It's not insulated and it doesn't come with a ice pack.
3. DaCool Bento Box with Ice Pack
Our third and final pick is this one from DaCool. It comes with a removable icepack to keep food cold and fresh just like Bentgo.
What we love:
It's dishwasher safe.
It has 3 different compartments for portioning.
It's leak proof.
It has a lifetime warranty.
It's microwave safe.
How to pick the best lunch box for your kids
Easy to clean- make sure whichever lunch box you pick is easy to clean and bonus points if it's dishwasher safe.
Dividers-this not only helps with portioning, but it's great for keeping dry items and avoid any soggy foods.
Included cold/ice pack-some foods need to stay cold so look for a lunch box that comes with an ice pack whether it's built in or on the side.
Lunch box FAQ
How many lunch boxes do kids need?
If you invest in a quality lunch box like a Bentgo, you only need 1. Now you will have to wash it out every day but the plus side is that these Bentgo lunch boxes are dishwasher safe.
Are Bentgo boxes worth it?
Yes! They are durable, easy to clean, have compartments for different items, and some even have a freezable tray to keep food cooler longer.
How do I choose a lunch box?
There are several factors to think about, first insulation. It needs to be able to keep cold foods cold. Secondly, it needs to be easy to clean especially if your child brings their lunch to school every day. Lastly, it's nice if the lunch box has dividers or compartments for better portioning.
Why are Bentgo lunch boxes so popular?
They have portions built in and let you pack a variety of foods that can still be separated without worrying about different foods mixing together.
You might also enjoy reading: