One of my favorite things to give as gifts are books. They are educational and fun!
Not only that, there are so many different kinds of books out there for every different interest. Superheroes? Yes.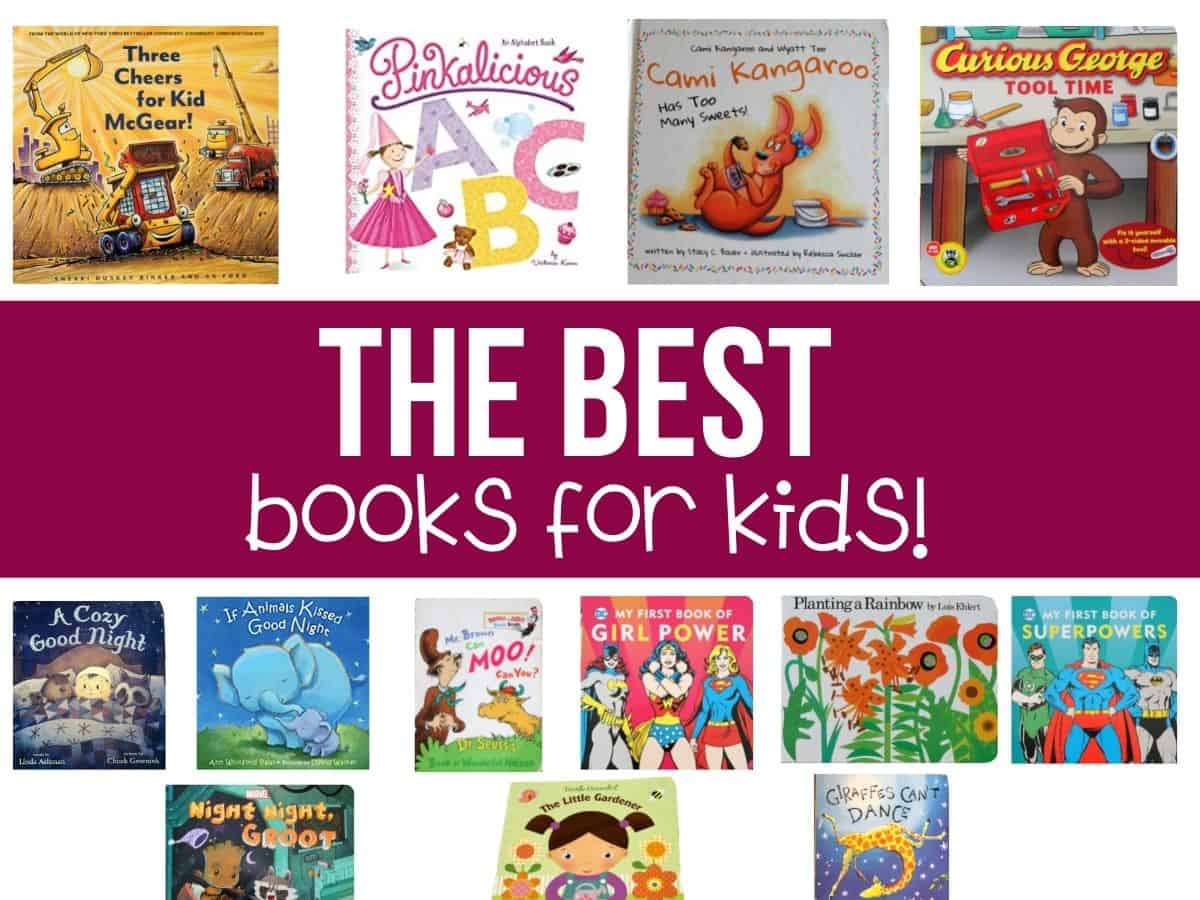 Favorite TV shows or movies? You bet!
Jump to:
In an effort to fully disclose, some of the books were gifted to me, but had to meet the approval of some tough judges (my kids). 🙂 For more information, please see my disclosure page.
Top 20 Kids Books
1. Goodnight Goodnight Construction Site
This fun board book has a simple rhyme that your kids will love especially right before bed!
I did some research and discovered that the same author has two more books in the series...Mighty Mighty construction site and Three Cheers for Kid McGear.
2. Mighty Mighty Construction site
Mighty Mighty Construction site is a little more in depth about what goes on at the construction site, and easily my son's all time favorite!
3. Three Cheers for Kid McGear
The third book in the series, Three Cheers for Kid McGear, they welcome a new member to the construction site, Kid McGear the skid steer.
4. Night Night Groot
Who else just loves Groot?! This Night Night Groot board book is another great bedtime book that's fun to read.
5. First Day of Groot
Another Groot book is First day of Groot. We like this one during the summer when it get's closer to the start of school.
6. Cami Kangaroo has too many sweets
I really like the message behind Cami Kangaroo has too many sweets, as it shows kids what can happen if they eat too much candy.
Another one in this series is Cami Kangaroo has too much stuff.
7. Cami Kangaroo has too much stuff
Just like the too many sweets books, Cami Kangaroo has too much stuff is great for teaching kids to clean up after themselves.
Not only are the messages in these books wonderful, the illustrations are so fun!
8. If Animals Kissed Goodnight
This is another great book especially if your kids love animals! It's easy to read and has some charming images to go along with it.
This author like a few of the others has written 3 more in this series, each just as much fun as the next.
9. If Animals Said I love you
I think every child would love to see how animals would say I love you. 🙂 Grab this book here on Amazon!
10. If Animals Celebrated Christmas
This fun and imaginative board book shows how animals might celebrate Christmas! Perfect for the holidays.
11. If Animals went to school
Her final book in the series shows what it would be like if animals went to school. I really think all of her books are family-favorites!
12. Super Heroes Little Library
I did say super heroes earlier, right?! This is an amazing collection of 10 different board books about different super heroes.
My daughter's favorite in the collection was My First Book of Girl Power, which talks about a lot of the different girl superheroes!
You can easily purchase all ten of these separately, but it's definitely cheaper to buy them all at once.
13. Curious George Tool Time
Curious George is always getting into so mischief, and a favorite among many kids!
14. Pinkalicious ABC board book
Pinkalicious is another fun show on KPTS, and this board book brings all the fun into a book form!
15. Giraffes Can't Dance
A little silly, but a whole lot of fun! Giraffes Can't Dance teaches kids that they can do whatever they put their minds too.
16. Disney's On the Farm touch and feel book
Touch and feel books are great for young babies and toddlers. It lets them get to experience new textures and is quite stimulating to young minds.
We really like this On the Farm touch and feel book by Disney.
17. Mr. Brown Can Moo, Can You?
A classic Dr.Seuss board book for kids is "Mr. Brown can Moo, can you?". My kids always liked copying the different sounds in the book and really kept their interest!
18. The Very Hungry Caterpillar
Another classic children's book is The Very Hungry Caterpillar. The pictures are fun and eye-catching especially for young toddlers!
19. A Cozy Good Night
A cozy good night teaches kids about kindness and sharing. It's also quite silly and perfect for a good night story!
20. A Christmas Cookie Exchange
A Christmas Cookie Exchange teaches kids that appliances aren't everything in a fun and charming way!
Board Books vs Paper Books
This is really all a matter of preference. Board books seem to hold up well with little kids, but as they get older those paper book have some great messages!
Here you will find a complete list of the best books for kids, both board books, touch and feel books, and also paper books.
What a long list of books! Seriously though, is there such thing as too many books? My answer would be no. 🙂
Thanks for stopping by! If you enjoyed reading, please remember to share it on Pinterest. Thanks!! 🙂
More books for kids