Finding the perfect gift can sometimes be tricky especially as your kids get older. 5 year old girls are especially tricky to shop for because they aren't a toddler anymore and have become extremely independent.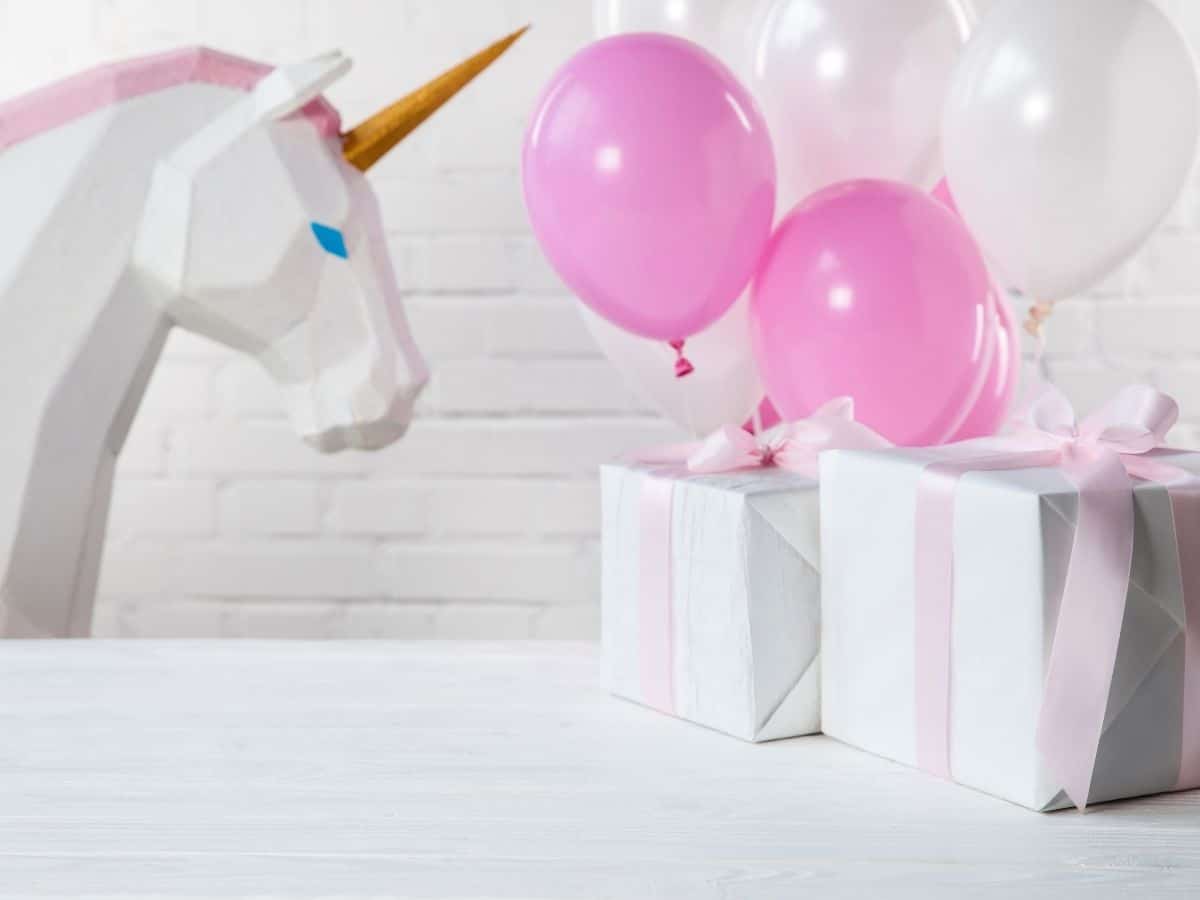 Jump to:
Here we have done all the searching so you don't have to. All of these gift ideas are perfect for the 5 year old girl you are shopping for.
Top Gifts & Toys for 5 Year old Girls
1.Remote control unicorn
Does your 5 year old daughter love unicorns? If so, she will love this remote control unicorn.
It can sit, stand, walk, and jump!
2.Pretend Doctor activity center
5 year olds are independent and love to use their imagination which is why a pretend doctor activity center like this one from Melissa and Doug would be a dream come true!
Not only does it provide lots of fun, they are also great for developing your child's sense of curiosity.
3.Bean bag Chair
Another great gift idea for a 5 year old girl is a furry bean bag chair. This Delta bean bag chair is super comfy and just the right size for her.
She will love that how soft it is and that it's a chair all for her.
4.Instax Mini Camera
Another fun and super cool gift idea is an Instax mini camera. 5 year olds are a lot more responsible than toddlers so this mini polaroid camera is perfect!
There are lots of different accessories that go with it or you can check out this cool bundle available on Amazon.
5.Amazon Fire Kids Tablet
Another tech-savvy gift idea for your 5 year old girl is a kids tablet. We personally love the Fire tablets from Amazon because they offer some fun and education games, books, and videos.
They are great for long car rides and there are some great parental features to control how much screen time they are getting.
6.Legos
Legos are another great gift idea! There are lots of different sets to choose from if your 5 year old girl is interested in Frozen or Minnie Mouse or perhaps animals.
My daughter is into Frozen everything, so we are going to get her this Arendelle Castle village set for her 5th birthday!
7.Doll House
A lot of 5 year old girls love playing with dolls which is why a doll house would be another good gift idea. This KidKraft doll house is 3 stories and even comes with the furniture!
8.Barbie and barbie accessories
Like Legos, barbies are another great option for 5 year old girls. There are so many different kinds of barbies, accessories and dresses.
There is a barbie doctor doll, a barbie astrophysicist doll, and many more!
These are great for imaginative play and showing your daughter that she can be whatever she wants to be when she grows up.
9.Musical Snow Globe
Finding a pretty snow globe with your child's favorite animal or character is another gift idea she will love for years and years!
This carousel horse snow globe is musical and plays a couple of different tunes.
Budget Friendly (under $20) gifts for 5 year old girls
If you are on a budget, these are some great gift ideas for 5 year olds that won't break the bank. They are all under $20!
10.Pressed Flower Art Kit
A great budget friendly gift idea for your 5 year old girl is this pressed flower art kit. This is great for the creative one in your life!
11.Modeling Clay Kit
Another affordable gift idea is this modeling clay kit. Let your 5 year old play and create lots of different things with this magic clay that air dries.
12.Nail Polish
Non-toxic nail polish is another great idea. We personally like to buy this non-toxic nail polish that can easily peel off.
They have lots of different kits for Frozen, Trolls, and Disney princess fans!
13.Scrapbook Kit
If your 5 year old girl loves arts and crafts this scrapbook kit from Crayola would be perfect! Complete with stickers, markers, and fun paper, she can create whatever she can dream.
Shopping for 5 year old girls can be a lot of fun. They are a lot more independent than toddlers and are really starting to develop their personalities and interests.
Even if you are on a budget, hopefully now you have a gift idea that is perfect!
Gifts for 5 year olds FAQ
What should I get my 5 year old granddaughter for Christmas?
A fun bean bag chair is a great gift that they can use for many years. While toys come and go, this is a gift idea that they won't grow out of.
What do 5 year olds like to play with?
5 year old girls like to play with pretend play sets, unicorns, horses, dolls (especially Barbie), and also arts and crafts!
What to get a 5 year old that is not a toy?
Fun home decor for their room like a bean bag chair or toy box, arts and crafts kids, and also clothes.
More Gift Ideas