Find the best bras to wear during your pregnancy that are comfortable, supportive, and a must have in your maternity wardrobe.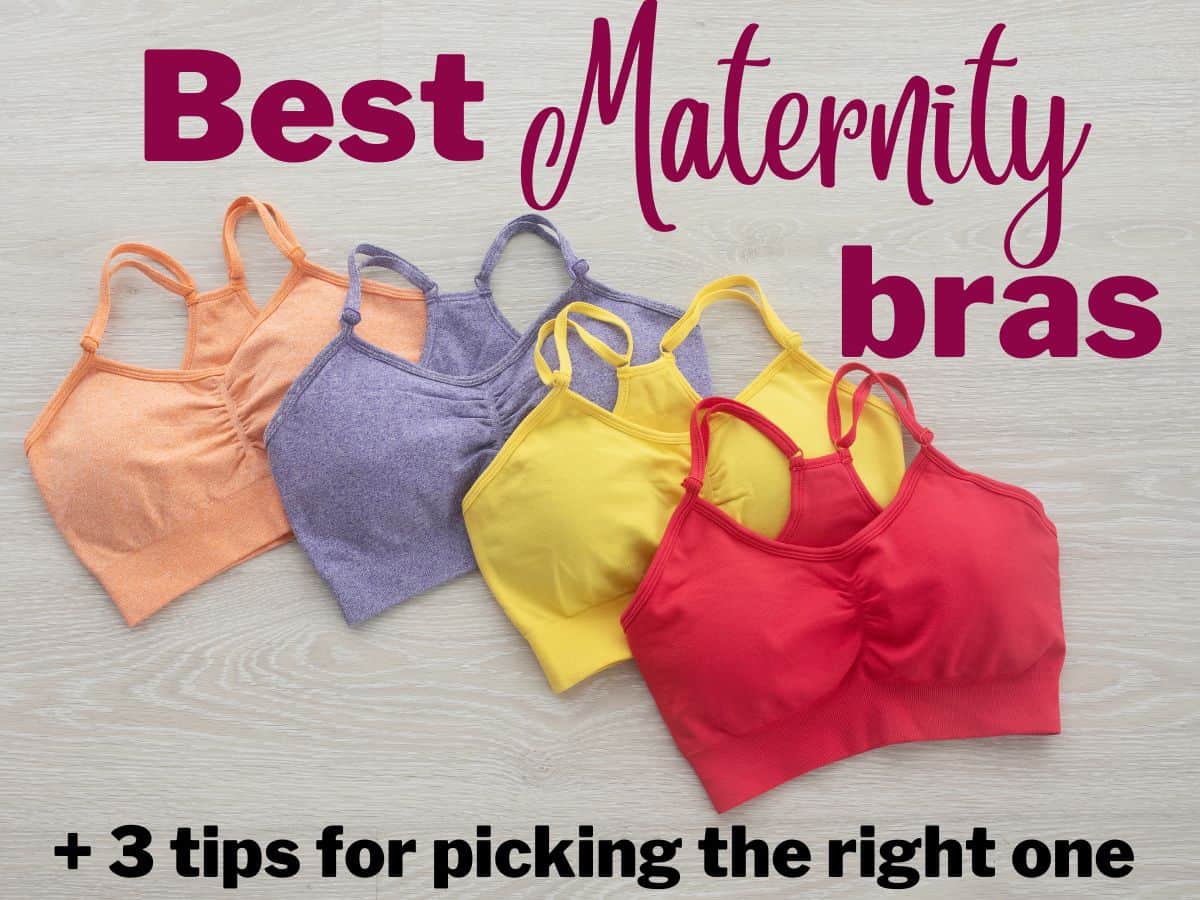 Jump to:
Top 5 bras
1. Momcozy seamless nursing bra
This seamless nursing bra is our top pick for a few reasons. It's super comfortable, wireless, and is great for pregnancy and nursing.
2.Kindred Bravely Sublime lace back seamless nursing bra
Another favorite of ours is this racerback nursing bra from Kindred Bravely. It's comfortable, allows for easy nursing, and is wireless!
3. Kindred Bravely French Terry Nursing Sleep Bra
This Kindred Bravely bra is another popular choice for pregnant moms because it's comfortable and you could easily sleep while wearing these when you are nursing later on.
4. Warner's Seamless stretch bra
Another great choice is this bra from Warner's. It helps smooth your underarms, is seamless, and wireless for plenty of comfort while still giving you support!
5. Calvin Klein Invisibles Wirefree bralette
Calvin Klein also makes a great bra for pregnant women! This wire free bralette is buttery soft, supports while still feeling comfortable, and is practically invisible under your clothes.
The only drawback is that it's not nursing friendly, but definitely still a very great bra!
How to pick the right one
Wireless- these are a lot more comfortable and won't dig in. Just make sure to find one that still offers some support.
Nursing friendly- if you are planning on breastfeeding, pick a bra during your pregnancy that is nursing friendly so you can continue to use it later on.
Comfortable to sleep in-some moms leak during pregnancy, and if you plan to breastfeed later on, you will leak while you sleep. Pick a bra that you can comfortable sleep in that will fit breast pads.
Maternity bra FAQ
Why are maternity bras important?
They offer support for your growing breasts. Traditional bras can put on too much compression which can affect your milk supply later on.
When to buy maternity bras?
I would suggest in your second trimester. As your breasts start in your pregnancy, you are going to want support but without the underwire.
How many nursing bras do I need for a year?
At least 3-5 depending on how often you do laundry.
More pregnancy articles