Finding bump friendly maternity jeans is essential for every pregnant mom. Jeans are a wardrobe staple and pregnancy is no exception.
Here's a list of the most stylish maternity jeans so you rock your bump and still feel AH-MAZING!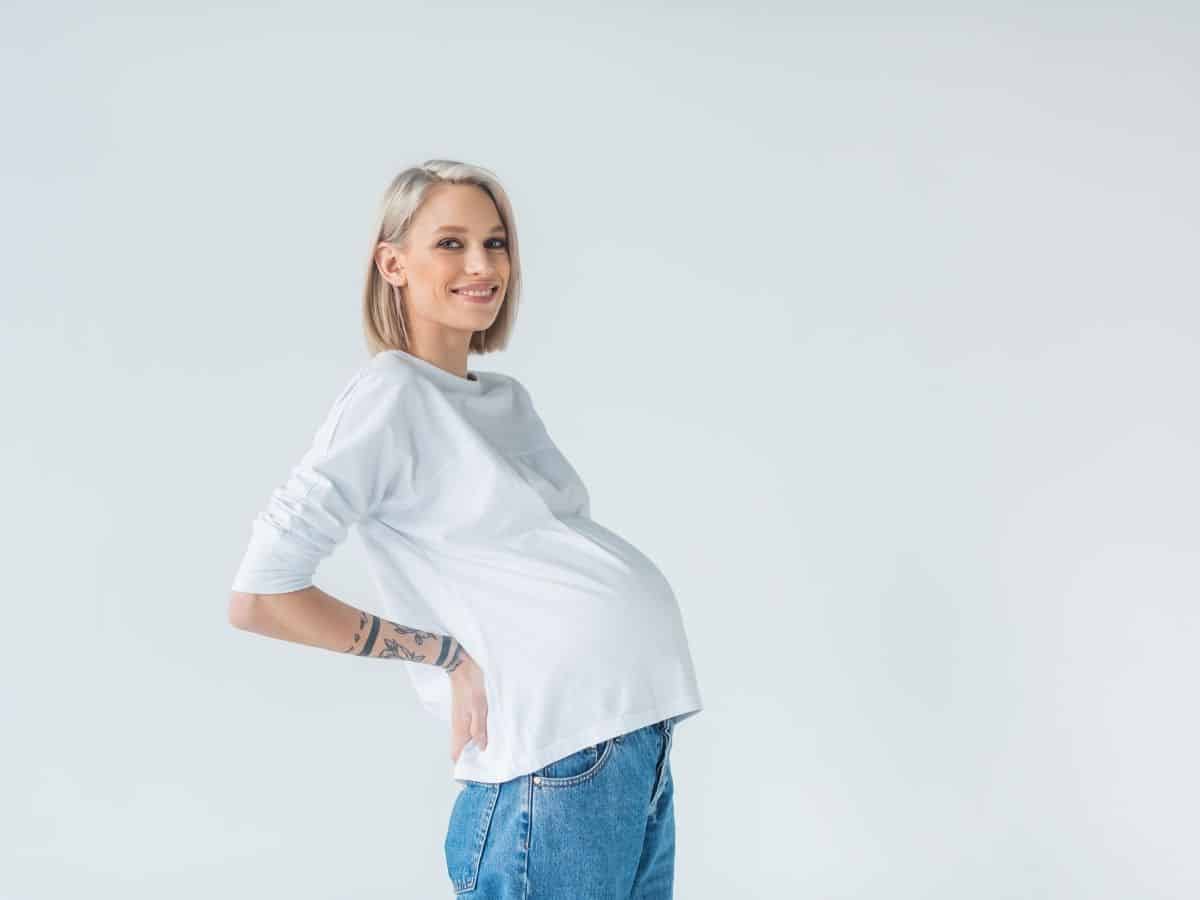 Jump to:
Bump Friendly Maternity Jeans
1. Motherhood Maternity Indigo blue stretch secret fit boot cut jeans
These secret fit maternity jeans are probably the most comfortable thing you will ever wear. I practically lived in these throughout both my pregnancies.
2. Straight Leg Full Panel Jeans
How cute are these straight leg maternity jeans?! Again full panel, which in our opinion is the only way to go. Half panel on jeans always seems to fall down and isn't nearly as comfy.
3. 1822 Denim Women's Maternity Vintage Skinny Jeans
These vintage maternity skinny jeans are another popular for expecting moms, and with good reason. 1822 Denim is a newer company, but they sure know how to make a stylish pair of jeans!
4. Full Panel Boyfriend Style Ripped Maternity Jeans
These boyfriend jeans are super comfortable with the full panel, while not sacrificing on style one bit.
5. Paige Maternity Jeans
While a lot pricier, these Paige maternity jeans don't have an over the belly panel. Instead the elastic is built into the jeans where the pockets are usually. As your belly grows the elastic stretches to fit.
Personally, I liked the feeling of the full panel, but if you hate the way it looks under your shirt this is a great option.
Related: Top 4 Diaper bag Backpacks (Stylish & Functional)
When should I buy maternity jeans?
If this is your first pregnancy, you can probably wait to buy maternity jeans until your second trimester.
Every bump is different though, so if your jeans start fitting too snug, it's time!
What to look for when buying bump friendly jeans?
The most important thing to remember when purchasing maternity jeans is what kind of paneling or waistband they have. Everyone has their own comfort and preference.
Waistband/paneling

full panel (covers entire bump)
half panel/demi (covers roughly half your growing belly)
side panel (panel is in the sides of the jeans, nothing covering over your belly)

Style- some moms want to avoid skinny jeans due to leg swelling while others prefer them.
Other ways to extend your pre-pregnancy jeans
Belly Band- this is an elsatic band that goes over your pants where the zipper is, and it holds your pants together without the need to zip. Again, this will only work for so long before you will need to invest in some quality maternity jeans.
Waistband extender-these are usually fitted onto your regular jeans so you can continue to wear them. These are ideal for first trimester, but as your bump grows you will need to invest in some bump friendly jeans.