Finding a good stretch mark cream or oil is probably the best thing you can do in your second trimester. Here's a guide on the the most popular ones right now!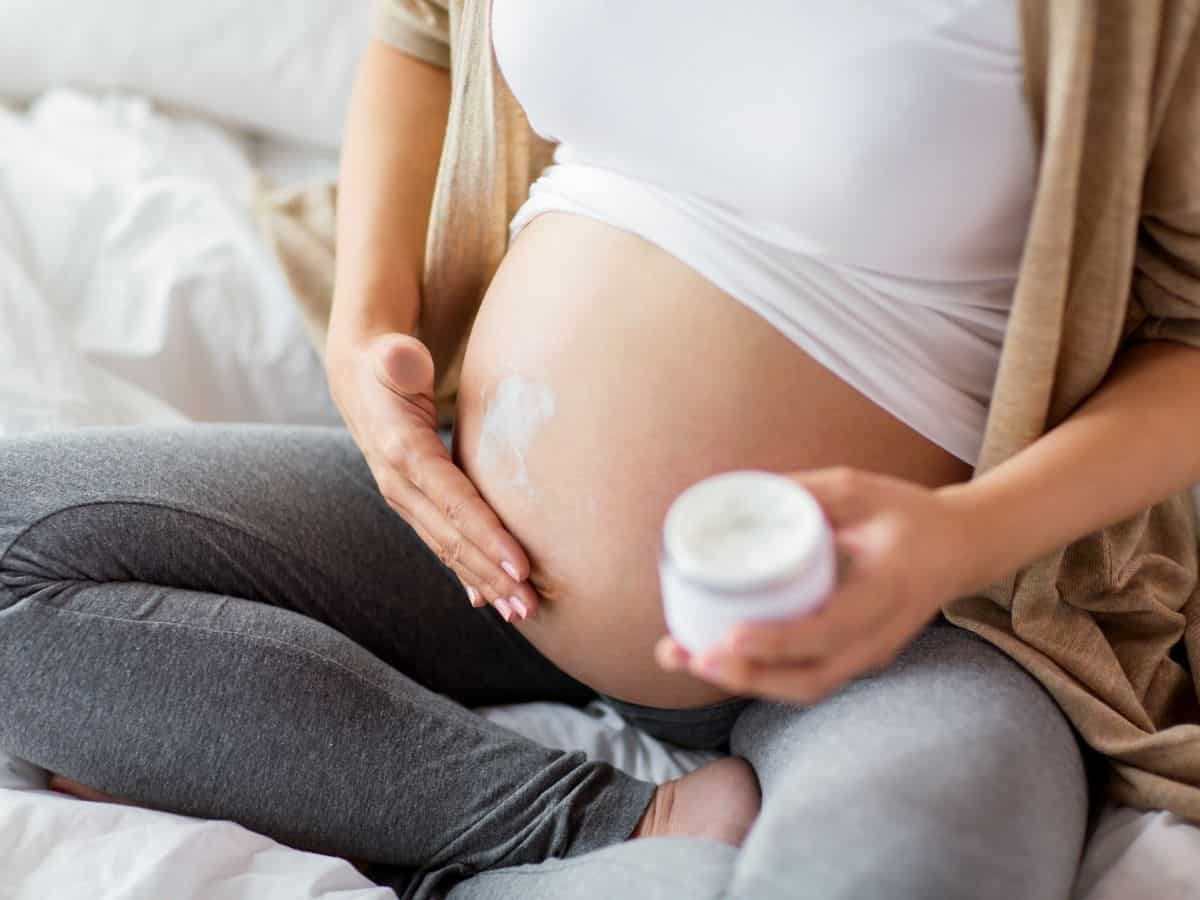 Jump to:
Best Stretch mark creams & oils
Bio-Oil Natural (our top pick)
Palmers cocoa butter tummy butter (runner up)
1.Bio Oil Natural
The bio-oil natural is our top choice for preventing stretch marks during pregnancy.
This skincare oil has a vitamin E, jojoba oil, rosehip oil, pomegranate seed oil, and sunflower oil which help with hydration and anti-inflammation.
What we like:
It has Vitamin E (moisturizes, and helps skin retain that moisture)
Won't clog your pores.
Helps with stretch marks and also scars.
It uses all natural ingredients.
It has anti-aging properties.
What we don't like:
It's more expensive than the other stretch mark oils, but it also does a lot more than the others too.
2. Palmer's Cocoa Butter Tummy Butter Balm
Our runner up is this palmer's cocoa butter tummy butter balm. It's hypoallergenic, so moms with sensitive skin can use this without breaking out.
It's made with a combination of Vitamin E, Lutein, cocoa butter and shea butter with coconut oil, and almond oil as well. This lotion is made to moisturize, which is super important for keeping stretch marks from appearing!
What we like:
It has vitamin E (moisturizes, and helps skin retain that moisture)
It has Lutein (helps skin elasticity- ability for skin to stretch)
Hypoallergenic, and no added scents
Long-lasting moisturizer cream.
It's very affordable!
What we don't like:
It takes a while to fully rub it in, because it is so thick.
3. Body Merry Vanilla Orange Stretch Marks & Scars Defense Cream
Body Merry stretch mark cream not only helps prevent stretch marks, but it can also help lighten any scars or stretch marks you might already have.
It's loaded with anti-oxidants, and made with a combination of shea and cocoa butter.
What we like:
It's great for all skin types.
It has Vitamin E, C, B3, and B5
They believe in their product so much they offer a 90 day guarantee.
What we don't like:
Some women experience acne after using it.
The smell is hit or miss, some like it other hate it.
4. Thena Mother's Glow Belly & Body Oil
This mother's glow oil is another favorite because it's formulated with 14 different natural oils and extracts that all help with hydration and improving your skin's ability to stretch.
It's also lightly scented with a lavender essential oil.
What we like:
It has Vitamin E
It's made with 100% natural and organic ingredients.
It absorbs fast.
What we don't like:
The bottle has a pump to dispense the oil, but a lot of moms found this didn't work very well.
The smell is also hit or miss: some moms don't mind it, others can't stand it.
It's expensive.
What to look for in a stretch mark cream or oil?
The best creams and oils need to be moisturizing, so look for ingredients that do just that.
Avoid creams or oils with parabens, retinol, mineral oil, benzoyl peroxide or hydroquinone.
More Pregnancy must haves