Having a late or missed period doesn't always mean you are pregnant. Here are some surprising reasons for a delayed period.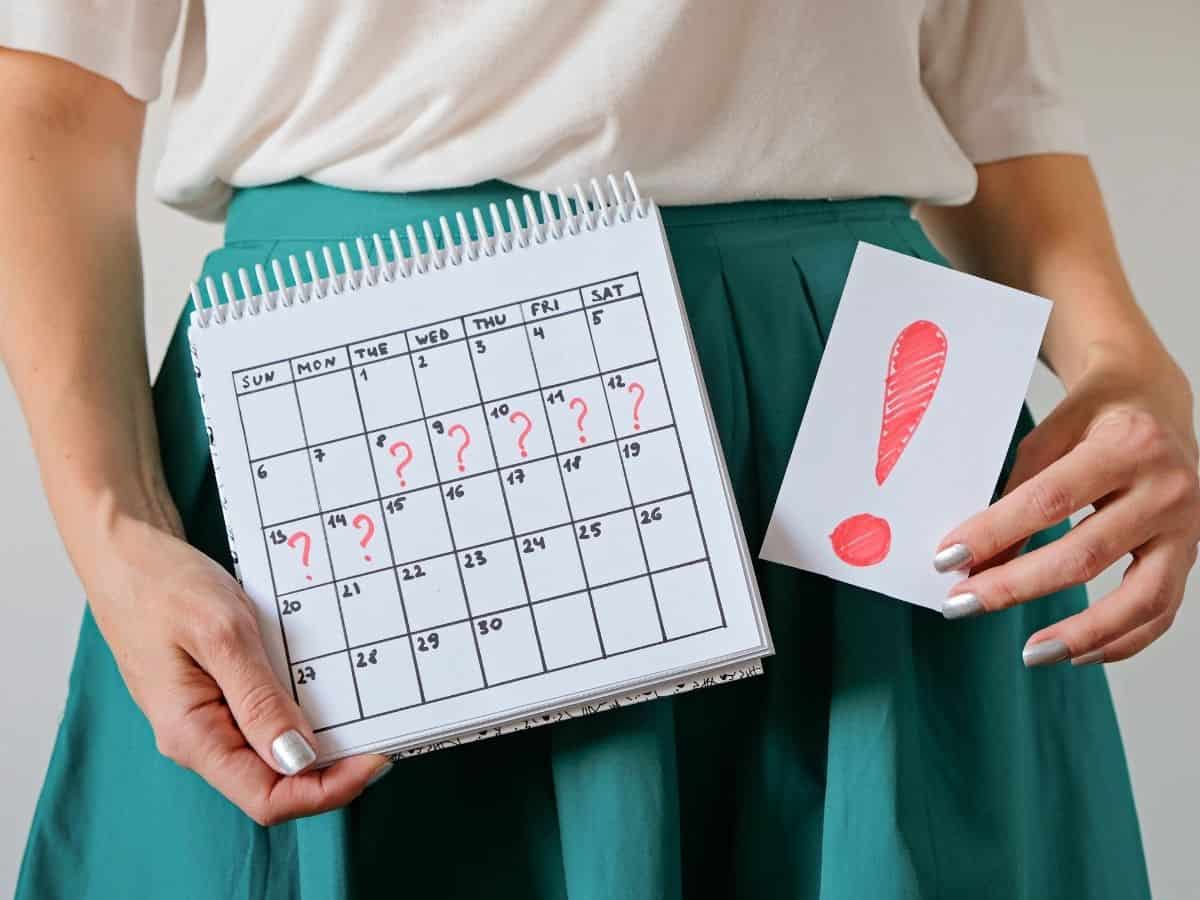 Jump to:
Late period causes
Stress
Infection or being sick
Low iron
Dehydration
Exercise
Extreme weight changes
Sleep changes
Hypothyroid (under active thyroid)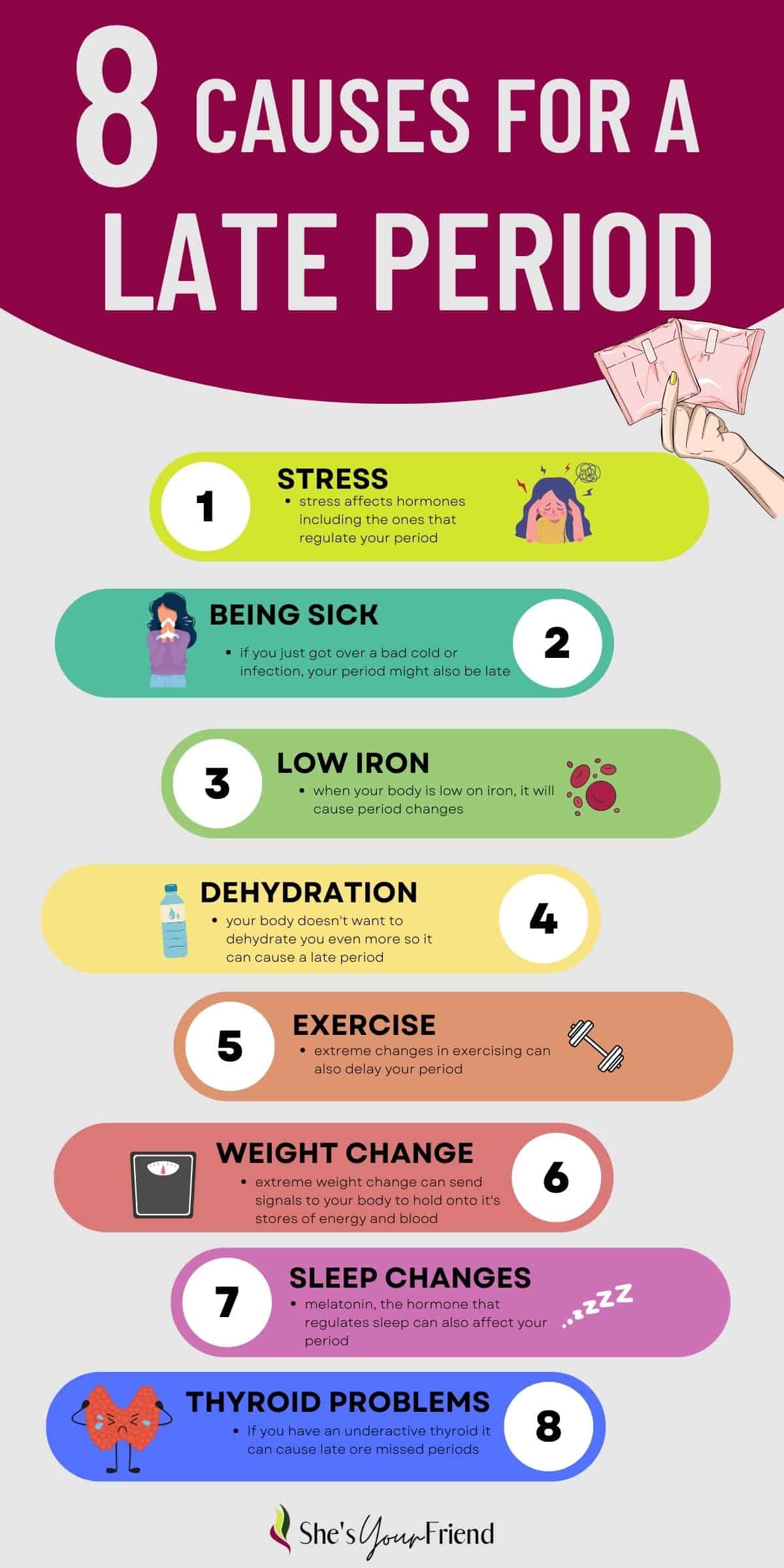 1.Stress
It's no surprise that stress can cause your cycles to get messed up. Stress affects a lot of hormones, including the ones that regulate your period.
Find the cause of your stress and find ways to relax and de-stress.
2. Infection or being sick
Have you just gotten over a really nasty cold? If so, this can be another reason why your period is late.
Once you have recovered, you might just get that late visitor, so be prepared!
3. Low iron
When your body is low on iron, it's not going to sacrifice more of it's depleted stores on a period.
Try eating foods high in iron or talk to your OBGYN about starting an iron supplement.
4. Dehydration
Another common cause of a late period is being dehydrated. Again, your body doesn't want to risk dehydrating itself further with a period.
Try drinking more water a few days before and during your period to help prevent this again.
Related: Liquid iv review
5. Exercise
If you are exercising a bunch and using more calories than you are consuming your body might also delay your period.
6. Extreme weight changes
Also, if you have been losing a bunch of weight recently or not eating enough, your body might also take this as a sign that it needs to hold it's stores and which makes your period late.
7. Sleep changes
Melatonin, the hormone that regulates sleepiness can also cause your period to be late. So if you have been sleeping more or not getting enough sleep, it can make things go wonky.
8. Under-active thyroid & thyroid medicine
If you have hypothyroidism (under active thyroid), it can cause late and missed periods.
The medicine used to treat an under active thyroid called Levothyroxine can also cause period changes. It you think this might be the cause, talk to your doctor.
Related: reversing hypothyroidism naturally
9. Medications
There are a lot of other medications that can cause periods to be late, missed, or abnormal so check with your doctor if you recently started something new or this is a new symptom you are not used to.
birth control (depending on the type it can cause your periods to be missed, late, or fluctuate until you have been taking it for some time).
Late period FAQ
How much delay is normal in periods?
Periods are different for everyone, but generally you should start your period about 30 days after the start of your last period.

Lots of things can change this, and a late period once in awhile shouldn't be cause for concern. It's when you start having lots of late periods, but you aren't pregnant that you should talk to your OBGYN or doctor.
How many days late can a period be before worrying about pregnancy?
If your period is 7 days late or more, than you might want to buy a home pregnancy test.

You may still not be pregnant, but it's a good idea to rule that out before talking with your doctor.
What to do when periods are late but not pregnant?
If this is the first time it's been late, just make a note of it. If you are experiencing this 2 or more times, you should schedule an appointment with your OBGYN.
When is a period late on birth control?
Because most birth controls are affecting your hormones, you can miss a period and it's okay. If you start missing 2 or more and that's not the type of birth control you are on, it's worth discussing with your doctor.
You might also enjoy reading: