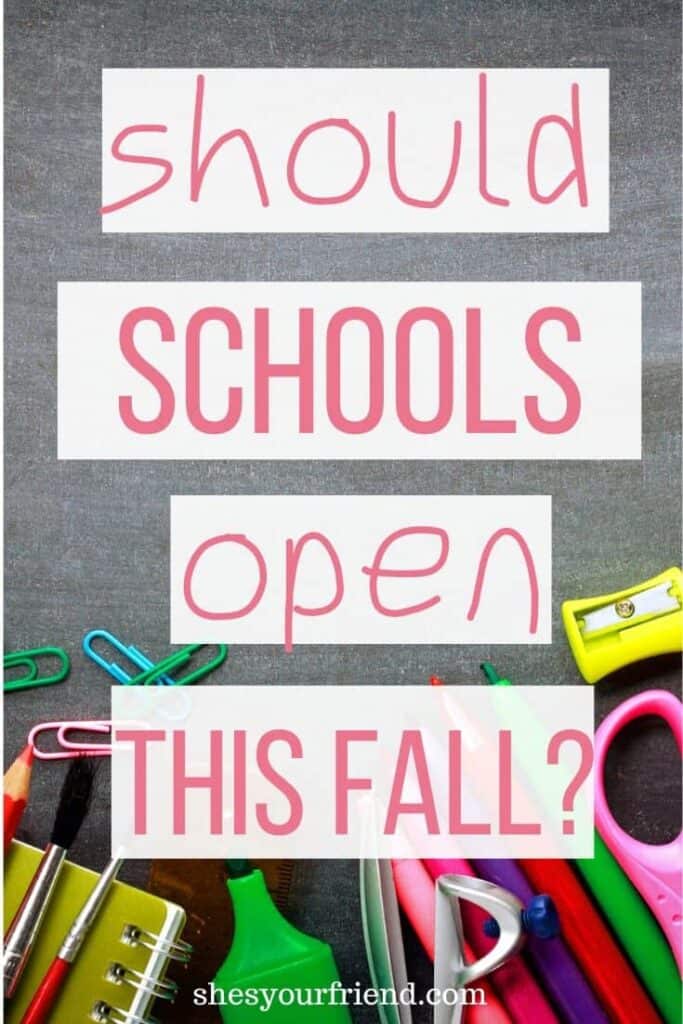 As summer is ending and this pandemic has hit a new wave of cases, a question many of us parents are going to be faced with is: should kids start school in the fall?
While many politicians are urging in-class school in the fall, not every parent would agree.
There are so many things we don't know about COVID-19…especially when it involves kids.
At first, we were told if kids got it, they had mild symptoms if any.
Then, some children contracted pediatric multi-system inflammatory syndrome, and it was SERIOUS.
According to the CDC, it's "a condition where different body parts can become inflamed, including the heart, lungs, kidneys, brain, skin, eyes, or gastrointestinal organs."
It also seems to be affecting young adults, this article by the Washington post discusses this syndrome and goes on to state that MIS-C has been linked to at least 4 deaths in children.
A lot of critics argue that these cases are rare, but how rare will they be when kids go back to school?
As much as schools and administrators will try to prevent the spread, they are not trained to handle infectious diseases.
Even more so is that some patients present with no symptoms at all but are contagious. Unknowingly, we might have a bad situation in the fall if schools do end up opening up.
Better to be too cautious…
As a mom, I personally feel I would rather be too cautious and look back years from now and laugh at how I reacted.
I don't want to look back on 2020 and regret putting my child in harms way because we just don't know enough about this virus.
What about the teachers?
While there is still a lot of unknown about children and COVID-19, the adults teaching our children will be putting their lives at risk.
Will there be adequate personal protective equipment for teachers?
Everything will be different, and even more difficult.
If schools are to open up, there are going to be some drastic changes. From masks, to social distancing, the school environment won't be nearly as distraction-free as it once was.
In fact the social interaction will have to be different to help stop any possible spread of the virus.
Every family's situation is different.
Everything family has a different situation, so while I might choose to keep my kids home this year, I know others don't have that luxury.
I'd love to hear your opinion! What do you think about schools opening back up in the fall? If they do open, are you comfortable with your child going back?