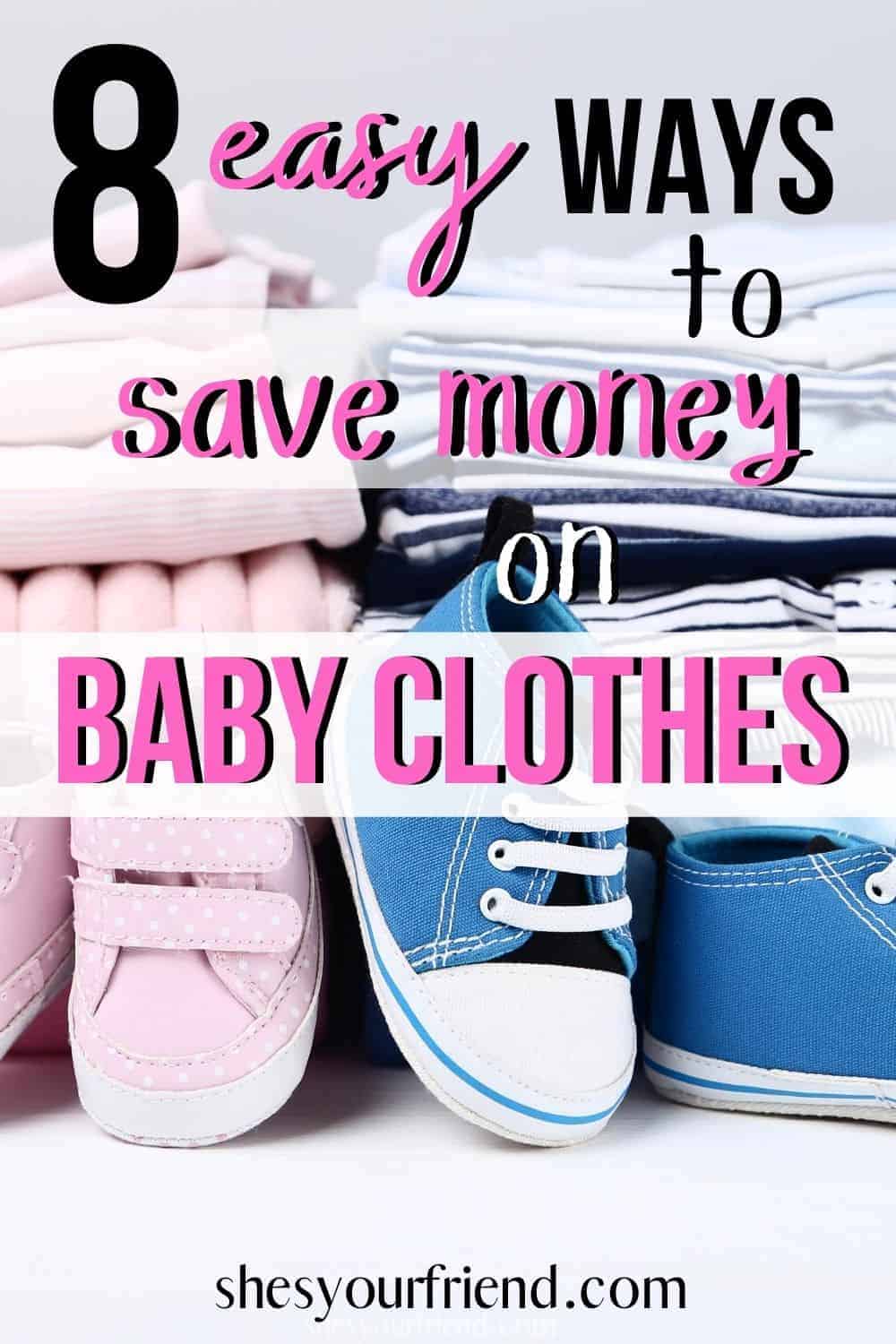 Are you having a baby soon, and want to save some money on all those baby clothes?
If so, here's my complete list of ways to save money on those cute little outfits that baby will grow out of fast!
In an effort to fully disclose, this article contains affiliate links. This means if you purchase something, we would receive a commission. For more information, please see our disclosure page.
As a first time mom, I spent a lot of money on my baby girl. Probably too much, if I'm being honest.
While splurging on a few things here and there is great, the reality is that babies grow out of clothes fast. If they don't outgrow them, they inevitably stain them with diaper blowouts.
How to save Money on Baby Clothes
1.Ask family and friends for hand-me-downs.
One of the best ways to score free baby clothes is to ask any friends or family members if they have any clothes they don't want anymore.
As a mom of 2, we are done having kids, but I have a room filled with baby clothes in my basement that are just sitting there waiting for someone to need them.
2. Wait to buy until after your baby shower.
Whether you add clothes to your baby registry or not, people will buy you them as gifts!
Why? Well, it's probably the most fun thing to purchase!
3. Buy Gently Used baby clothes.
There are a lot of different stores that let you resale gently used clothes, and this is a great place to score big!
These stores are picky about what they accept, so you can rest easy knowing the clothes they have are in great condition.
Kidtokid is a popular one that has many branches throughout the United States. A great online options that sells gently used clothes is swap.com.
4. Have a good stain fighter
Okay, so babies will inevitably have blowouts, and spit-ups. The best thing you can do to save those outfits is to have a good stain fighter.
Immediately spray the cleaner on the area and wash right away. This is also important if you decide later on to use them again with another child.
5. Buy Out of Season Clothes
Another great way to save big money on clothes for your baby is to buy out of season clothes. Usually stores will mark these crazy low so they can get rid of their inventory to make room for the new stuff.
This is a great time to stock up.
Depending on how old your baby is, you might need to think it out a little bit in advance, but this is one of my favorite ways to shop (even for toddlers too).
6. Shop at discount stores like Ross or Marshalls.
Ross dress for less is a store that sells clothes, home decor, toys, and other cool items you might find at Target or Bed Bath and Beyond. The only difference is that the prices are a lot cheaper!
How they work is that they buy clothes from stores that are closing out, but all their items are brand new.
This is what lets them sell at such low prices.
7. Stack sales and coupons whenever possible.
If you are buying brand new, try to stack sales with coupons whenever possible. This might also mean becoming a rewards member to have coupons sent directly to your email.
8. Online Cart Abandon
This is probably the sneakiest way to get a discount, but it really does work!
If you aren't in a hurry to buy baby clothes, go to your favorite online store. Add the items you want to your cart, and then proceed to your cart where you might need to sign-up with an email address or sign-in.
Then, close out of the window, and wait a few days.
You might notice an email from that store offering you a coupon or discount because they want you to complete your sale.
This one isn't surefire, but it has always worked for me!
Thanks for stopping by! Remember to share this to your favorite baby board on Pinterest.