Picking out the best baby stroller can be just as difficult as coming up with a name you and your husband will agree on.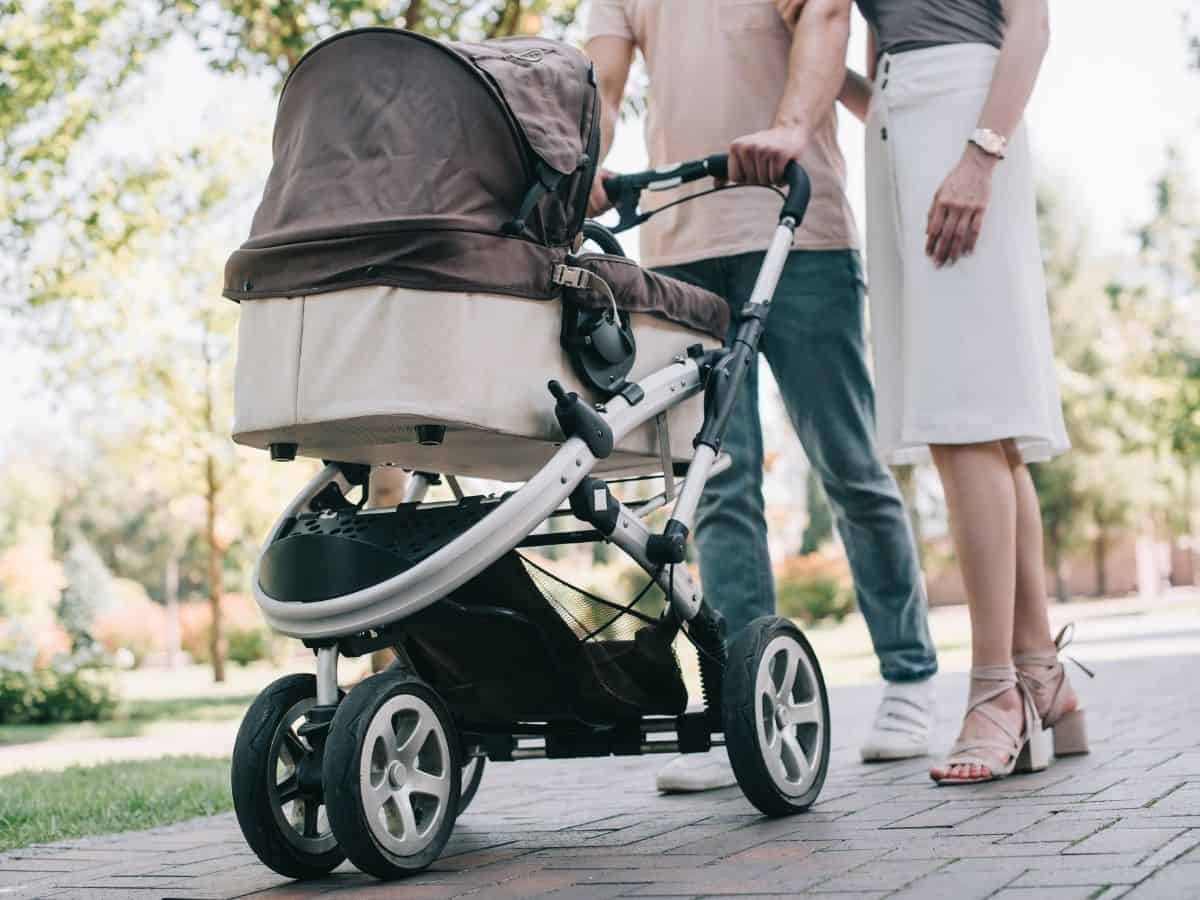 Some of them are meant for jogging, wait new moms actually jog?! Others are more traditional with smaller wheels for maneuvering smaller places and hard flat ground.
Jump to:
Tips for choosing the right stroller
Find a stroller that has the capability to hold a car seat. With newborns, this is the only way to use a stroller. Also, a lot of brands offer a combo of a stroller and a carseat.
If you plan on jogging or doing a lot of walking, opt for a jogging stroller or the Baby Jogger City Mini stroller.
Are you going to be using it more on your own or with your husband? If you are going to be using it more by yourself, then try to find a stroller that is light-weight and easy to open and collapse it.
Pick a stroller for function over style. There are plenty of super stylish strollers out there, but you want to find one that also has good reviews and parent-friendly features. You won't have to sacrifice on style with this Evenflo pivot modular stroller.
To help you decide, I rounded up a list of the top 5 strollers on the market right now! All you need to do is narrow it down to which one best suits your lifestyle.
Best Baby Strollers in 2022
This innovative stroller is great for all different surfaces. If you decided to go jogging or just a casual walk, this stroller won't back down.
It's also smaller than most jogging strollers, so if space is an issue this might be your winner!
Probably one of the most important things though is that this stroller is SUPER EASY to fold up and put away. In fact, they brag that it's a one hand fold! Where was this when my kids were babies?!
This bad boy has 6 different positions depending on your baby's age and what you prefer. Another huge plus about this evenflo stroller is that it is super light!
Strollers are notorious for being heavy and bulky, which is NOT what you want when you are out and about by yourself with baby.
This stroller is light weight, but also really stylish. Seriously, they have really upped their games since my kids needed strollers.
One drawback I could see to this stroller though is that it might be a little harder to open and fold back to put in your car.
This Graco stroller and carseat combo is another popular one and with good reason! They also have an easy one-handed folding.
If you are a first time mom, you might not understand why this is so important, but as a mom of 2 it is!
When you are in town shopping with baby, having a stroller that is easy to set up and put away is a MUST. Trust me, you will thank me later when your hands are full with a diaper bag, a car seat, and that sweet bundle of joy! 🙂
Another great thing this stroller offers is a cupholder for mom or dad. Cupholders are something that you will appreciate later on. It's truly the things you don't think about that you will end up wanting if your stroller doesn't have it.
This stroller and carseat combo is very similar to what I used with my kids. I went with a jogger stroller, not because I was going to be jogging but because the wheels and tires were great for all-terrain.
My husband and I are outdoorsy, and so we knew sidewalks wouldn't always be something we would have.
The only downfall to this is that you have to keep the tires aired up and you don't want to run over anything sharp, as it could pop your tire.
This Safety 1st stroller has a lift to fold mechanism that makes for easy folding up. It also offers 2 cup holders for mom or dad for when you are pushing baby.
Another perk is that this canopy has a mesh visor to peek in on baby or let the air flow better on those warmer days. YAY!
More baby gear you might need