Have you been told that your preemie in the NICU will get to go home soon? Hooray!! It's quite possibly the best thing you could ever have heard.
Although, you might wonder what will it be like? Especially after home has changed so much.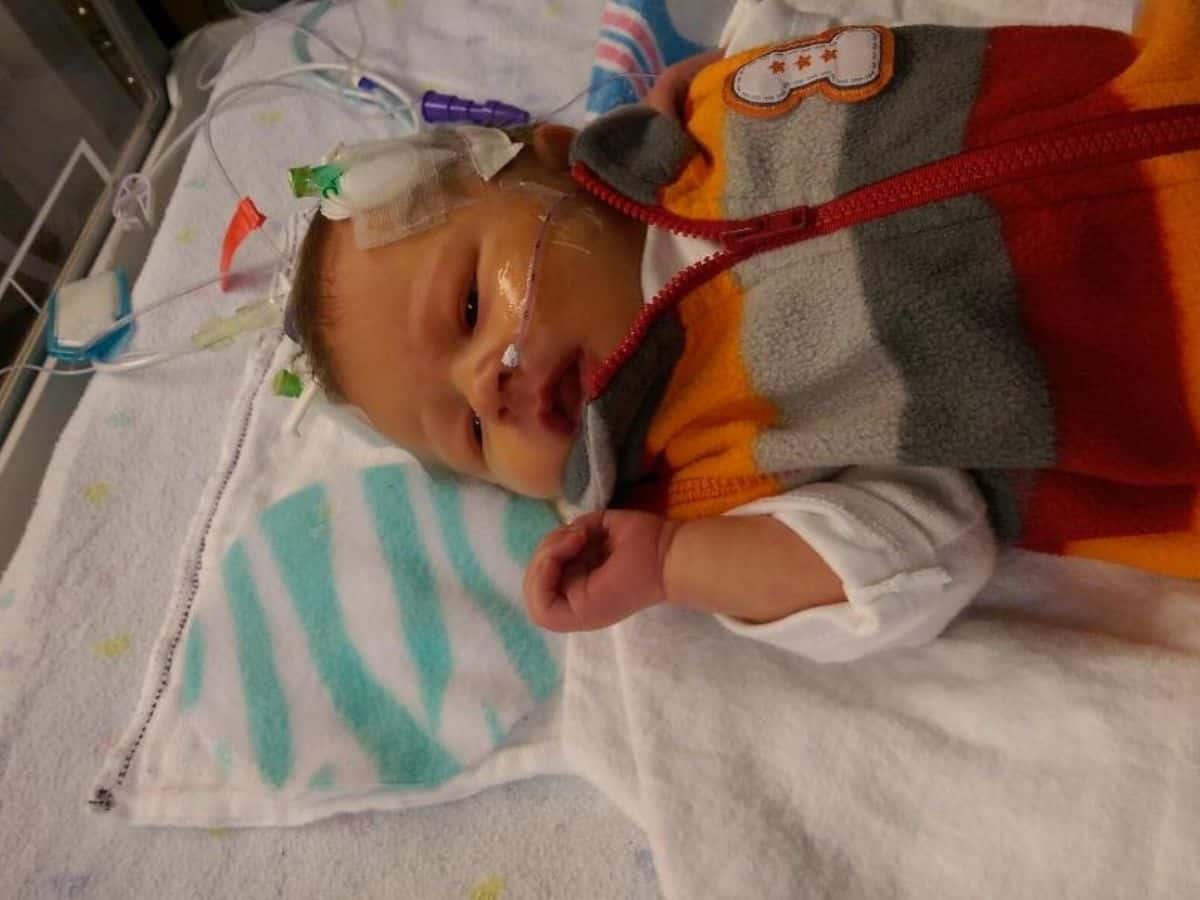 As a former NICU mom, I wanted to share what exactly it's like to bring baby home plus a few tips on how to make the transition smoother!
Jump to:
Bringing home a preemie
The first few night you won't sleep much.
It will seem quieter, and you may still hear phantom beeps.
You will worry a lot.
If this isn't your first baby, it will feel like your first.
The First Few Nights you won't sleep much.
The first few nights home with baby, you won't sleep much. If at all.
You will also panic because there aren't nurses and doctors right around the corner if you need help. You might even get so desperate that you feel like you can't do this...but you can!
Having an NICU baby changes people and it will change you too. You will have a strength that no one else, but an NICU parent has.
Just remember to breathe, and know that each day you will slowly find your normal. Your normal of being at home, like everyone else!
You can also check out my article on how to take care of a baby in the first few weeks. This will help give you a good idea of what to do if this is your first baby.
It will seem a lot quieter
After listening to the familiar beeps and alarms in the NICU, it can seem a lot quieter at home. A good quiet though!
In fact, your little one may sleep through a lot of noises because of this. 🙂
You will worry more than most
When you bring your NICU baby home, you will worry about EVERYTHING. From the people that come near your little one, to even letting anyone watch him/her.
I actually felt guilty letting anyone watch my son, because I had left him in the NICU for those first few weeks.
Although you have been given the all clear, you will still worry about your little one having a relapse. You will also worry about whether or not he/she is breathing properly.
You will worry about every little detail, to the point that people might get annoyed with you...but you know what? It will get better.
You will feel like a first-timer
If this isn't your first baby, you will still feel like a first-timer. This is because it is probably your first NICU baby...and that is a big first.
Not something anyone probably every wanted, but a first regardless. I know for me, I felt like I knew nothing! (And my nicu baby was my second).
Preemie care tips
Now that you know what to expect, there are a few things you can do to help make the transition a little smoother.
1.Ask lots of questions before going home
The first thing you will want to do is ask your baby's doctor if there is anything you should keep an eye out for when you are home with baby.
Knowledge is power, and it can certainly help ease your mind if you know what to look out for.
2.Investing in an Owlet Smart Sock
It will then send you notifications to your phone, so you are always in the know!
3. Try to follow the same feeding and sleeping schedule.
The last thing you can do to ease the transition would be to keep the same feeding/sleeping schedule that the NICU had. This helps because baby will have already established a routine (depending on how long he/she stayed).
Other than your home seeming extra quiet, and the first few nights being bad, bringing your NICU baby home is just like bringing any baby home.
You will worry constantly, have sleepless nights, and have lots of questions.
What's the one thing that surprised/scared you when you brought your little one home? Leave me a comment below! Also, don't forget to pin this if you enjoyed reading it!! 🙂 Thanks.
More baby tips and articles