Are you looking for some toddler stocking stuffers that won't break the bank? If so, these are the best stocking fillers for both toddlers and preschoolers.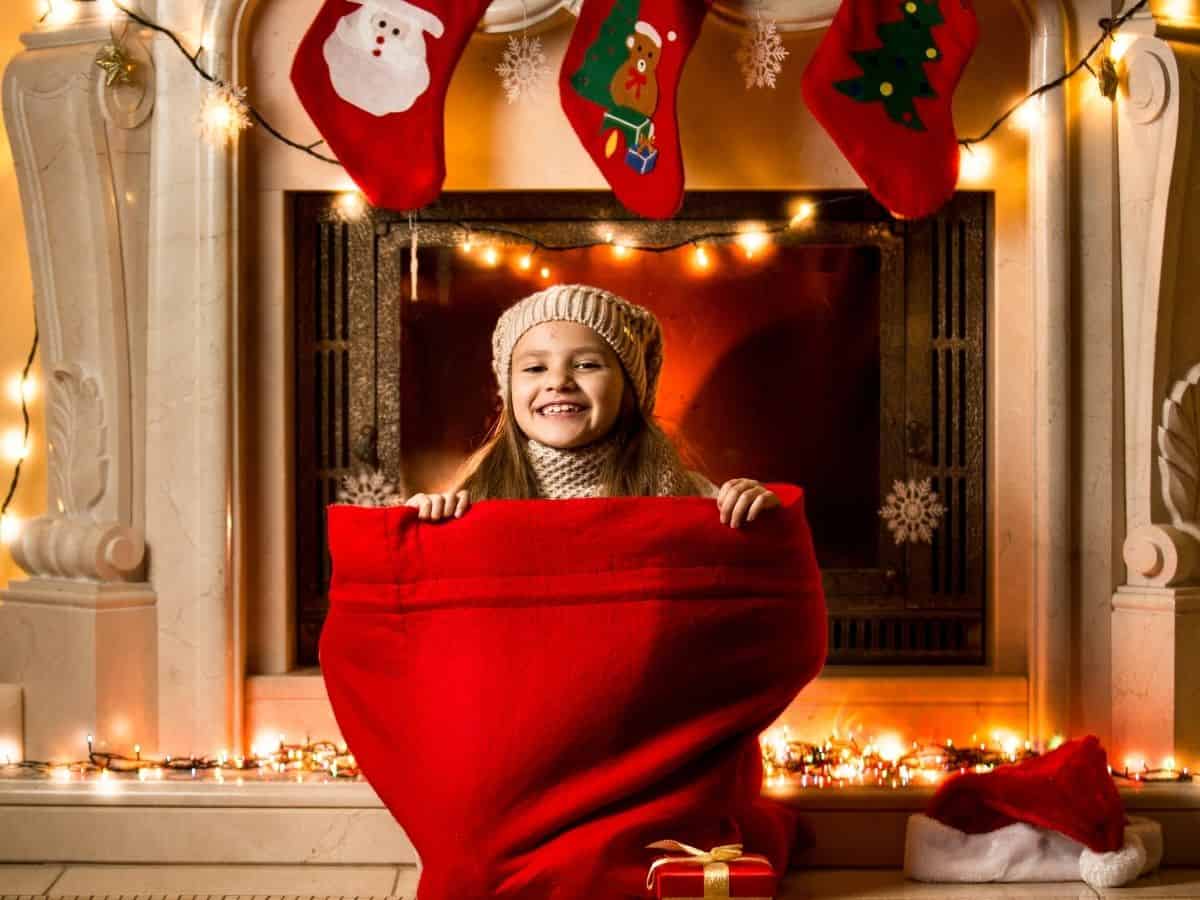 Jump to:
Stocking stuffers for toddlers
Toddlers are really fun to buy for because they love a bunch of different things.
1. Little plushy or stuffed animal
An inexpensive way to fill a stocking is with a fun little stuffed animal. What is their favorite thing to watch or read about? Find an animal or character to go in their stocking.
My kids are all about paw patrol so this year they are each getting a Paw Patrol plushy.
If your toddler is into all things cars, another inexpensive option are Hot Wheels Cars. There are so many different kinds and they fit easily inside a stocking.
3. Bubble Wands
Another affordable stocking stuffer for toddlers are bubble wands. They provide hours of entertainment for little ones and they won't break your budget either!
4. Play Doh
Play doh is loved by all! You toddler can craft lots of fun things with a bunch of colorful play doh.
5. Play Doh accessories
Along with play doh, you could also grab some fun play doh tools for cutting and shaping. They are still easy on your pocket book but fill up that stocking!
6. Pretend play food
Toddlers love pretending which is why putting some pretend play food in their stocking is another great option. We especially like this one from Amazon because they can practice cutting the different foods with a plastic knife.
7. Sunglasses
Another small stocking stuffer idea for toddlers is some cool new sunglasses. We like to find the polarized ones for better eye protection.
8. Coloring Books
Find a fun coloring book about dinosaurs or something else that will catch their eye! There are so many different ones out there.
9. Sticker books
Another affordable stocking filler are sticker books. Just like with coloring books, there are so many different sticker books.
10. Bath Toys
As a general rule of thumb I try to avoid the squirting bath toys with holes in them because if you can't get all the water out of them, they can get gross overtime. Instead, I try to purchase bath toys like this shark grabber or fishing pole.
11. Scented Markers
For the creative little toddler, these scented markers are another fun stocking stuffer that they will love! There are lots of different scents that they can discover as they create their next masterpiece.
Stocking stuffers for preschool aged kids
Preschoolers are so much more independent than toddlers. This is why they have a completely different section in this stocking stuffer list.
12. Jewelry
My preschool aged daughter is quite the diva and she is all about jewelry. You can find some affordable necklaces here with the most charming designs.
Another idea for older toddlers and preschool aged kids are these peel off nail polishes. They are non-toxic, water based and perfect for independent divas! 😉
14. Gardening tools for kids
If your kids love playing in the dirt as much as mine, you might also consider putting some gardening tools in their stockings!
Just try to steer clear from the plastic ones that break easily.
15. Fuzzy socks
Another fun and simple way to fill those stockings is with some warm fuzzy socks! They come in all different colors and patterns to choose from.
16. Water Bottle
If you are looking for functional stocking stuffers that your toddler or preschooler will use a lot, then a cool water bottle is another good idea.
Try to find one that are leak proof so you don't have to worry about messes.
More gift guides for toddlers