Winter can be super harsh which is why these beauty tips will help you survive the colder months. Here's some helpful tips to keep your skin and hair hydrated and smooth.
Jump to: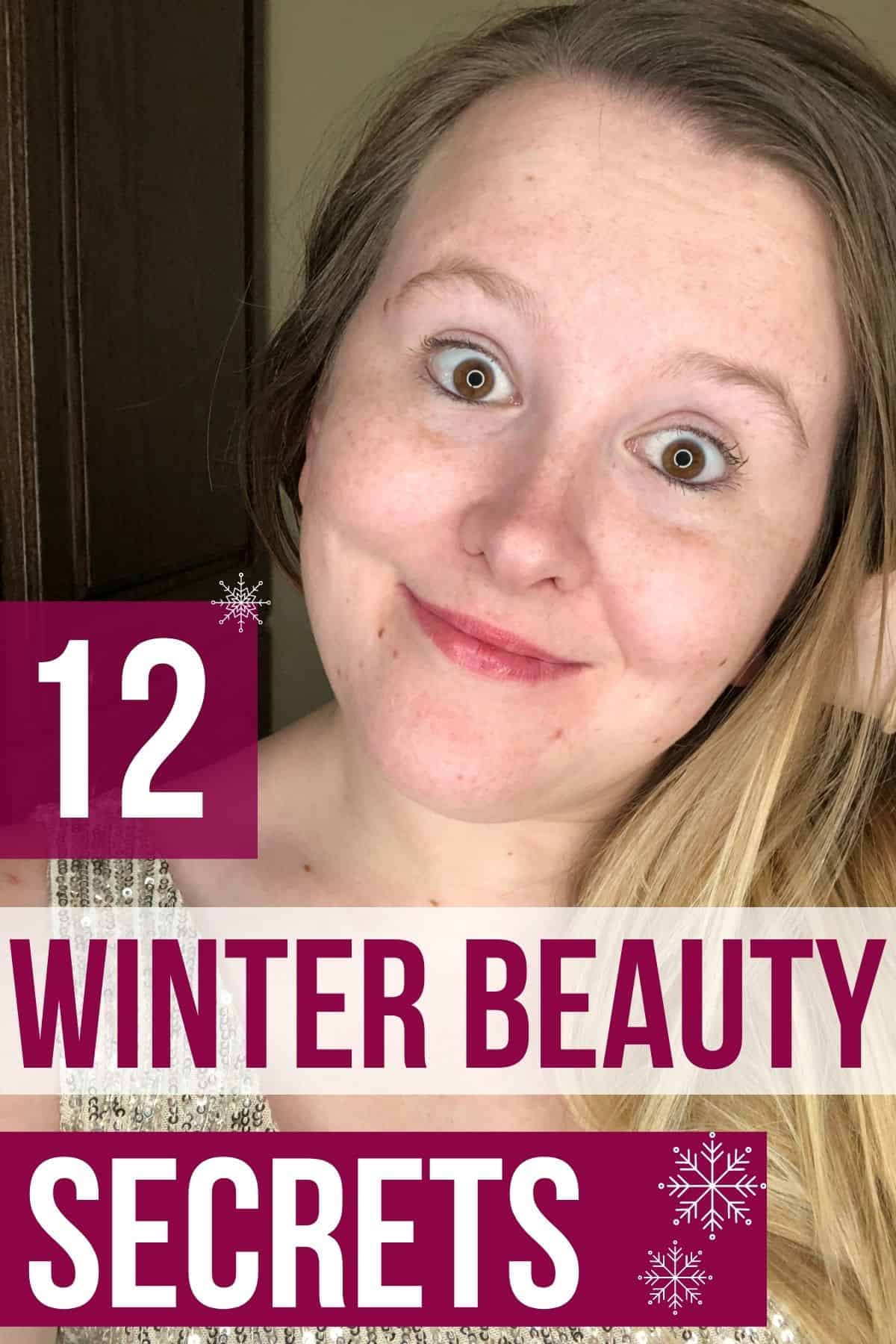 Winter Skin Care Tips
Moisturize
Dry skin is the worst during wintertime. Make sure you are moisturizing to help keep your skin soft.
Use lotion daily, and don't wait for your hands to dry out before applying. Cracked dry hands are the worst, and easily prevented.
2. Sunscreen
I think a lot of people forget that you can still get sunburn even in the winter, especially with the snow.
You might be wearing a coat, but your face is still exposed.
3. Avoid using hyaluronic acid
When it's dry out, skincare products with hyaluronic acid will actually pull moisture out of your skin.
Because wintertime is super dry, this can make matters so much worse.
4. Drink plenty of water
Water is important for skin, but easily overlooked. While you might just want a hot coffee, make sure you are drinking plenty of water too!
5. Moisturizing hand sanitizer
Hand sanitizer is important for keeping germs at bay, but can be really hard on your hands. Use a moisturizing hand sanitizer like this one from Dove.
Winter Hair Care Tips
Your hair is another thing that is affected by the winter dryness.
6. Use a deep conditioning hair mask
One of the best things you can do for your hair during the winter time is using a deep conditioning hair mask.
7. Avoid using heat-based styling products
Another thing to help keep your hair from drying out and getting damaged is to avoid using heat based styling products like curling irons or straighteners.
If it's unavoidable, then make sure you use a heat protectant on your hair like Eva NYC mane magic primer.
Winter Makeup Tips
8. Trade in your lipstick for a tinted chapstick
If you always have chapped lips during the winter, try using a tinted chapstick instead of your lipstick.
It will keep your lips moisturized, while still looking beautiful!
Related: time save makeup tips
9. Lip Scrub
A lip scrub will help exfoliate and smooth your lips which can really help if they have already started getting chapped.
10. Use a hydrating primer
Primer is super important for creating a smooth texture on your face before applying foundation. Find a hydrating primer like this one from e.l.f. to really give your foundation a great base.
11. Switch to a cream foundation instead of powder
If you haven't already noticed a pattern, moisture is your best friend in wintertime. The easiest way to help with this is switching to a cream foundation instead of powder.
12. Use hydrating makeup remover wipes
A lot of makeup remover wipes have alcohol which can really dry out your skin. During winter, we like these Pond's Vitamin Micellar wipes with aloe vera. They leave your skin soft and smooth while still being able to remove even waterproof mascara.